With the addition of a new surgical center, pregnant women who come to United Methodist Mercy Hospital to deliver their babies will no longer have to fear losing their lives, said the hospital's administrator.
"Mercy Hospital now has all it takes for safe delivery for both mother and child," Jinah Lahai said.
The $140,000 surgery wing will allow doctors to perform complex medical procedures, including cesarean sections.
Lahai said it was a challenge to provide medical services before the surgery center. Women in labor needing a cesarean section had to be referred to other hospitals because Mercy did not have the facilities to handle the surgeries.
"In such circumstances, we would make referrals, and delays along the line had once in a while led to fatalities. I want to say all of that is now over, because women in labor visiting our facilities will not have the fear of losing their lives," she said.
The hospital is now equipped with two operating rooms and male and female surgery wards with trained surgical staff. It can accommodate 50 patients, up from 25 previously, Lahai said.
Resident Bishop John K. Yambasu led the dedication of the new wing on Jan. 18, describing the process of getting a surgical unit for Mercy Hospital as "a very, very long dream come true."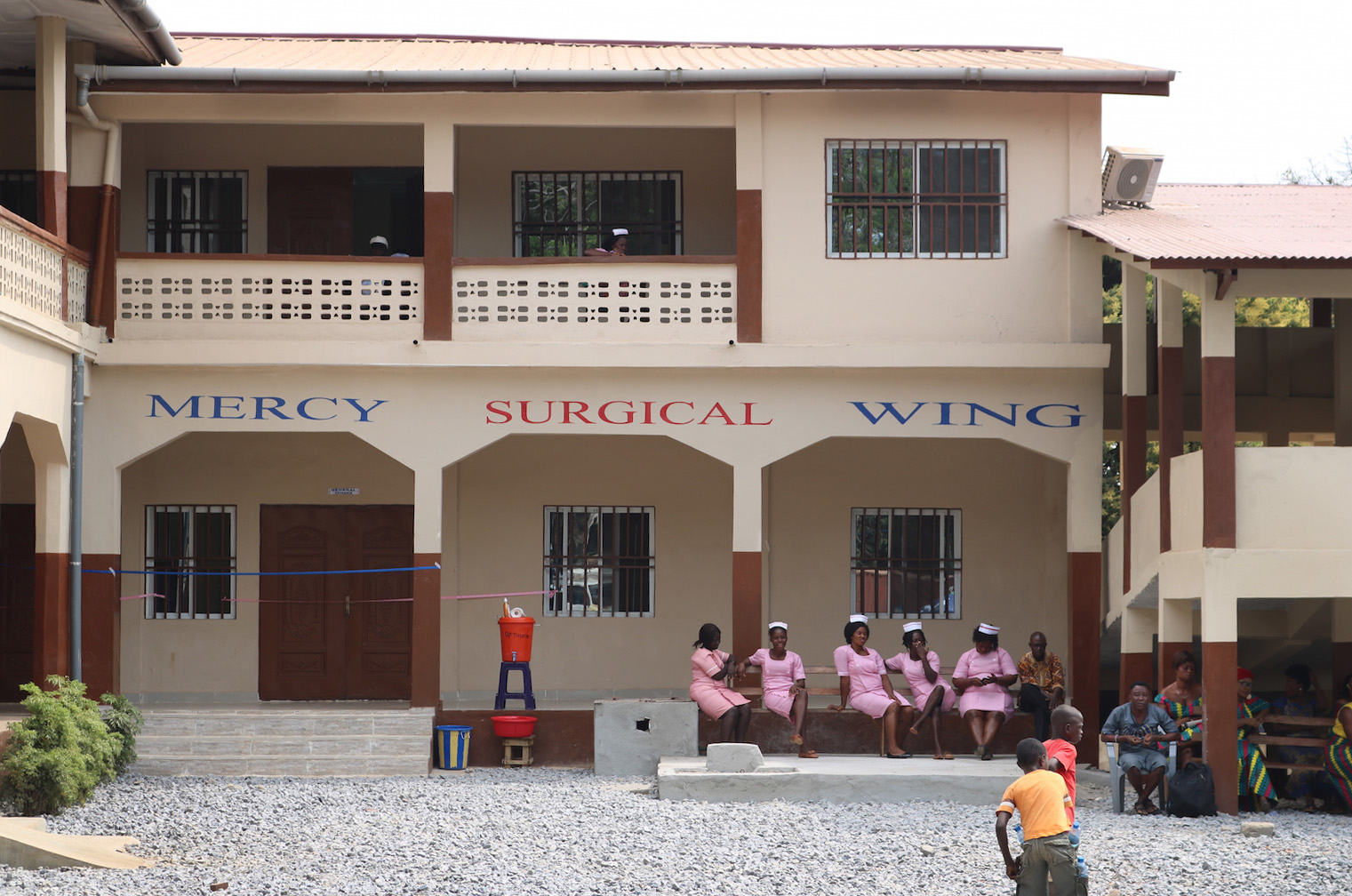 A new $140,000 surgery wing at United Methodist Mercy Hospital in Bo, Sierra Leone, will allow doctors to perform complex medical procedures, including cesarean sections. Photo by Phileas Jusu, UMNS.
"I'm the happiest person in this country today. … This is one of those times in the life of the church when everybody needs to raise our voices of praise and thanksgiving to God for all that he continues to do in our lives," Yambasu said.
The bishop said he appreciated Helping Children Worldwide, a partner of Mercy Hospital, which raised the funds for construction and equipment. He praised members of the organization for their passion, dedication and commitment.
Melody Curtiss, Helping Children Worldwide executive director, said the nonprofit is grateful to have been able to come alongside the bishop and Bo District superintendent, the Rev. Francis Charley, in shared Christian ministry and a desire to attend to the healthcare needs in Bo.
"It seemed a long road, but, with God's help, we have arrived," she said.
Curtiss noted that it takes more than money to do what Mercy Hospital has done. She said the hospital's leadership and dedication has showed "in every miracle they manifested."
"They are the very hands of God in their care for their patients," she said.
Helping Children Worldwide has a medical advisory group of doctors, Curtiss said, who work with Mercy's medical team — in relationship with the Medical University of South Carolina — to support their dedication to operating under the highest medical standards.
Dr. Dennis Marke, chairman of the Sierra Leone Conference health board, said approximately 2 billion people worldwide lack access to emergency and essential surgical care. Most of the need is in rural and marginalized populations living in low and middle-income countries where the poorest one-third of the world's population receive only 3.5 percent of all surgical procedures.
The lack of surgical care takes a serious human and economic toll and can lead to acute, life-threatening complications, he said.
"Despite such a surgical imbalance around the world, surgery is still the neglected stepchild of global health. No global funding organization focuses specifically on the provision of surgical care, and none of the major donors are willing to support and acknowledge surgery as an imperative part of global public health," Marke said.
"This is where (The United Methodist Church) in Sierra Leone stands out … by prioritizing the provision of surgical care as an integral part of its healthcare service delivery.
"This surgical suite project, which started three years ago, could not have come at a better time when the ministry of health together with its health development partners, including … faith-based organizations and private practices and hospitals, are working hard to improve the health indicators, including neonatal, infant, under-5 and maternal mortality in the country," he said.
The United Methodist Board of Global Ministries also helps support the hospital through its Advance program. The mission agency's "Abundant Health" campaign aims to reach 1 million children with lifesaving interventions by 2020. The focus is on communities, primarily in Africa, with high child mortality rates from preventable causes.
Catherine Norman, Sierra Leone Conference health coordinator, said the hospital started as a one-room health clinic with two health staff about 18 years ago.
The goal was to provide basic first aid healthcare and a nutrition program for the children of the Child Rescue Center, a United Methodist facility that provided a home for destitute children living on the streets of Bo during the West African nation's civil strife.
As the number of children and caregivers increased, the main building, which had housed the Bible Training Institute, was transformed into what Mercy Hospital is today.
As the number of children admitted into the Child Rescue Center increased, more patients, especially pregnant women and nursing mothers, started flooding the hospital for health care.
The increase led Sierra Leone Conference leadership to appeal to Helping Children Worldwide to provide support for the expansion of the hospital, most importantly, a surgical building.
"I am happy that today, the dream of a functional surgical building has come true. With this building, Mercy Hospital has now been empowered to provide the needed health care, not only to the people of Bo, but the entire district and even beyond," Norman said.
Dr. Roland Carshon-Marsh, Bo District medical officer, said surgery has proven to be highly beneficial in reducing child mortality, improving maternal health and reducing the incidence of many health complications.
"There are thousands of Sierra Leoneans with surgical conditions who require surgery but who do not have access or cannot afford it."
He said a clear example occurred two months ago when Mercy Hospital and Bo Government Hospital hosted a team from Medglobal International.
"People came in thousands to get both medical and surgical care. The preparedness and functionality of this surgical unit was well tested. In three to four days, a record of 56 surgeries were done successfully," he said.
"It was a very nice way to start your surgical unit and I pray that thousands or millions more will receive their surgical healing in this hospital," Carshon-Marsh said.
Jusu is director of communications for The United Methodist Church in Sierra Leone.
News media contact: Vicki Brown at (615) 742-5470 or

[email protected]

. To read more United Methodist news, subscribe to the free Daily or Weekly Digests
---
Like what you're reading? Support the ministry of UM News! Your support ensures the latest denominational news, dynamic stories and informative articles will continue to connect our global community. Make a tax-deductible donation at ResourceUMC.org/GiveUMCom.