The road to Luke's House, a free clinic established by United Methodists to provide basic medical care after Hurricane Katrina, began in Mexico.
The Rev. Carole "Callie" Winn Crawford, pastor at Rayne United Methodist Church on St. Charles Avenue in New Orleans, was hosting Katrina volunteers in her church when she heard the story about a church in Nebraska starting a free clinic in Mexico.
"I said, 'That's what we need.' Nine out of 11 hospitals in New Orleans were closed. Next to housing, health care was the greatest need in post-Katrina New Orleans," Crawford said.
Crawford became close to members of St. Marks United Methodist Church in Lincoln, Nebraska, because they sent 16 mission teams to New Orleans and always stayed at Rayne. That church had started a free clinic in Mexico in 2003.
She started having conversations with members of nearby Mt. Zion United Methodist Church and Rayne. They decided to open at Mt. Zion in 2007 because repairs of Katrina damage were still underway at Rayne.
The clinic opened on Tuesday nights in the fellowship hall at Mt. Zion United Methodist Church.
"We opened on Tuesday nights. It was all in a box. We set it up and closed it down and squeezed it into a storage closet. We did that for a long time, it was like putting a Rubik's Cube back together every time," Crawford said.
Now open Tuesday and Thursday evenings with plans to expand to Wednesdays, Luke's House also hopes to open an eye clinic.
"Luke's House is a very warm and open place where you can get basic medical health care with a minimum wait, and where you are accepted just as you are, no questions asked," said Crawford.
In 2011, Luke's House started renovating a building on Simon Bolivar Avenue owned by the Louisiana conference. The clinic moved in May 2012.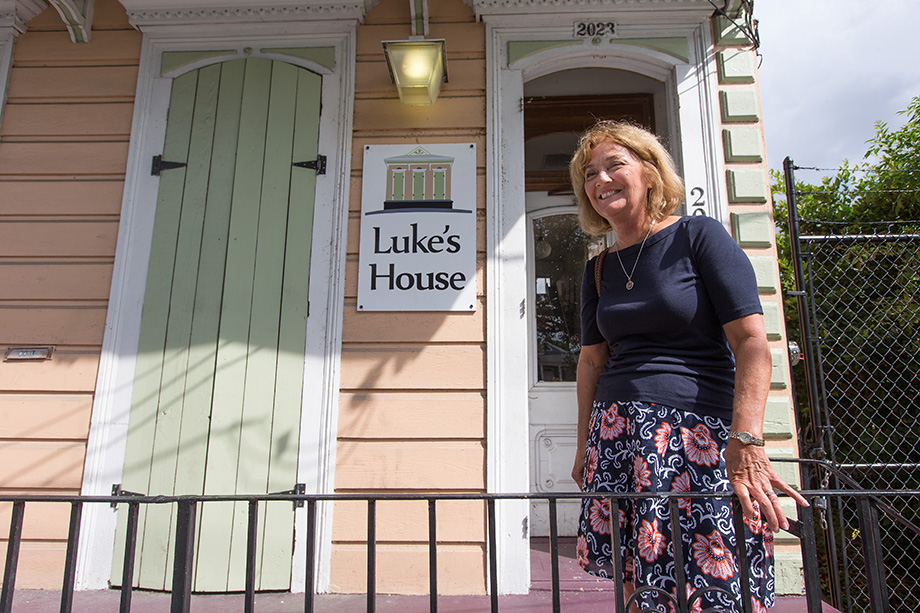 Operating on volunteer power
"Luke's House couldn't happen without the support of The United Methodist Church and the United Methodist people," said Stacy Hall, a nurse, member of Rayne and chair of the board for Luke's House.
Dr. Robert Lancaster, "Dr. Bob," is a retired psychiatrist with Tulane University Medical Center who volunteers on Tuesday. He is the only psychiatrist available to many because his services are also free.
The clinic usually sees from 10 to 12 people on Tuesdays from 5:30 to 8 p.m. and Thursday evenings from 6:30 to 9 p.m.
"We are not a fast clinic," Hall said. They take time with each client to make sure they are connected with resources in the community before they walk out the doors. "Dr. Bob" sees five or six clients on Tuesday nights.
"We slow down in the summer because it's hot and if it rains people don't come, but I think that's part of the whole homeless population," she explained. "We are not quite as homeless as we were, but it's uninsured and under-insured now."
Dramatically different population
The population of New Orleans changed dramatically after Katrina and now almost 40 percent of the people who come to Luke's House seeking medical help are Hispanic.
"What's great about Luke's House is people sign in and there are no questions asked. No documentation. There has been some suggestion of billing, but I really don't think we want to go there at all. There are sliding scale clinics in the city but this is the only free clinic," Hall said.
Medical students from Loyola, Tulane and Ochsner Medical Center earn their service hours by volunteering at Luke's House.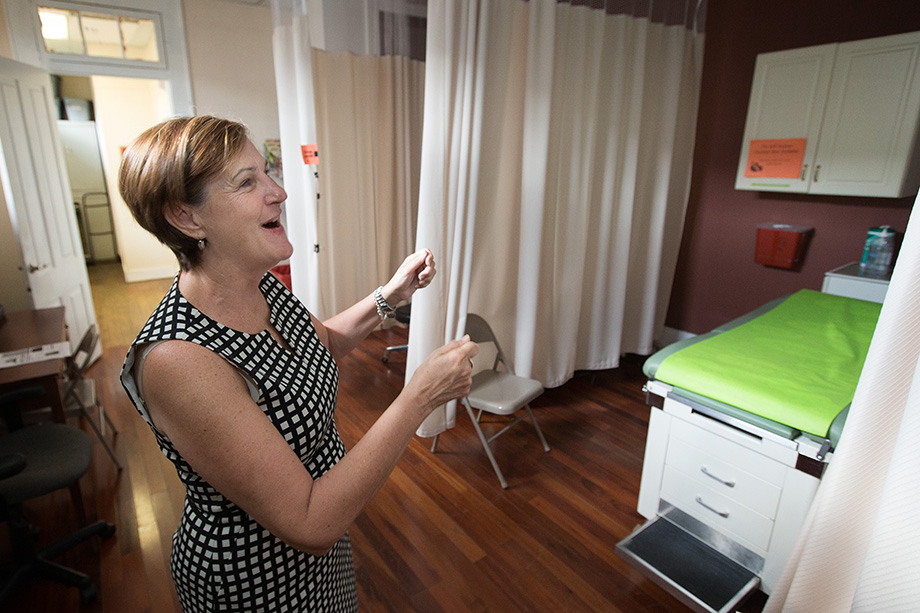 "Students are wonderful. We have so many who came in and got their service hours, but they just keep coming back … They're like stray cats. It's a fun place to be and a very open learning environment," Hall said.
Billy Sherman, a third-year medical student, is part of a team of Tulane students who work on Latino outreach. He has been working with Luke's House for about year and a half, he said.
"Patients range from those with indigestion issues, to female reproductive issues, to someone who was diagnosed with cancer in their country of origin. We look at ourselves as a point of entry for the community to establish medical care and connect to other resources in New Orleans," he said.
Physicians also volunteer to consult with medical students as needed.
Dr. Leandro Area, one of the staff physicians at Ochsner, said working with people who have no insurance and not much money makes you feel like you doing something good.
"The whole idea of medicine is to serve people," he said. "It is excellent for students. When they come to work for us (at Ochsner) they have access to high-tier medicine. They have pretty much anything available. You get your lab results within same day; most people can afford their medications. Here gives a totally different perspective. A lot of times you have to rely on your clinic judgment and make decisions without all the other peripheral things you can use."
Crawford said the clinic has only had one employee, a person who does the books and is a member at Rayne. Everyone else is a volunteer.
"What Luke's House meant to me in post-Katrina, it still means to me now. The possibility of hope, healing, wholeness and health for the underserved of our community. There is a huge need in every large city but certainly in New Orleans.
"If you don't believe in resurrection, if you don't believe in the empty tomb, come to New Orleans because it is proof of resurrection. It is a new, New Orleans."
Gilbert is a United Methodist News Service multimedia reporter in Nashville. Contact her at [email protected] or 615-742-5470.
---
Like what you're reading? Support the ministry of UM News! Your support ensures the latest denominational news, dynamic stories and informative articles will continue to connect our global community. Make a tax-deductible donation at ResourceUMC.org/GiveUMCom.