Twenty-two Roma children from Ohrid, Macedonia, are participating in a unique school project of The United Methodist Church in Macedonia.
It is unique because the classes, split into three age groups, take place from 4 to 8 p.m. Saturdays and Sundays. During summer vacation, the project becomes a "summer school," with four hours of classes daily from Monday to Friday.
The project is also unique because while the children who participate are usually ages 6 to 14, ways are explored to integrate an older child, as well, if this is considered to be a necessity. Not all Macedonian children attend a public school — which means that the importance of this school project for the future of the Roma children is even bigger.
In Europe, Aug. 2 was dedicated to the commemoration of the Roma Holocaust. During World War II, thousands of Roma lost their lives in concentration camps. Against the background of this terrible past, the Conference of European Churches called for a commitment for reconciliation and justice.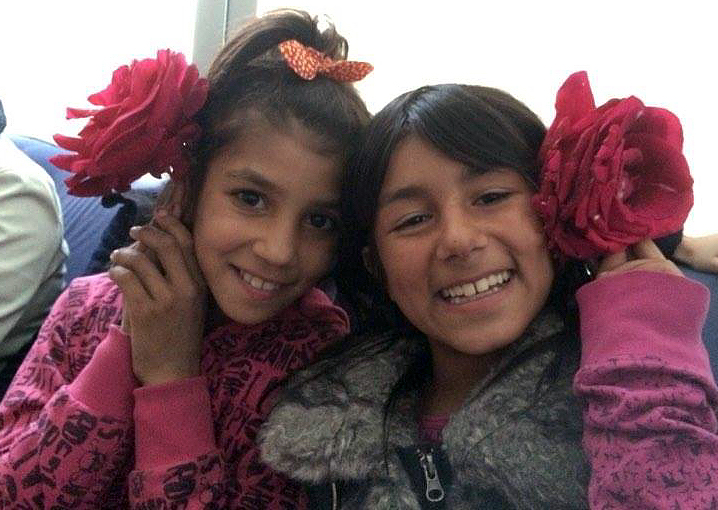 As an ethnic group, the Roma still face discrimination and social exclusion throughout Europe. At a time when new and old prejudices are invoked and hate speech often replaces reason and reflection, churches seek to be more active than ever to promote the dignity and human rights of the Roma. A United Methodist lay pastor in Romania, for example, uses soccer as a way to reach Roma families.
The United Methodist Macedonia school project also provides an example of what can be done. Of course, mathematics, reading and writing are taught. However, the teacher and her helper also particularly work with children challenged by a speech disorder. These children work with great zeal because, thanks to the loving care, they have overcome their fear to pronounce words in a wrong way or to use them in a wrong order.
Other classes include practical information such as traffic education and lessons on safety on the streets. When working with those children attending a public school, the focus is on tutoring. "We repeat what the children learn at the public school and help them preparing for exams as well as doing their homework," said Julijana Mileska, the project leader.
Not all Roma parents encourage their children to attend school, she said, and some cannot afford to do so or want to save the money they would have to pay for clothes or snacks. An older child may stay home to take care of the younger siblings or be expected to find some way to contribute money towards the household budget of the family.
Mileska said project leaders often must deal with very painful family situations — addiction, domestic violence, neglect. In these cases, school turns into a safe haven and a place of hope.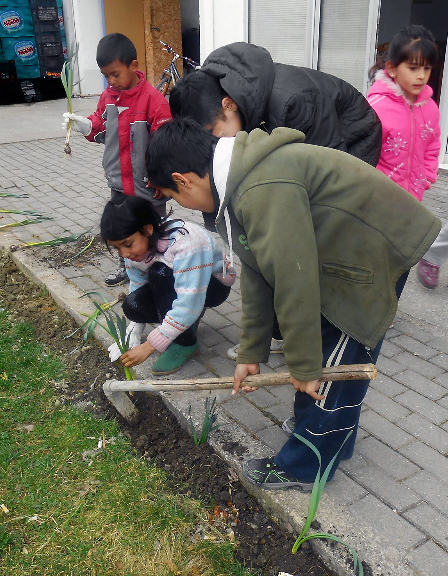 Some parents are very grateful for the assistance their children receive and have established a trusting relationship with the project leaders, she added. Over time, an encouraging cooperation has developed.
Project leaders also try to develop a good relationship with the school's neighbors. "We would like to be a good example — in a variety of aspects. Our children are called not to be noisy when they are outside, they should greet the neighbors, and they should take care of the flowers in the small park in front of our building," Mileska explained.
"The first group has planted a garden, which was an amazing experience for the children. They so much rejoiced in the result of their work."
It's not just the flowers that blossom — the children flourish as well. This gives joy and hope to the project leaders, she said.
A source of joy for the students, in the first half of the year, were two excursions, which included an overnight stay in a hotel for the two older groups. The hotel's beds were a big hit.
"Never before in their lives had they slept in such beds. Some children even did not want to return home," Mileska said. "One of the children took a bath four times during the evening."
The positive impact of the ministry on the social behavior of the children also became visible when the children were highly praised for their behaving during the meals in the restaurant.
"True love cannot be shown by words alone but by good deeds." This is the conviction of Mileska — and that's the reason why she will continue to commit herself to this school project for Roma children.
Her aim is not only to make a contribution towards a better future of these children but also point to the One who is a source of hope — even in situations where it seems that there's no reason to hope at all.
Christina Cekov is responsible for the literature work of The United Methodist Church in Macedonia and involved in diaconal ministries on behalf of the church. Schweizer is assistant to Bishop Patrick Streiff of the Central and Southern Europe Episcopal Area.
News media contact: Vicki Brown, news editor, newsdesk@umcom.org or 615-742-5470. To read more United Methodist news, subscribe to the free Daily or Weekly Digests
---
Like what you're reading? Support the ministry of UM News! Your support ensures the latest denominational news, dynamic stories and informative articles will continue to connect our global community. Make a tax-deductible donation at ResourceUMC.org/GiveUMCom.