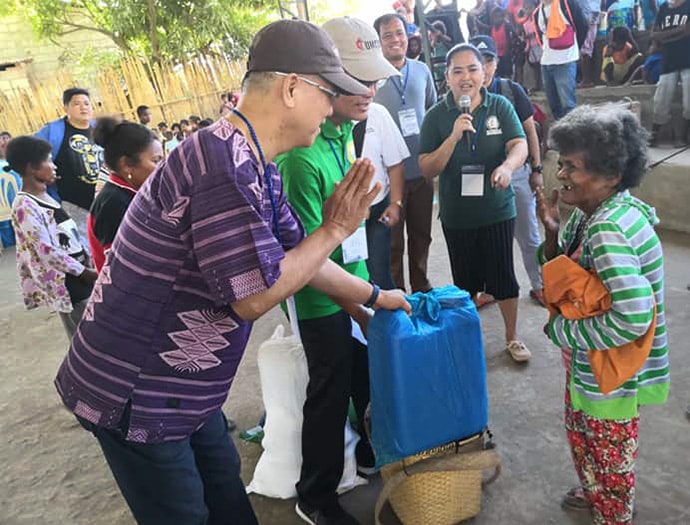 Seven Aeta communities affected by a deadly earthquake this spring received much-needed aid from The United Methodist Church in the Philippines and the denomination's relief agency.
The United Methodist Committee on Relief issued a $100,000 grant to provide support for 860 Aeta families. The Aeta are indigenous peoples who live in the isolated mountainous parts of the island of Luzon.
The relief packages, distributed Dec. 13, included sacks of food (mongo beans, brown sugar, cooking oil, soy sauce, rice, milk and coffee) and a 20-liter container for carrying water. The families also received bath soap, detergent, toothpaste, toothbrushes, undergarments and sanitary napkins.
The members of Camachile United Methodist Church in Floridablanca — all Aeta families — helped pack and hand out the goods to communities in Nabuklod and Floridablanca in the Pampanga province.
"My heart is overwhelmed with joy and thanksgiving upon seeing the bonding moments of the Aeta people working together, from the delivery of the goods, repacking, preparing the two venues and distributing the relief goods. All indeed worked together in harmony," said the Rev. Leslie Casupanan-Dela Cruz, administrative pastor of Camachile United Methodist Church.
Josephine M. Cedillo, Manila Area disaster management coordinator, said witnessing the volunteerism and commitment from church members was the most rewarding experience.
She said one of the Aeta council members gave thanks with tears, saying it was the first time they had received such great blessings.
"I felt the joy of their heart in receiving great help from UMCOR," Cedillo said. "In spite of their vulnerability, they have shown that they are resilient in times of disaster. The resilience that starts in each one, with family and the community (in which) we belong, grows from there.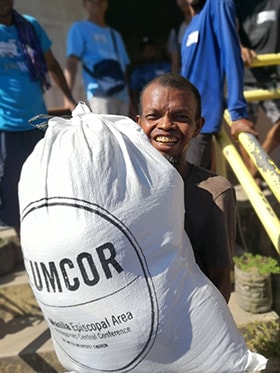 An earthquake survivor in the Nabuklod community in Floridablanca, Philippines, shares a smile after receiving food distributed by The United Methodist Church in the Philippines and funded by the United Methodist Committee on Relief. Photo by the Rev. Gilbert Cedillo.
"This experience I had will always remind me to be giving. It does not mean that sharing or giving involves money. Our time, our concern and our involvement will always be meaningful when we share it with others who are in need," she said.
Manila Area Bishop Ciriaco Q. Francisco joined UMCOR staff in distributing the food to some of the Aeta communities.
"As I give them the good items, I saw the joy in their eyes. The recipients are the most in need members of the community. They were surprised by the content of the packages, because those will last for a month for an ordinary family," he said.
Casupanan-Dela Cruz said some of the church members who received relief supplies offered some of the goods back during worship. Those items will be shared with other Aetas in Zambales, a neighboring province.
Church member Liza Santos said she was happy to share the blessings with other Aeta communities.
"We are grateful to God and to all who helped in bringing the enormous gifts we have received. This is our first time ever to receive such a great amount of food. I am overwhelmed, which made me think to share my blessings with my fellow Aetas," she said.
Maricon Paule, a United Methodist youth from Camachile United Methodist Church, said having the opportunity to share the goods was a great experience. "It is indeed a very good feeling," she said.
United Methodists in the Philippines said the global connection of The United Methodist Church plays a key role in the pooling of resources in times of disasters. In addition to the international assistance, local efforts by United Methodists have inspired others to share.
Beverly F. Varte, a United Methodist deaconess and missionary with the United Methodist Board of Global Ministries in Laos, said she saw the program that Framer Cristy Mella, president of Southern Philippines Methodist College, was doing and it inspired her to help.
The college provided shelter and counseling to those who fled their homes and sought refuge after deadly earthquakes in November.
Varte connected with the Revs. Jerry Ganal and Jaynard Gujol, United Methodists from the East Mindanao Philippines Conference, to send donations to the Davao Area and Southern Philippines Methodist College.
Varte expressed her thanks to partners from the ecumenical group Kapatiran Helping Hands for "being our hands and feet in Mindanao."
She acknowledged the beauty of the church's connectional relationship.
"I am blessed and proud to be a part of this connection, to be connected with these communities of faith wherever we are in the world, and (for) The United Methodist Church, who has an open door, open heart and mind to welcome anyone."
Ka-Tambayayong, a network that includes Southern Philippines Methodist College, Greene Academy, the Mindanao Central East District of The United Methodist Church and individual volunteers and groups, was created Nov. 4 to respond to the needs of earthquake survivors.
Subscribe to our
e-newsletter
Like what you're reading and want to see more? Sign up for our free daily and weekly digests of important news and events in the life of The United Methodist Church.
Ka-Tambayayong means helping each other in solidarity and partnership.
The group has held several relief operations with counseling interventions in affected communities. It recently also began providing undergarments to survivors.
"These are what they really need, but (they were) so shy to express it and nobody was asking. Now, they will be more comfortable," said Vivien Dumingsel, a United Methodist who is a member of Ka-Tambayayong.
Another group, Alab Sigla, from the Manila Area flew to Mindanao to help earthquake survivors.
Alab Sigla was scheduled to hold a revival and retreat conference for church workers and lay members of the Davao Area Nov. 19-20. Before the meeting, the earthquake struck.
"We immediately convened as a group. … We decided to prepare 320 bags of groceries and 300 bags of assorted biscuits and candies for children," said the Rev. Fely Dela Cruz, a district superintendent from the Rizal Philippines East Conference.
The group of four clergy and 10 lay people delivered the goods to those in need.
"We saw and experienced the sadness and fear among the people in Tacul, Davao del Sur," said Dela Cruz.
The group preached and offered counseling to survivors. They also visited some of the hardest-hit areas, even experiencing a strong aftershock. "We were frightened; it was 4.5 magnitude," she said.
Dela Cruz said the Rizal Philippines East Conference raised $4,000 for relief goods and the rehabilitation of damaged church buildings.
Middle Philippines and Wesleyan University-Philippines, both from the Manila Area, also have raised money for earthquake survivors by staging concerts.
A clergyman from the Middle Philippines, the Rev. Norman Feliciano, who is affiliated with the Pacific Northwest Conference, led his group, Squamish Christian Fellowship, in sending $915 to the Davao Area.
The bishop said that sharing with those in need is a concrete expression of faith in God.
"Faith without work is dead," Francisco said.
Mangiduyos is a communicator from the Philippines.
News media contact: Julie Dwyer, [email protected] or 615-742-5489. To read more United Methodist news, subscribe to the free Daily or Weekly Digests.