Watch out, all you hand bell choirs. There's a ukulele choir at Grace Avenue United Methodist Church in Frisco, Texas. And it's growing fast.
This Hawaiian shirt-clad cloud of witnesses played at General Conference in Portland, Oregon, wowing an exhibit hall audience on the last day.
The choir members, ages early elementary to AARP plus, played a 30-minute set that ranged from gospel to folk songs to U2's "Where the Streets Have No Name."
At the strumming and singing center of everything was the Rev. Joe Stobaugh, the group's founder and leader, and executive minister of worship and arts at Grace Avenue United Methodist.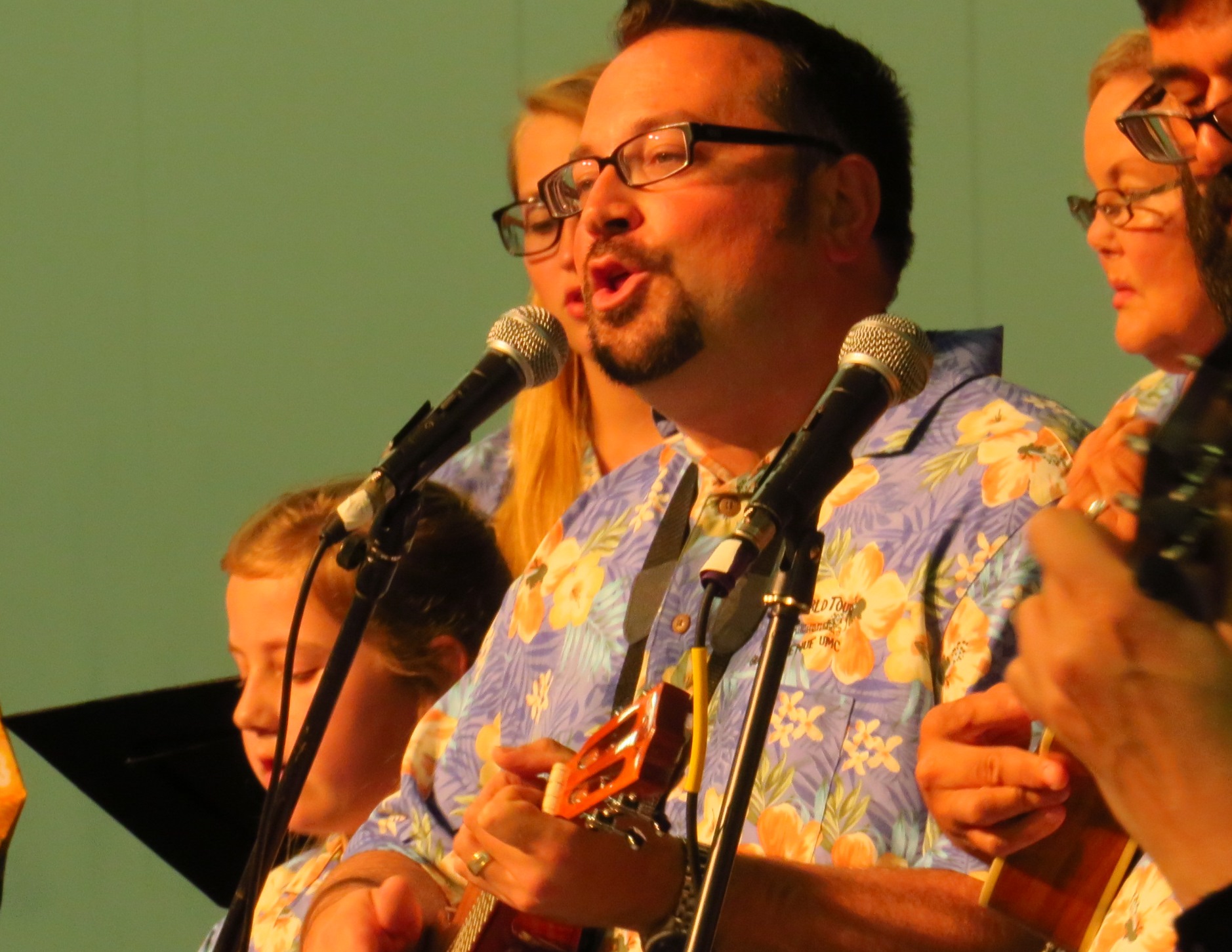 Stobaugh takes care to give the ukulele its true Hawaiian language pronunciation — oo koo lay lay. Of the instrument, he says:  "It has some sort of communal power. It brings people together."
Sheb Farris has seen that.
"I have been a member of lots of groups in the church, and this is probably the most diverse," he said. "The sense of community and camaraderie we have is amazing."
Holy Spirit nudge
The choir only formed two years ago, but its existence owes to a trip Stobaugh and his wife, Sarah, made back in 2004.
Then a new music minister and Perkins School of Theology graduate, he had paid for much of his master of sacred music degree on an American Airlines credit card. He and Sarah used frequent flyer points to take a Hawaiian vacation.
As a protégé of Michael Hawn, who directs Perkins' master of sacred music program, Stobaugh was committed to exploring music of various cultures. So in Hawaii, he bought a $50 ukulele.
Watch video
"I'd kind of mess with it once a year, learn a song or two," Stobaugh said.
About three years ago, he got more serious.
"The only thing you could chalk it up to was the Holy Spirit," he said. "It was like, ʽYou should practice the ukulele.' I pulled it out of the closet and started learning more chords."
Stobaugh, who plays saxophone, guitar, bass guitar, percussion and keyboards, and has a Burl Ives goatee, even acquired a hero — Jake Shimabukuro, a young ukulele virtuoso from Hawaii.
And Stobaugh began to study the history of the instrument, learning that recent years have seen a "third wave" of ukulele popularity, and that during the first wave, in 1915, a Methodist church in San Francisco was the venue for a ukulele  concert.
As Stobaugh's skill improved, he became convinced the ukulele was the perfect entry-level musical instrument — inexpensive, easy to hold, and just four strings.
Starting a ukulele choir
The Rev. Joe Stobaugh believes other United Methodist churches should consider trying a ukulele choir. Here are his tips for interested music ministers:
Be prepared to have fun.
If possible, have a few decent beginner ukes for people to borrow.
Be mindful of creating community. Find ways for fellowship.
Encourage an intergenerational approach.
Be sure to advertise that "no experience is necessary" to join.
As director, try to be at least one step ahead and excited to teach.
Alert choir members to ukulele instruction videos on YouTube.
Look for ways to play in your community.
Don't restrict choir membership to your church.
"I felt like this is something a lot of people could do," he said.
So in June 2014, he announced the start of a ukulele choir in the church newsletter. Twenty people showed up for the first rehearsal. They ranged from professional musicians to people who had never played an instrument.
Most came with a ukulele and Stobaugh equipped the others with ukuleles left over from a church luau some years back.
That first session, they worked on the C, F and G7 chords, and took up "When the Saints Go Marching In."
Cheri Clark was there.
"I never had touched a ukulele, except for the toy my grandchildren have," she said. "But Joe has made it so nonthreatening. He's just positive and upbeat all the time, and makes you feel like you can do it."
'Broadening the music ministry'
The ukulele choir soon began performing at the church. During the choir's first two years, membership has doubled to 40, with an age range of 7 to nearly 70.
The choir has gradually expanded its number of chords and strumming patterns, taking on more challenging music. At General Conference, members premiered a hymn called "Wake Up!" — with text by the Rev. John Thornburg, a United Methodist elder and veteran hymn writer, and music by Stobaugh.
Among those impressed by the choir's growth and progress is the Rev. Billy Echols-Richter, pastor of Grace Avenue United Methodist Church. He had doubts initially, mainly because Stobaugh had so much going on already.
He's a believer now.
"There are a lot of people who have dreamed of being part of a musical group, but never had the training," Echols-Richter said. "Joe does a great job of empowering people to live into their gifts — in some cases, gifts people never knew they had."
At least one British Methodist church has a ukulele group, and ukulele classes and concerts have been held at some United Methodist churches.
But Stobaugh, immediate past president of The Fellowship of United Methodists in Music and Worship Arts, is unaware of another United Methodist church with a regularly-performing ukulele choir.
To Hawn, who stresses with his Perkins students the importance of getting congregation members involved with music, Stobaugh's experiment is worthy of emulation.
"The ukulele choir is a great example of broadening the music ministry in ways that create community and intergenerational participation," he said.
Stobaugh extends the argument in plain language.
"It's just hard to be mad when you're playing the ukulele," he said.
Hodges, a United Methodist News Service writer, lives in Dallas. Contact him at (615) 742-5470 or [email protected]
---
Like what you're reading? Support the ministry of UM News! Your support ensures the latest denominational news, dynamic stories and informative articles will continue to connect our global community. Make a tax-deductible donation at ResourceUMC.org/GiveUMCom.