The Rev. Rebekah Miles remembers visiting the World Methodist Museum as a child and coveting its collection of Wesley-themed teapots.
These days, the Perkins School of Theology professor says she is most eager to see the museum's collection of John Wesley's original letters.
That's where Methodism's founder often revealed precisely what was — and was not — his cup of tea.
Miles,
the United Methodist seminary's newly named Susanna Wesley Centennial Chair of Practical Theology and Ethics
, soon won't have far to travel to see those letters — or the teapots — in person.
The World Methodist Museum in Lake Junaluska, North Carolina,
is sending its entire collection
to Bridwell Library, part of Perkins and Southern Methodist University Libraries in Dallas.
A portion of the museum collection already has arrived at the library in time for Aldersgate Day,
the anniversary of John Wesley's spiritual awakening on May 24, 1738
. The rest is scheduled to arrive in July.
With the additions from the museum, Bridwell Library will have about 250 letters written in Wesley's own hand — the largest trove of his correspondence outside England.
The collection also includes items such as John Wesley's traveling pulpit; a copy of
Wesley's death mask
; an unpublished poem by
his hymn-writing brother, Charles
, as well as Wesley-themed memorabilia like those 19th-century porcelain teapots.
The move to Dallas puts all the museum's Wesleyan artifacts within easy reach of
a major international airport
.
"Junaluska is wonderful because it is secluded. That's not ideal for a collection like this," Miles said. "At SMU, the collection will be more accessible to more people, including scholars."
It's a fresh start after a sad ending dealt by the COVID-19 pandemic.
World Methodist Council on the move
Bishop Ivan M. Abrahams, the top executive of the World Methodist Council, expects the museum collection's move to Bridwell Library will expose more people to the council's work.

"This is a historic undertaking that will create a larger footprint for the council and allow many more people to utilize the collection in a new way," he said.

With the museum's closure, the council is in final negotiations to close its properties on the Lake Junaluska campus. The council also now has an office in nearby Waynesville, North Carolina.

The move "will allow Junaluska to enhance their educational opportunities and allow us to broaden the mission and ministries of the council," Abrahams said.
In February,
the World Methodist Council announced
that after nearly a year of pandemic-forced closure, the 65-year-old museum was shutting down for good. The money coming in was not enough to cover museum utilities, maintenance and staff, the council said.
The
council
brings together denominations around the globe that trace their roots back to John Wesley. The council has ecumenical offices in Jerusalem and Rome. However, many United Methodists likely know the council best for its headquarters and museum at Lake Junaluska Conference and Retreat Center, a frequent site of church meetings.
History lovers immediately mourned news of the museum's closing
, especially since it was unclear where the many items in the sizable collection would end up.
Among those mourners was the Rev. Robert J. Williams, retired top executive of the United Methodist Commission on Archives and History.
The denominational archives at Drew University in Madison, New Jersey
, likely has more material overall, he said. However, its focus is on collecting United Methodist records such as conference journals, clergy obituaries and photos of missionaries.
"I think the strength of the museum collection is what it represents in aggregate," Williams said. "It has made an effort to be global."
When council staff asked his help in distributing the museum's contents, Williams jumped aboard. He also asked to bring along the Rev. Alfred T. Day III, Archives and History's most recently retired head.
Together, the two historians and two council staff formed the Archival Committee, which quickly concluded that the whole collection should stay intact. They reviewed proposals from various seminaries and United Methodist institutions.
"But what was clear was that the most robust and comprehensive plan was presented by Bridwell and Perkins," Williams said.
The library not only offered to take everything but also to provide staff to curate the material and hold public events to highlight the collection, Williams said. Bridwell staff also committed to help the museum live on by clearly identifying exhibits as part of its collection.
"It was important for us to consider not just aspects of the collection, but to preserve the integrity of the collection and the legacy of the museum," said Anthony J. Elia, the library's director and J.S. Bridwell Foundation Endowed Librarian.
He said he is excited to provide a new home for far too many museum items to list. Among those treasures are a Czech-language Methodist hymnal that was censored by the Nazis during World War II, as well as photographs from the opening of the World Methodist Museum in the 1950s. Guests at the opening included President Dwight Eisenhower and famed evangelist Billy Graham.
"It was so significant that the most powerful man in the world came to the opening … oh, and the President," Elia joked. "I think some people might say Billy Graham was more important in the 1950s."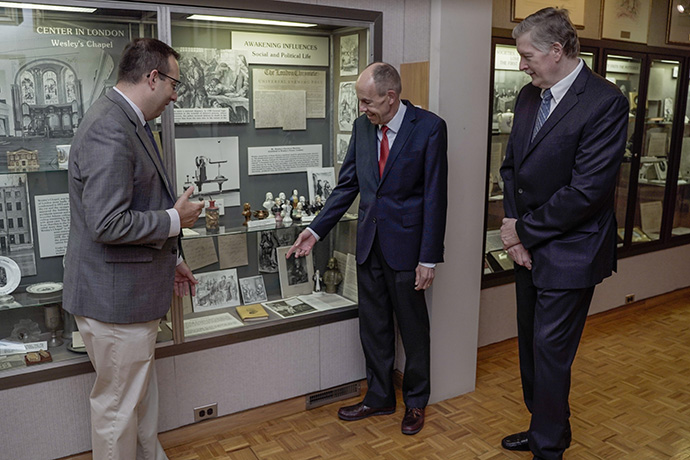 Elia plans for Wesley's traveling pulpit to be one of the first items on display in the library's already designated "Methodist Room." He expects it to be up as early as this September.
The librarian also plans to recreate the World Methodist Museum exhibit that let visitors compare their height to John Wesley's — all 5 feet, 6 inches of it.
But planning and curating public exhibits can take years, not months. Elia said Bridwell already had exhibits scheduled through summer 2022 before he learned of the museum's closing. His goal is for the World Methodist Museum collection to be on public display by spring 2023.
"We also hope that with Bridwell's Center for Methodist Studies, we will increase the number of Methodist events, activities and projects with both scholars and the public," he said.
For now, the handwritten letters are what most excites the Wesley scholars at Perkins.
Miles is co-editing a volume about Wesley's writing on family. She is particularly interested in one letter an elderly Wesley wrote to a 21-year-old preacher named Elijah Bush. The younger preacher was planning to marry over his parents' objections.
"Wesley is trying to talk some sense into him and reflecting on marriage and duty to one's parents," Miles said. "Of course,
Wesley was hardly the ideal adviser on marriage!
"
Miles is focusing on Wesley's ideas about family as part of the
Wesley Works Editorial Project
, a projected 34-volume, definitive collection of sermons, journals and letters.
The Rev. Ted A. Campbell
, Perkins' newly named Albert Cook Outler Professor of Wesley Studies, is the unit editor of John Wesley's letters for the project. His work has included
authenticating newly discovered correspondence from the church reformer, who was a prolific writer
.
"We estimate that John Wesley wrote some 60,000 letters in his life," Campbell said. "It was a lot like email in his time."
Subscribe to our
e-newsletter
Like what you're reading and want to see more? Sign up for our free daily and weekly digests of important news and events in the life of The United Methodist Church.
However, Campbell said, scholars think only about 1,200 of Wesley's letters survive in their original manuscript form. The World Methodist Museum had 49 of those letters.
Wesley's letters take on various topics from theology to family matters to current events.
Campbell said one of the letters reads like a tweet. "It says, 'Why are you not in Bristol? Are you out of your wits?'" he recalled. "You can just imagine the frowny-face emoji at the end of it."
Beyond the letters, Campbell thinks the museum collection will offer plenty for all people called Methodist to enjoy.
"Like that traveling pulpit," Campbell said. "Honestly, I think it will become the ultimate Methodist selfie location."
Perkins' Dean Craig C. Hill said he sees a need to teach the Wesleyan movement's story as widely as possible.
"We all have shared this mission, and now we share it together, uniting the two: the World Methodist Museum and a world-class theological school and library."
Still, for many who loved the World Methodist Museum, this transition is bittersweet.
"It has been an honor and privilege to have been entrusted with these previous treasures of the world's Methodist family," said Jackie R. Bolden, the museum's director and council headquarters coordinator.
"I am so excited that the WMC collection will remain together at Bridwell Library and continue to bring life to the story of Methodism and its founder for generations to come."
Hahn is assistant news editor for UM News. Contact her at (615) 742-5470 or

[email protected]

. To read more United Methodist news, subscribe to the free Daily or Weekly Digests.
---
Like what you're reading? Support the ministry of UM News! Your support ensures the latest denominational news, dynamic stories and informative articles will continue to connect our global community. Make a tax-deductible donation at ResourceUMC.org/GiveUMCom.