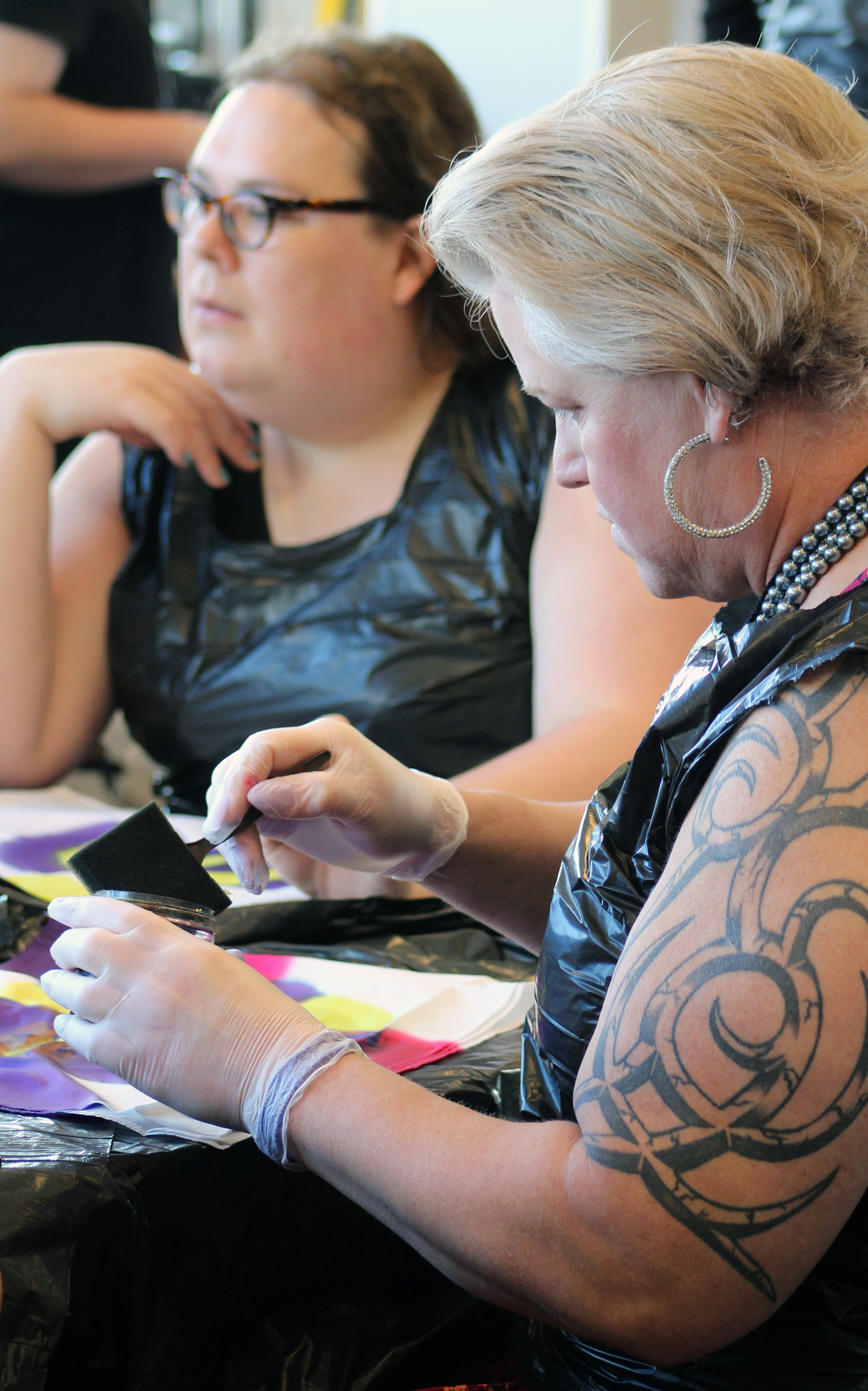 Being transgender often means being lonely, being the "only one."
Rooted, a gathering for trans and gender-expanded Christians, provided the 43 participants a rare opportunity to be in a room with people like themselves.
"Some trans and gender-nonconforming people have never experienced simply being in a room full of people like themselves," said the Rev. M Barclay, a United Methodist provisional deacon and one of the leaders of the gathering.
"At Rooted, we were able to share in trans-led and trans-centered conversations and activities that speak to our lives in a way that genuinely offers hope, understanding and opportunities for growing in faith."
The three-day conference was Aug. 11-13 in Chicago. It was sponsored by Reconciling Ministries Network, an unofficial United Methodist group that advocates for full inclusion of LGBTQ people in all aspect of church life. Barclay is communications director for Reconciling Ministries. Vanderbilt Divinity School, United Methodist Garrett-Evangelical Theological Seminary and Chicago Theological Seminary sponsored meals for the participants.
Mac Buff, a participant from Tacoma, Washington, said the event was "like a drink of cool water."
"Being in a space set up specifically for trans folks and occupied entirely by trans folks, especially one focused on faith and spirituality, was a rare experience. Because we shared similar experiences of both gender identity and faith, I was able to have conversations with people on a deeper level than ordinarily possible," Buff said.
Buff — who identifies as genderqueer and uses they/them pronouns — said their father is a Presbyterian minister and faith was important to them at an early age.
"I've often had to contend with theology that doubts or restricts my humanity. Faith leaders and other Christians have often told me that my sexuality is sinful and should be resisted or ignored, that my gender identity is invalid, and that I am misunderstanding God's will for my life by living as my true, created self. Fortunately, I've also been able to find welcoming and affirming congregations to be part of."
Sasha Strock, a member of Hennepin Avenue United Methodist Church in Minneapolis, said attending the conference helped her faith grow by "leaps and bounds."
Strock is a transgender woman and the parent of three children and grandparent of one grandson.
"I received such clarity from God as to my calling and future endeavors," Strock said. "Some of the most meaningful moments were the opportunities to share our pain and struggles for acceptance within the church in a public setting where those feelings were valued and honored."
The event was both a retreat and leadership-development opportunity for ecumenical trans and gender-nonconforming people, Barclay said. The space was intended to be an intimate gathering of spiritual renewal.
Barclay was commissioned as a provisional deacon of the United Methodist Northern Illinois Conference on June 4 and is the first non-binary trans person to become a United Methodist deacon, according to Reconciling Ministries network. Non-binary trans means someone whose gender is not exclusively male nor female.
The United Methodist Church has no official position on the ordination of transgender individuals. The Book of Discipline, the denomination's lawbook, declares all people are of sacred worth but states that "the practice of homosexuality" is "incompatible with Christian teaching." Since 1984, the Discipline has prohibited the clergy candidacy, ordination and assignment of "self-avowed practicing homosexuals."
The church's stand drives many people away from the church, regardless of denomination, said Sandi Overman, a member of North Scottsdale (Arizona) United Methodist Church.
"Far too many denominations are preaching one thing in the pulpit — God loves us all and we are worthy of his saving grace — then turning around and telling the LGBTQ population that we are an abomination and therefore not worthy of God's saving grace," Overman said.
Overman is a male to female transgender individual, four years into her transition. She said she'd known she should have been a girl since she was 7 or 8 years old.
"Sadly, I felt it was necessary to hide these feelings until I was 49 years old. It wasn't until I started my transition that I was able to fully let God into my life," she said.
RJ Robles said there was a "magical divine moment" at the conference when older trans people blessed younger trans people.
"It gave me a glimpse of hope and allowed me to yet again see our collective resiliency," Robles said. Robles is a queer and transgender Latinx finishing their master of divinity degree at Vanderbilt Divinity School in Nashville, Tennessee.
Grace Cox-Johnson, who served on the design team for Rooted, said the event more than met her expectations.
"The staff, the facility and the presenters were all at premium performance. The wonderful souls who attended were engaged, willing to share and offered strong support," she said.
Rooted occurred on the same weekend that violence broke out in Charlottesville over white supremacy. It gave the gathering an opportunity to talk about how trans liberation cannot occur without racial justice, Barclay said.
"For me, as a leader with responsibilities in the LGBTQ community, the work we did on racism was the most dynamic and challenging," said Cox-Johnson.
Barclay said there are so many needs that the weekend felt like "a drop in the bucket or a perhaps even a drop in the ocean."
"I hope in these particularly challenging days we are living in, the church will begin to channel its time, energy and resources towards spaces where the marginalized can find hope in one another and in God," Barclay said. "There is so much need for it, and a weekend event will never be enough."
Gilbert is a multimedia reporter for United Methodist News Service. Contact her at 615-742-5470 or [email protected]. To read more United Methodist news, subscribe to the free Daily or Weekly Digests.
---
Like what you're reading? Support the ministry of UM News! Your support ensures the latest denominational news, dynamic stories and informative articles will continue to connect our global community. Make a tax-deductible donation at ResourceUMC.org/GiveUMCom.