Editor's Note: A delegation of United Methodist bishops and mission staff visited China in April to strengthen existing ties with the Protestant church there. This part of a UMNS series - The Church in China - focuses on disaster relief.
When an earthquake struck western China in April, Cao Hui, vice director of the Amity Foundation's new media department, got the word out quickly via Amity's website and Chinese social media platforms.
Other organizations and individuals used the same methods to galvanize an immediate response to assist earthquake survivors, despite the fact that the Chinese government was trying to restrict road access to authorized relief supply trucks.
Online communications "have been of tremendous power in relaying Amity's work and gaining supporters in Chinese society," reported She Hongyu, an Amity executive and director of the Christian-related organization's research and development center.
This phenomenon - both the delivery of relief supplies and services and the method of communication - is relatively new in China, where the government traditionally has managed disaster response.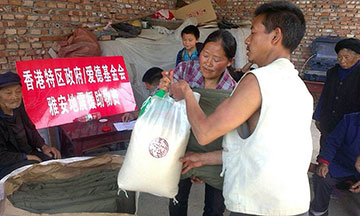 Amity Foundation staff members distribute relief supplies in China's Sichuan Province. Photo courtesy of the Amity Foundation.
But when disaster strikes these days, Amity goes to the front lines. "Often, we're strongly moved by our colleagues, by their dedication and sacrifice," She told a United Methodist delegation visiting Amity's Nanjing office several days after a 7.0 earthquake struck Ya'an in Sichuan Province on April 20.
The real turning point for relief work by Amity and other nongovernmental and grassroots groups occurred after the devastating 7.9 earthquake in the same province in 2008, which killed more than 80,000 people, including many children whose schools collapsed. May 12 marked the fifth anniversary of what became known as the Wenchuan earthquake.
In 2008, Amity staff arrived in Chengdu, the provincial capital, within five hours of the earthquake and a day later, the United Methodist Committee on Relief issued an emergency appeal and dispatched $50,000 to Amity for relief work and rehabilitation efforts.
Amity focused its long-term recovery work in Woyun village of Mianzhu County, where 30,000 lost their lives. Ninety percent of the village's homes had collapsed or were considered unsafe.
The earthquake created a unique opportunity for local ministry. Although the Protestant church in Mianzhu was damaged beyond repair, the 180-member congregation set up and staffed a medical clinic, the "Gospel Clinic," and the pastor offered counseling to survivors.
A temporary canvas structure drew more and more visitors to worship. A year later, a thousand people were coming every Sunday.
Another quake hits Sichuan Province
Nearly 200 people were killed in this latest disaster, which also damaged roads and hundreds of thousands of houses, affecting nearly 2 million people. Thomas Kemper, a delegation member and head of the United Methodist Board of Global Ministries, told officials of the China Christian Council that UMCOR would provide two $10,000 grants for earthquake relief "as an expression of our solidarity."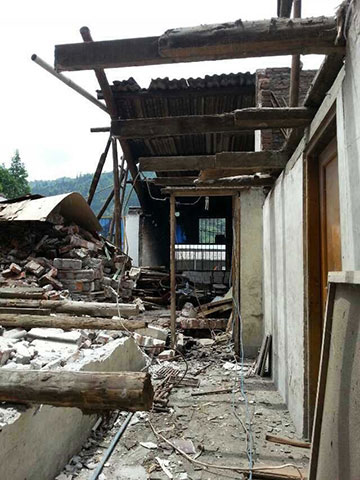 Nearly 200 people were killed in the May 20 earthquake in China's Sichuan Province. Photo courtesy of the Amity Foundation.
The fact that Amity has other social programs in Sichuan Province has allowed the organization to use its local connections to help coordinate the 2013 earthquake response. To ensure good relations, Qiu Zhonghui, top executive of Amity, met May 6 in Ya'an with leaders of the Sichuan People's Political Consultative Committee and with government officials.
By May 9, Amity had 18 staff on the ground in Sichuan Province, including four from Amity Printing Co. The company has engaged in philanthropic work for many years, but this was the first disaster relief team it has dispatched, She reported in an email.
Amity also has on-the-ground assistance from its Hong Kong Office, which has supplied HK$5.3 million for emergency relief. Working with local partners on May 9 and 10, Amity distributed the first relief supplies provided by the Hong Kong SAR government.
"Amity stresses distribution of materials according to the firsthand information on the needs through site visits and conversation with the local villagers and leaders," explained She.
"Relief materials are purchased through careful price comparison and negotiation and sometimes even visits to the factories. Distribution of materials is based on the name list that the village committee provides and signatures of the recipients are required in distribution."
Even 18 days later, obstacles remained. "The once famous abundant rainfall in Ya'an now becomes the biggest barrier in the relief work," She said. "Blockage of roads from the landslide after rain at any time makes transportation more difficult."
In Shanghai, the China Christian Council has worked with Sichuan Christian Council to support the relief efforts of local Protestant churches, according to Yiye "Leo" Liu of the national council's social service department.
The church in the downtown Ya'an immediately opened as a temporary shelter and teams from four churches in the earthquake area - Lu Zhou Church, DeYang Church, Nan Chong Church and Guang Han Church - started delivering relief supplies soon after the earthquake struck.
The Church in China
A team from Lu Zhou Church even joined the Lu Zhou rescue team, with "rescue equipment and sniffer dogs" to search for earthquake survivors in collapsed homes and buildings of the towns and villages of Lu Shan County.
At one point, the General Office of the State Council asked social organizations to stop sending teams temporarily to keep the roads clear for trucks carrying relief supplies, but the councils and local churches soon received approval to continue their work, Yiye reported on April 23, before leaving for Chengdu himself.
In June, the China Christian Council, in coordination with Sichuan Christian Council, will provide medical care and counseling to those in the earthquake area. In particular, some senior citizens, women and children are experiencing continuing trauma and medical issues, the council reported to UMCOR.
Medical teams from the Luzhou, Chengdu, Dazhou and Nanchong churches will visit disaster areas in turns during the month.
"The team members will also learn the psychological condition of local people and provide counseling and guidance to bring some people out of their sorrow and restore (them) to the normal life," the council said.
*Bloom, a United Methodist News Service multimedia reporter based in New York, and Mike DuBose, UMNS photographer, accompanied a United Methodist delegation to China in April. Follow Bloom at http://twitter.com/umcscribe.
News media contact: Linda Bloom, New York, (646) 369-3759 or [email protected].
---
Like what you're reading? Support the ministry of UM News! Your support ensures the latest denominational news, dynamic stories and informative articles will continue to connect our global community. Make a tax-deductible donation at ResourceUMC.org/GiveUMCom.