Editor's Note: A delegation of United Methodist bishops and mission staff visited China in April to strengthen existing ties with the Protestant church there. This is part of The Church in China, a UMNS series.
United Methodists have both historic and contemporary ties to Christianity in China.
The main influx of western missionaries started after China's defeat in the First Opium War in 1844, which led to the opening of five trading ports. Representatives of the predecessor bodies of The United Methodist Church were among them.
The first Americans, from the Methodist Episcopal Church, arrived in 1847 in the Fujian Province. The denomination also established schools for girls, universities and medical missions in Beijing and Tianjin.
The Methodist Episcopal Church, South, arrived in the Shanghai-Huzhou-Suzhou area in the early 1850s. Later, an East China Conference was established.
Methodist Protestants worked in north China, near the Great Wall. The Evangelical Church focused on ethnic minority people in the rural Hunan and Guizhou provinces and the United Brethren Church had medical and evangelistic work in Guangdong Province. United Brethren also helped establish the first indigenous denomination, the Church of Christ in China.
The legacy of that mission work includes Peking University, later re-named Yenching University and eventually merged into other institutions, and Peking Union Medical School, as well as many other schools and theological seminaries. Some of the first women in China to graduate from college attended Methodist schools, such as Hwa Nan (Huanan) School of Arts and Letters in Fuzhou.
Eventually, Chinese Christians began to lead church institutions - the Methodist Church had two Chinese bishops - but missionary control didn't really end until after the People's Republic of China was established in 1949.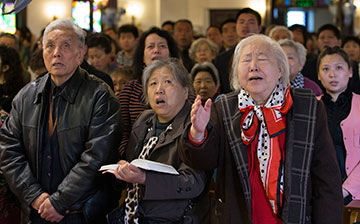 Shen Lu de (right foreground) joins with fellow worshippers to sing a hymn at Chongwenmen Church in Beijing. The church was established in 1870 by U.S. Methodists and was then known as Asbury Church.
Post-denominational
The Protestant Three-Self Patriotic Committee, formed in 1954 to serve as a bridge to the new government, also signaled the beginning of a post-denominational era as congregations and denominations merged.
After the opportunity to continue traditional mission work in China ended, United Methodists pondered how to maintain the connection. In 1973, the United Methodist China Program became part of the United Methodist Board of Global Ministries. From 1974 to 2000, the denomination's liaison office in Hong Kong provided an ecumenical link to Chinese Christians.
In 1978, for the first time since the last American Methodist missionary departed 26 years earlier, Board of Global Ministries staff members visited China as part of an ecumenical delegation.
As churches began to reopen, the China Christian Council formed in 1980 to oversee administrative, spiritual and ecclesiastical issues. The highest decision-making body for Protestants, the National Christian Conference meets every five years and will this June.
The 1984 United Methodist General Conference, the top legislative body, approved two resolutions on church and political relations with China and formally acknowledged and celebrated the autonomy of Chinese Protestants by removing the China Central Conference from its rolls. Bishop K.H. Ting, the prominent Chinese Christian leader, expressed thanks for that gesture when he spoke to the 1988 General Conference.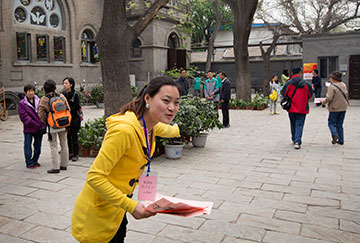 Greeter Wang Yan Na welcomes parishioners and visitors to Chongwenmen Church in Beijing.
When Chinese Christians established The Amity Foundation, a social service organization, in 1985, the Board of Global Ministries offered space in its Hong Kong office, establishing a cooperative relationship that continues today.
From 1986 to 2008, the board also sponsored theological students and teachers pursing graduate degrees to prepare them for academic and leadership posts in China. In 1991, one of those students was the Rev. Gao Feng, now the president of the China Christian Council and a fourth-generation Christian.
Gao, part of a delegation that visited the New York headquarters of the Board of Global Ministries in May 2010, offered a thank you.
"I was one of three Chinese students sent to the United States in 1991 to study theology under the Crusade Scholarship program in partnership with the China Christian Council," he said, speaking through a translator. "Without the support of United Methodists, I would not be president of the China Christian Council today."
Keeping in touch
Since the late 1980s, bishops, mission staff, missionaries, teachers of English and United Methodists in other capacities have visited, consulted and prayed with Christians in China. Reciprocal visits have been made to the United States by leaders of the China Christian Council, Three-Self Movement and Amity Foundation. United Methodists help the Chinese coordinate their Bible ministry exhibition, which toured U.S. cities in 2006 and 2011.
Specific mission opportunities in China for young people have deepened understanding. In 1989, the denomination's Northeastern Jurisdiction's youth program launched its first "Mission of Peace to China," an experience that was captured by "Catch the Spirit," a program of United Methodist Communications. Additional trips followed in 1997, 2001, 2006 and 2011.
In the mid-1990s, the United Methodist China Program resourced the U.S. National Council of Churches' six-week "Summer of Sharing" programs in China for young adults. United Methodists also have participated as volunteer English teachers in the Amity Foundation's summer teachers program.
The Board of Global Ministries now supports a number of China-related projects through The Advance, the denomination's voluntary giving program. 
A new denominational Hong Kong Office will open soon.
*Bloom, a United Methodist News Service multimedia reporter based in New York, and Mike DuBose, UMNS photographer, accompanied a United Methodist delegation to China in April. Follow Bloom at http://twitter.com/umcscribe.
News media contact: Linda Bloom, New York, (646) 369-3759 or [email protected].
---
Like what you're reading? Support the ministry of UM News! Your support ensures the latest denominational news, dynamic stories and informative articles will continue to connect our global community. Make a tax-deductible donation at ResourceUMC.org/GiveUMCom.