Key points:
Through a group-based funding strategy, women contribute to and benefit from small loans.
More than 500 women have enrolled in the project, empowering them financially and improving their self-determination.
"The project supports women's investment growth, strengthens livelihood projects and enhances access to financial resources," said the Rev. Anne Kanini Ntarangwi, Eastern Kenya District superintendent.
---
Women in the Eastern District of the Kenya-Ethiopia Conference are benefitting from a program that helps them save money and start income-generating projects.
Table banking is a group-based funding strategy that aims to improve economic life for the marginalized — especially underprivileged women in rural areas. Each time members meet, they save money from which they can take short- or long-term loans.
Since its inception, the conference's table-banking project has enrolled over 500 women.
Nellie Ruuri, district communications director, said all 31 churches in the district have women's fellowships with a revolving fund of $500 to run the project.
"The table-banking project," she said, "has helped unbanked women in low-income areas to access finances to start income-generating projects. (It) has brought financial services to the poor, particularly women in rural churches, and they are now able to fight poverty and stay profitable and financially sound.
"Women have become great beneficiaries of table banking and have started income-generating activities that never existed due to lack of funds."
A study led by local Partnership for Economic Policy (PEP) researchers showed that 44% of all women in Kenya are poor in at least one dimension and that 95% of multidimensionally poor women live in rural areas. Most have no access to mainstream banking, either by choice or because of deep-rooted socioeconomic and cultural factors.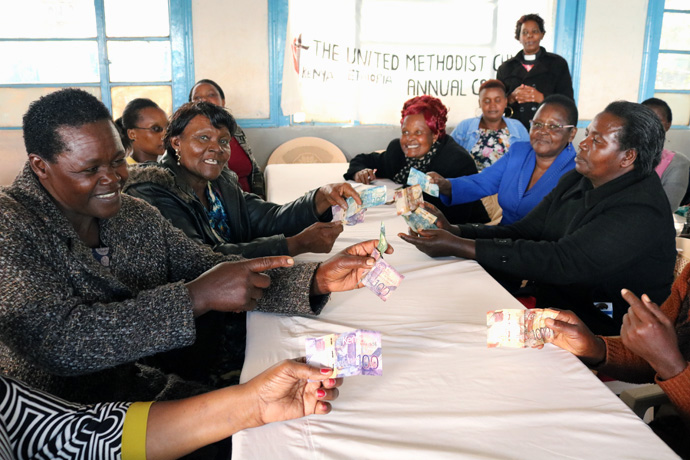 The table-banking project gives priority to the poor, rootless, landless and vulnerable. Ninety-seven percent of borrowers are women, who constitute the weakest group among the rural poor.
The project was started in 2007 under the name "Seed Bed." Until COVID-19 paralyzed the project, churches sponsored fundraising activities. In February 2021, "Seed Bed" was rebranded as "table banking" and has grown significantly since then.
On the first Sunday of every month, money is collected, and members take soft loans until all of the money is used. At the next meeting, each member pays back her loan with an interest varying from 1% for short-term loans to 10% for longer-term loans. Members insulate themselves from prohibitive interest rates on loans charged by financial institutions. According to recently released data by the Central Bank of Kenya, the country's banking regulator, the lowest interest on a commercial bank loan in Kenya is 15%.
Money keeps growing and is available for members to borrow.
Elizabeth Kiriinya, a member of Makutano United Methodist Church, said 10 women from her church have registered for table banking. Through the system, church members educate their children and invest in businesses.
Kiriinya contributes Kes 2,000 ($20 USD) every month, a contribution she has increased based on the performance of her business. From savings, she has been able to take loans with flexible repayment terms.
"I have never opened a bank account," she said. "I got scared hearing about the terrible experiences of my friends with banks, including strict loan-requirement procedures. I had nothing when I was starting, but I have grown my finances with table banking."
Catherine Kaguri, district women's coordinator and a member of Gateway United Methodist Church, launched her first business — selling secondhand clothing — after receiving the first loan of Kes 30,000 ($300 USD).
"I religiously made small contributions for nine months that gave me a significant loan in return," she said. "Now I have expanded my business to include a small cafeteria and groceries store. I have no problem borrowing because the repayment terms are so flexible. I don't think I will ever talk of poverty again."
Subscribe to our
e-newsletter
Like what you're reading and want to see more? Sign up for our free daily and weekly digests of important news and events in the life of The United Methodist Church.
The Rev. Charity Kiogora, associate pastor at Rwairi United Methodist Church, noted that the flexibility of table banking draws many women to the concept. "In cases of default in payment due to circumstances confirmed as beyond control," she said, "group members can fundraise to clear defaulted loans to help victims rebuild themselves."
The model has also become popular among women because they don't require security to acquire loans.
Currently, over 200 women in Eastern District congregations are involved in table banking. They have invested in small businesses such as farming, retail shops, children's education and church programs.
The Rev. Anne Kanini Ntarangwi, Eastern Kenya District superintendent, said table banking has rescued women from poverty. She asserted that women deserve more financial empowerment because they are hardworking and contribute to the country's development.
"The project supports women's investment growth, strengthens livelihood projects and enhances access to financial resources," she said. "It empowers Kenyan women economically and enhances their household food security.
"In addition to saving and borrowing instantly, women's groups receive assistance in making business proposals and business plans, empowering them economically and reducing poverty, especially in rural areas."
Ntarangwi said the women are seeking funds to expand the project and offer more monetary resources.
"We urge well-wishers to join in pooling resources to help overcome poverty and illiteracy, especially among the rural poor," Ntarangwi said.
Gad Maiga is a communicator for the Kenya-Ethiopia Conference.
News media contact: Julie Dwyer at [email protected]. To read more United Methodist news, subscribe to the free Daily and Friday Digest.
---
Like what you're reading? Support the ministry of UM News! Your support ensures the latest denominational news, dynamic stories and informative articles will continue to connect our global community. Make a tax-deductible donation at ResourceUMC.org/GiveUMCom.