The COVID-19 pandemic has disrupted operations, travel, funding patterns and even essential aspects of mission — such as the placement of individual missionaries — for the general agencies that undergird The United Methodist Church.
But in the months since mandatory lockdowns and the shift to a largely virtual world, those agencies are finding ways to be more effective as they offer support to churches worldwide.
For the United Methodist Board of Church and Society, the pandemic was almost "like pulling back the curtain" to reveal society's most vulnerable communities, said the Rev. Susan Henry-Crowe, top executive.
"It meant our work intensified immediately," she said.
In the first month, she said, the social action agency fielded more than 1,000 calls with U.S. Congressional delegates and staff and coalition partners who work on issues such as racism, poverty and access to health care.
Henry-Crowe said almost 200 applications were received for the
Just and Resilient Communities Grants
, a special grant fund designated to respond to the structural inequalities the COVID-19 pandemic exposed. Those grants amounted to almost $100,000 for more than 25 ministries across the connection, including five central conferences and all five U.S. jurisdictions.
"We had so many more applications than we could possibly honor. We were already in the process of thinking about 2021-24, but this put it on speed dial," she added.
In Africa, seed funding from United Methodist Women has enabled women to respond to COVID-19 concerns in their home communities, through training on protective measures such as handwashing and the need to wear masks.
Women in the North Katanga Conference
in Congo, for example, are making soap. "They're just very creative in how all that (seed funding) gets deployed," said Harriett Olson, UMW's chief executive officer.
The United Methodist Committee on Relief and its parent agency, the Board of Global Ministries, created the Sheltering in Love grant program to help United Methodists and denominational partners support local communities during the pandemic.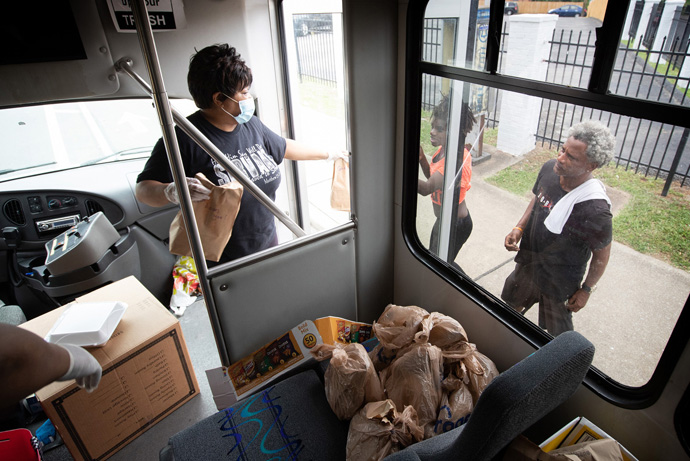 Within a few months, $1.7 million was raised for the campaign. An additional contribution from other Global Ministries funds meant that $2.3 million was distributed through 230 Sheltering in Love grants, including 105 to local churches. The grants went to recipients in 43 countries and 43 of the U.S. states and territories.
The international scope of those grants provided an example of the synergy between UMCOR and Global Ministries that has developed over recent years.
That ability to coordinate together — theologically and in witness and service — has been a priority for Thomas Kemper, who leaves his position as top executive for Global Ministries at the end of August. The mission agency's regional offices and missionary presence around the world, he explained, "have knowledge that benefits UMCOR and allows them to be present in a different way."
As United Methodist agencies have adjusted to pandemic disruptions, their staffs, board members and constituents are learning to function effectively online.
While about 75% to 80% of United Methodist missionaries are still in their place of assignment, others are waiting to travel. But Global Ministries has found benefits in connecting virtually with members and church partners across long distances, Kemper said.
Multi-agency effort: Dismantling Racism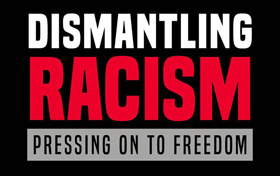 Logo courtesy of United Methodist Communications.
"Dismantling Racism: Pressing on to Freedom" is an initiative of the United Methodist Council of Bishops with support from the Commission on Religion and Race and other agencies of the church. The anti-racism campaign includes local and national worship services, town hall meetings, a national advertising campaign, online courses and other resources.
The United Methodist Publishing House's Abingdon Press has a bestselling book on racism:
"Raising White Kids: Bringing Up Children in a Racially Unjust America," by Jennifer Harvey
.
See resources
For United Methodist Women, going virtual has involved moving all five quadrennial jurisdictional meetings online,
including the election of jurisdictional officers and board directors
, and offering online training to members to enhance and deepen the organization's work on racial justice issues.
For Church and Society, it meant reworking an in-person seminar program that can draw 800 or 900 people annually to include a five-week webinar series, "COVID-19: Pre-existing Disparities Exposed," that now has been viewed by about 2,000 people.
For United Methodist Communications, it meant giving out more than 1,000 grants for enterprise-level licenses to help local churches use digital platforms, including Zoom, to reach their communities virtually. The agency also produced advertising messages on behalf of the denomination and a campaign to promote giving.
The United Methodist Publishing House has provided support to churches conducting virtual vacation Bible school and other online summer programs. The agency also has sold thousands of pre-filled communion cups as some churches have sought to resume having communion as safely as possible.
On a broader scale, Wespath Benefits and Investments — the denomination's pension agency — signed the
Investor Statement on Coronavirus Response
, which "recognizes that long-term viability of the companies in which we invest is inextricably tied to the welfare of their stakeholders, including their employees, suppliers, customers and the communities in which they operate."
The Commission on the Status and Role of Women moved its
Women's Leadership Summit 2020
from an in-person summer event at Garrett-Evangelical Theological Seminary to a virtual Oct. 8-10 gathering. And the Commission on Religion and Race is receiving increasing requests for online training and other resources as it copes with a shrinking budget, said incoming interim top executive M. Garlinda Burton.
The United Methodist Commission on Archives and History found itself ahead of the curve. A local church historians class slated for this fall already had been planned to be online to include participants in the Philippines and Africa. So far, some 700 folks have signed up.
"This is all about helping churches to discover their history to make a missional connection," said the Rev. Alfred Day, top executive for Archives and History, about the online class.
When COVID-19 forced the Board of Higher Education and Ministry to move training sessions for new district superintendents and directors of connectional ministries personnel online this year, the education process was unexpectedly enhanced.
Three weeks before the July 26-30 virtual meeting, students watched a 20-minute video online, and instructors answered questions afterward using the chat function. "What we discovered is that when people showed up (online) for the virtual week, we had built a whole different level of cooperation," said the Rev. Greg Bergquist, the agency's top executive.
"So we learned that even if we're face to face at Lake Junaluska next year, we're still going to do the virtual training before then, because we think it provides a better education model," he explained.
At Discipleship Ministries, the Rev. Junius Dotson acknowledged that the shift to webinars, Zoom conferences and e-learning courses "will continue until we have a vaccine and can safely offer in-person events once again." The Zoom presentation of an event titled
"Navigating 2 Viruses — Regathering in the Midst of Racism & Pandemic"
drew a big crowd, Discipleship's top executive said.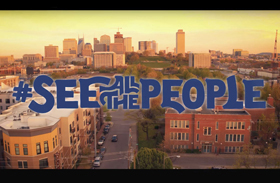 This is the title graphic from "See All the People," a video produced by Discipleship Ministries as part of a new disciple-making initiative. Video image courtesy of Discipleship Ministries.
Dotson promised that a signature effort in his tenure,
See All the People
, would not be sidelined by the pandemic.
"See All the People is largely made up of resources that are easily accessed online, and the feedback we have received from local church and annual conference leaders is that the initiative has been very effective and practical in helping the church focus on intentional discipleship and community engagement," he said.
The General Council on Finance and Administration is continuing to help facilitate the denominational connection for churches and conferences, said Sharon Dean, who heads GCFA's communications and marketing.
"There is still need, and we are here to help respond to those needs in supporting the new expression of church even in the face of a pandemic," she added.
This story was compiled by the following UM News reporters: Linda Bloom, Joey Butler, Kathy Gilbert, Heather Hahn, Sam Hodges and Jim Patterson.

Contact UM News at 615-742-5470 or

[email protected]

. To read more United Methodist news, subscribe to the free daily or weekly digests.
---
Like what you're reading? Support the ministry of UM News! Your support ensures the latest denominational news, dynamic stories and informative articles will continue to connect our global community. Make a tax-deductible donation at ResourceUMC.org/GiveUMCom.