If all goes well, the Rev. Rick Metheney will make his internet-preaching debut this Sunday.
The four small West Virginia churches he leads are closing due to the coronavirus threat, so he's found a tech-savvy friend to help him tape a message to post to YouTube.
Metheney's a little worried about how he'll come across.
"I'm not a televangelist. I'm not that," he said with a laugh.
But Metheney is going forward, knowing his people need to hear the word, however he can get it to them.
"It's challenging times," he said.
Small United Methodist churches and their pastors are scrambling along with everyone else because of coronavirus, and they seem to be measuring up, despite having limited resources.
"Everybody at this stage is just thinking, 'What is the best approach to being in ministry with folks we can't see face to face?'" said the Rev. Vic Casad, superintendent of the largely rural East District of the North Texas Conference.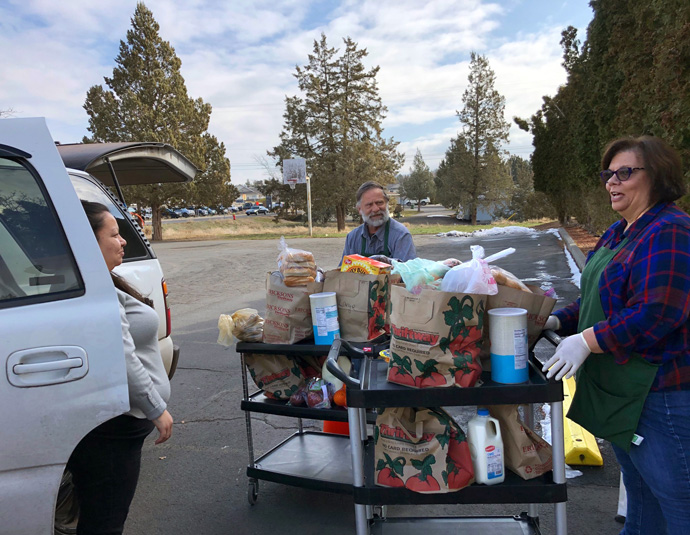 Just about half of the United Methodist churches in the U.S. had under 100 members in 2017, according to the denomination's finance agency.
Casad said that of the 83 churches he supervises, only a handful had done livestreaming or other online worship before the coronavirus threat began to close church doors.
Among those who took the plunge on Sunday, March 15, was the Rev. Deana Lowe, pastor of Westview United Methodist Church in Greenville, Texas, where average worship attendance is 30.
She created a Facebook group and invited church members to join. They invited others. Lowe used Facebook Live to deliver her message, accompanied by a church couple who play the violin.
Lowe had no tripod or special microphone. She put her tablet computer on a music stand and hoped for the best.
To her surprise she got 54 "views" and positive feedback.
"We're going to keep going (with livestream) after we return to whatever normal is going to be," said Lowe, who plans to use Skype to keep her church's two-member confirmation class going.
The Rev. Randy Wall, chair of United Methodist Rural Advocates, notes that many small churches face obstacles beyond lack of experience with online worship. In some rural areas, internet speed can be slow and cell phone coverage spotty.
That's true in rural West Virginia, but the Rev. Tammy Phillips, pastor of the six churches in the Nestorville Charge, carried on.
She used the One Call Now service to alert members of all the churches to be ready for the message she delivered via FaceTime from her family room, where she'd added a flower and a candle.
"We had over 220 views, which is double our membership!" she wrote in a report for the Mon Valley District newsletter. "So it has allowed us to reach out to others with the Gospel."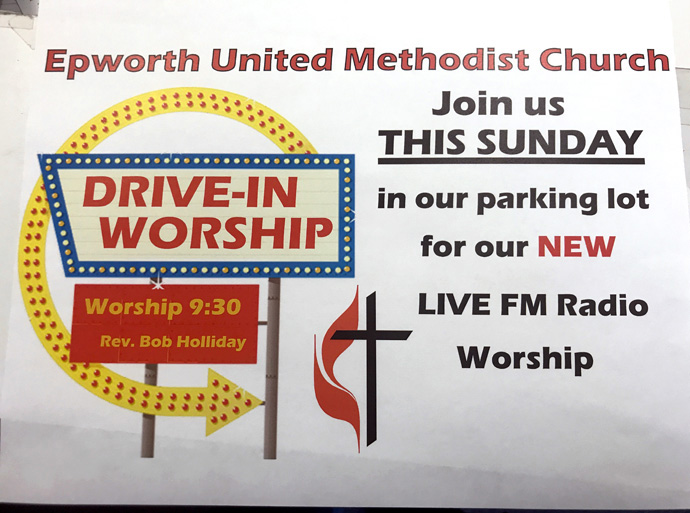 Small churches tend to have an older membership, including many who don't use the internet. Phillips' solution was to use a free conference call service to let her offline members listen to her message.
The Rev. Rose Kingsbury is the part-time pastor for Onondaga Nation United Methodist Church, in Nebrow, New York, and most of her members do not use the internet. Kingsbury, also a nurse practitioner at a nursing home, wrote and mailed them a letter of encouragement for this time in which they can't meet in person.
"We as Native Americans are no strangers; we bear intergenerational trauma," wrote Kingsbury, whose own Native ancestry is Cree. "But we are still here. We can do things that can be positive and helpful."
At rural Poetry United Methodist Church, about 40 miles from Dallas, the Rev. JB Bryant said its popular sewing circle has scaled back to founder Esta Bayse and two other women. They're keeping their distance from one another but meeting the circle's quota of making comforting cloth goods for a hospice organization.
Keeping an important ministry going also has been a focus at Madras United Methodist Church, in Madras, Oregon. The church is home to the Madras Community Food Pantry and works with partners to serve the needy.
This week the church switched to drive-thru pickup, and on Tuesday the cars formed quite a line. Fifty-eight families — more than 200 people — were served.
"It's a record," said the Rev. Nancy Slabaugh Hart, Madras United Methodist's pastor.
Subscribe to our
e-newsletter
Like what you're reading and want to see more? Sign up for our free daily and weekly digests of important news and events in the life of The United Methodist Church.
Small churches are hardly confined to rural areas. At Epworth United Methodist Church in Phoenix, the Rev. Bob Holliday has bought a low-power FM transmitter to reach members of his congregation.
"I contacted the FCC. They said as long as we're below 2 watts, we don't need a license," Holliday said.
On Sunday, he'll be using Facebook to livestream the church's worship service. But it'll be held outside in the parking lot, on the lowered panel of a truck used for remote Sunday school classes.
People who don't have internet or who just want a different experience can park their cars where they can pick up the service on their radios.
The Rev. Matt Rowe, pastor of North Rose United Methodist Church in North Rose, New York, joins Holliday in thinking that the coronavirus outbreak provides opportunities for churches.
Rowe and his church have lately focused on building small-group ministry, and they've turned to Facebook to continue those meetings.
"(Coronavirus) really could serve, as horrible as it is, to reawaken the need for small group discipleship, whether that happens in person or online," Rowe said.
U.S. bishops have lately used conference websites to publish notes of appreciation to clergy and laity for responding creatively and indefatigably.
The Rev. Judy Pysell serves three small churches in rural West Virginia (her husband serves five) and she's been asked how she's coping in the coronavirus period.
Her answer is simple: "One day at a time. No panic, just deal."
Hodges is a Dallas-based writer for United Methodist News. Heather Hahn contributed. Contact them at 615-742-5470 or [email protected]. To read more United Methodist news, subscribe to the free Daily or Weekly Digests.
---
Like what you're reading? Support the ministry of UM News! Your support ensures the latest denominational news, dynamic stories and informative articles will continue to connect our global community. Make a tax-deductible donation at ResourceUMC.org/GiveUMCom.