Methodists and their fellow Protestants in Italy have created an innovative legal model for refugee resettlement that could be replicated across Europe.
The Humanitarian Corridors pilot project has been so successful that when a Syrian family arrived at Rome's Fiumicino International Airport at the end of January, they were among the more than 1,500 refugees welcomed under the project's authority in the past three years.
The mother, father and seven children had come from the Lebanese refugee camp of Tel Abbas near the Syrian border to join church hosts in the city of Turin.
Their journey demonstrated a key goal of the project's partners — the Federation of Evangelical Churches in Italy, the Synod of Waldensian and Methodist Churches and the Community of Sant'Egidio, a Catholic organization that received a World Methodist Peace Award in 1997.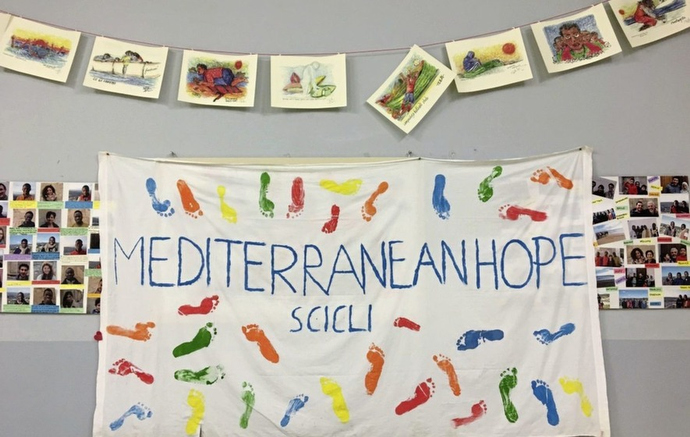 Through Mediterranean Hope, the federation's nongovernmental organization on migration, the churches wanted to offer an alternative to the desperate and dangerous sea voyages that asylum-seekers were taking to reach Europe.
With an expansion into France and Belgium, some 2,200 refugees have been resettled through the project since February 2016.
Jorge Domingues, a United Methodist expert on global migration, said the first 1,000 refugees that Mediterranean Hope was able to resettle in Italy in 2016 and 2017 "was more than the 15 countries in the European Union did in the same period of time."
This level of impact — achieved largely with funding from the tiny Waldensian and Methodist churches through an Italian law allowing taxpayers to direct money to religious bodies — was simply amazing, Domingues told United Methodist News Service.
"When I heard and saw these numbers, I realized the importance of these projects," he added.
Domingues spent four months in 2017 working with Mediterranean Hope while studying for a master's degree in public administration. Formerly an executive with the United Methodist Board of Global Ministries, he is now the executive director of connectional ministries for the California-Nevada Conference.
The European Union allows its members to grant humanitarian visas outside of the refugee resettlement process of the United Nations. The Italian churches, he explained, "devised a very creative, innovative and practically doable process" for those visas, not to replace the government's efforts through the U.N., but as "an add-on serving the most vulnerable."
For Paolo Naso, a political science professor and the Methodist coordinator of Mediterranean Hope, this continuing effort to assist refugees under a Memorandum of Understanding with the Italian government — first approved in 2015 and renewed in 2017 — is crucial and has encouraged "good practices," he said.
"Now our goal is to move from good practices to a new EU (European Union) policy adopting the humanitarian corridors as the main safe passage to Europe for asylum seekers and vulnerable migrants," he told UMNS.
Mediterranean Hope was created at the height of the refugee crisis in Europe, a few months after 368 migrants died on Oct. 3, 2013, trying to reach the Italian island of Lampedusa.
When Naso and two colleagues came to the U.S. at the beginning of 2017 to connect with American church leaders, the corridors project was just part of its work. The organization also was hosting a reception center on Lampedusa and running a "House of Cultures" center in southeast Sicily to assist vulnerable migrants and promote community interaction. In addition, the organization staffed a relocation desk in Rome to help migrants in transit.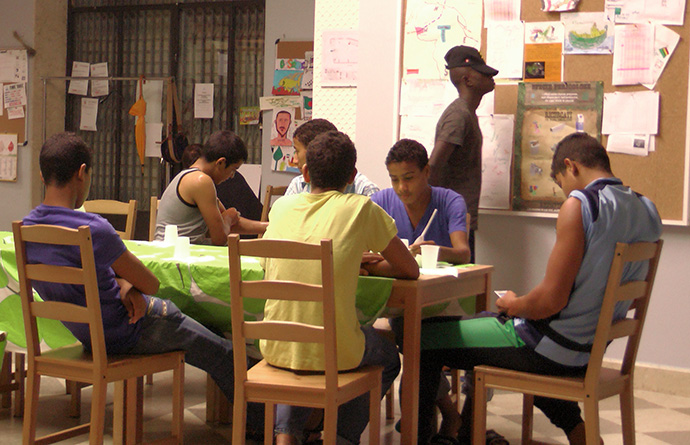 Today, he noted, Mediterranean Hope is "particularly proud" of how the special environment of the House of Cultures has helped hundreds of migrants and asylum seekers — especially youth and single, abused or trafficked women — "retake control of their lives" and move from despair to hope and vitality.
The Methodist Churches in Italy received the World Methodist Peace Award in 2017 for the ministry of the House of Cultures. "This small church (part of the Union of Methodists and Waldensians in Italy) has exhibited great courage when faced with the large crisis of refugees and migrants flooding Europe," the World Methodist Council said.
Naso called the award "a highly symbolic and prestigious recognition that we hope will generate other initiatives and raise a better conscience, especially in Europe, of the Christian witness by small churches exposed to massive South-North migrations."
The ministry has won accolades from the World Council of Churches as well. Naso has returned to the U.S., spreading the word to academic institutions, churches and church-related agencies while serving as a visiting professor at United Theological Seminary in Saint Paul, Minnesota, during January and February.
Mediterranean Hope also launched this year a two-year program called "Resettle, Relocate, Integrate" to provide legal and safe entry channels into more countries.
A partnership between nongovernmental organizations and church groups, the program is supported by the Asylum, Migration and Integration Fund of the European Commission. It aims "to duplicate and strength the pilot project of the Humanitarian Corridors in Italy and in other EU countries," Naso explained.
The programs are a great example of how churches of any size can present a positive and creative response to societal concerns like migration, Domingues said.
In the fall of 2017, he visited with two churches in Naples — one Methodist and the other Waldensian — that were supporting three refugee families together. "That process has significantly changed those local congregations," he said. "They saw in that a new dimension of their ministry and service."
The ability of Mediterranean Hope and the Italian churches to put a human face on the migration crisis as it offers a humanitarian solution is especially important as the new Italian government has adopted a more restrictive immigration policy.
The Italian Protestant churches "have repeatedly criticized" the new law, said Naso, which reduced protections for those not recognized as asylum-seekers, cut funds for Italian language training and other methods of integrating refugees and closed harbors to ships doing "search and rescue" missions.
"Nevertheless the pilot project of the humanitarian corridor is still active and we are getting important results in promoting it as a new possible EU policy," he pointed out.
Since their work involves church sponsorship, operates on sustainable quotas and takes care of the process of integration, Naso is optimistic about the next round of negotiations with the Italian government in fall 2019. He pointed out that even some political leaders opposed to immigration have acknowledged the "evident merit" of the humanitarian corridors.
"I'm confident that what has been considered a successful experiment and a good practice by some current ministries also may be adopted as a permanent policy," Naso said.
Bloom is the assistant news editor for United Methodist News Service and is based in New York.
Follow her at https://twitter.com/umcscribe or contact her at 615-742-5470 or [email protected]. To read more United Methodist news, subscribe to the free Daily or Weekly Digests.
---
Like what you're reading? Support the ministry of UM News! Your support ensures the latest denominational news, dynamic stories and informative articles will continue to connect our global community. Make a tax-deductible donation at ResourceUMC.org/GiveUMCom.