The door swings open, revealing Mark and other children lying on the ground. Mark lies on one side, his body curled and his right hand scribbling on paper with a crayon.
Mark has cerebral palsy. He cannot sit, walk or crawl due to weakness in his upper and lower limb muscles. He needs one-on-one care 24 hours a day.
Some children nearby are playing on the ground with toys. Others sit on chairs around a table, filling their papers with crayon drawings. Three girls are using building blocks in the corner.
Such was the scene one recent day at Chengaose Day Care Relief Centre in Mbare, the oldest suburb of Harare, Zimbabwe's capital city.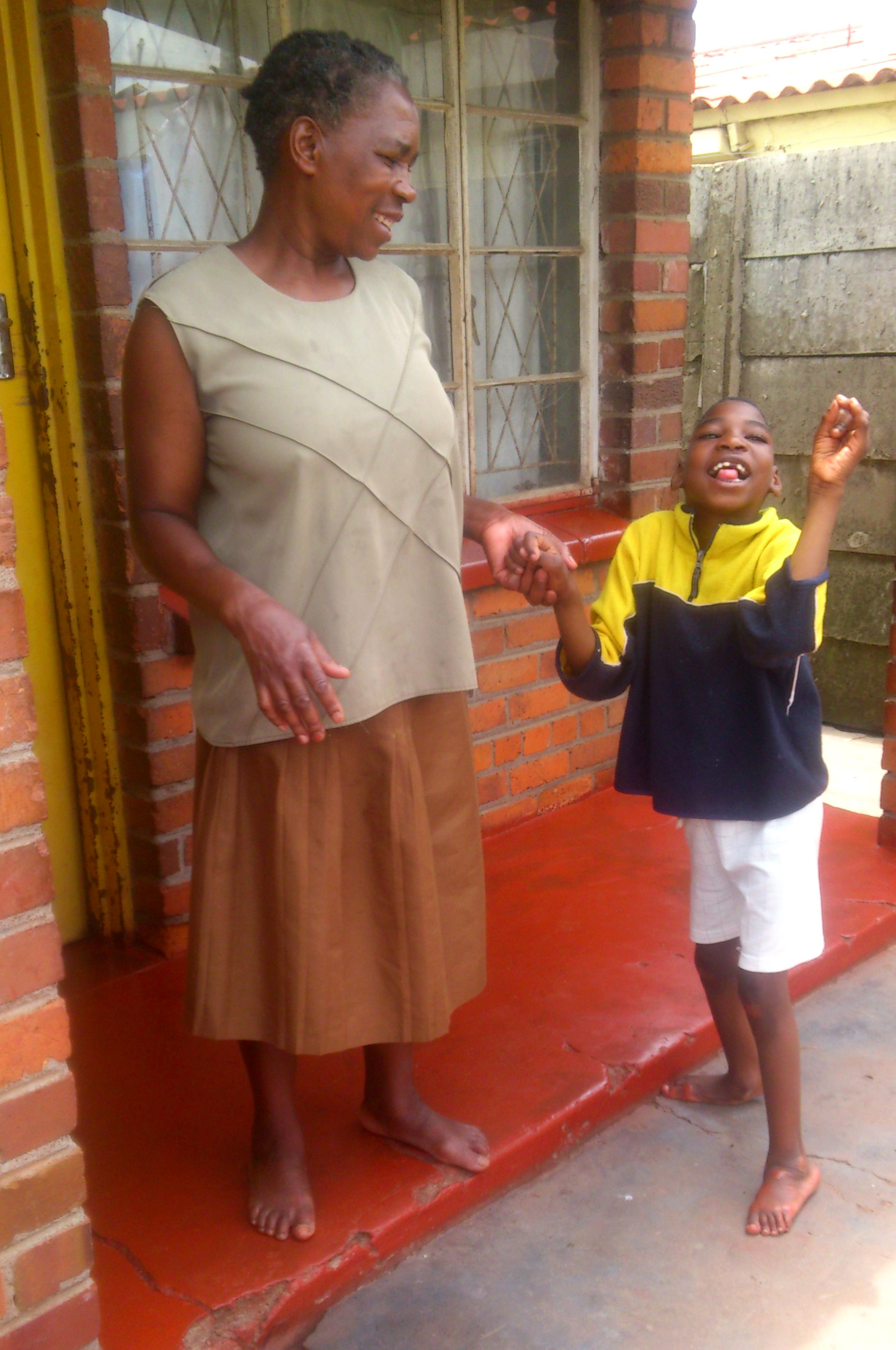 The Day Care Relief Centre provides for 10 children, of whom nine can't talk, eight can't feed themselves, seven can't walk and four can't sit. All wear diapers because they are not toilet trained.
Dorcas Muranda started the Relief Centre, inspired by training she received from the United Methodist General Board of Church and Society.
The seminar Muranda attended called for grassroots-level projects that bring positive change to communities. Training participants developed project ideas, which they were encouraged to pursue.
They also learned about the Social Principles of The United Methodist Church.
"We want people to use these principles as a backup to give them confidence to go and organize grassroots programs in their communities," said the Rev. Lloyd Nyarota, Church and Society's Africa Central Conference coordinator and training facilitator.
The Church and Society seminar aimed to help anyone with a passion for social justice, and drew participants from St. Paul United Methodist Church in Mbare.
The church has supported the Relief Centre, which St. Paul's lay leader, Robert Kaisi, said is responding to local needs.
"Creating grassroots programs that meet the needs of the society makes the church relevant and meaningful to the community," Kaisi added.
St. Paul's Church and Society Committee and 70 children from the church's children's ministry recently visited the Relief Centre, bringing groceries and offering fellowship.
IF YOU WANT TO HELP
The Relief Centre seeks help for its operations. A donation of $10 provides one week's transport for a child to and from the Relief Centre. A donation of $60 covers physiotherapy for a child for a month.
For information on how to contribute, email: [email protected]
A safe environment
Muranda has come to the rescue of many neglected children, and the need is great. Lusina Mutasa, St. Paul United Methodist's outreach coordinator, explained that Mbare has a high percentage of children living with disabilities.
"Most parents and guardians leave these children unattended, tied and locked in the house, while they engage in various economic and social activities," said Mutasa, who herself has a physically challenged son.
Thanks to the Relief Centre, parents can now leave their children in a safe environment under the care of trained voluntary community mothers supervised by professionals with experience in working with disabled children.
Ellen Mufema, a parent with a son at the Relief Centre, said, "I used to be scared leaving my child alone at home but now I can do all my errands with confidence, knowing that my child is in safe hands."
Mutasa explained that before her first child was born she and her husband had many hopeful dreams for their family. But eventually they had to deal with the fact that the little boy, because of disability, could not sit or crawl or stand well past the ages when most children do those things.
"Denial, shock, anger, grief, fear and bitterness are only a few of the reactions that we went through as a couple," said Mutasa.
 "When a child is born with a disability, often there is a lot of finger-pointing as to who is responsible. … In most cases, parents and relatives will blame it on witchcraft and in-laws will blame the mother for the disability, leading to divorce," she added.
Then too, Mutasa said, many in society accept the myths that associating with a physically challenged child can lead can cause them or their unborn children to be disabled.
"Children with disability are often isolated with no friends, only their siblings and relatives, if they are allowed to interact with them," said Muranda. 
The Relief Centre seeks to improve the living standards of children with disabilities, as well as that of their parents and guardians. The day-care relief center, which works with children ages 2 to 15, is open from Monday to Friday between 8 a.m. and 4 p.m.
Muranda said the failure of some parents to pay fees makes it hard for the center to buy food, pay rent and hire professional help.
Muzerengwa is a communicator for the Zimbabwe East Conference.
News media contact: Vicki Brown, news editor, [email protected] or 615-742-5469.
---
Like what you're reading? Support the ministry of UM News! Your support ensures the latest denominational news, dynamic stories and informative articles will continue to connect our global community. Make a tax-deductible donation at ResourceUMC.org/GiveUMCom.