Photojournalist Paul Jeffrey has heard stories from a number of refugees making their way through Europe in recent months while documenting the faith-based response to their plight.
But the United Methodist missionary still had not visited the place where many had started their arduous journey.
"This element of crossing the sea is an important part of the story," he explained. "I wanted to go and document myself."
So, at the end of October, he spent nearly a week on Lesbos. On some days, more than 3,000 people arrive by sea at this small Greek island, Jeffrey said, while additional boats head to other Greek islands. During one week this October, a record 56,000-plus migrants and refugees crossed the Mediterranean from Turkey to Greece, despite worsening weather.
"Greece is incredibly overwhelmed, that's the bad news," Jeffrey told United Methodist News Service. "But the good news is this flowering of solidarity from the grass roots."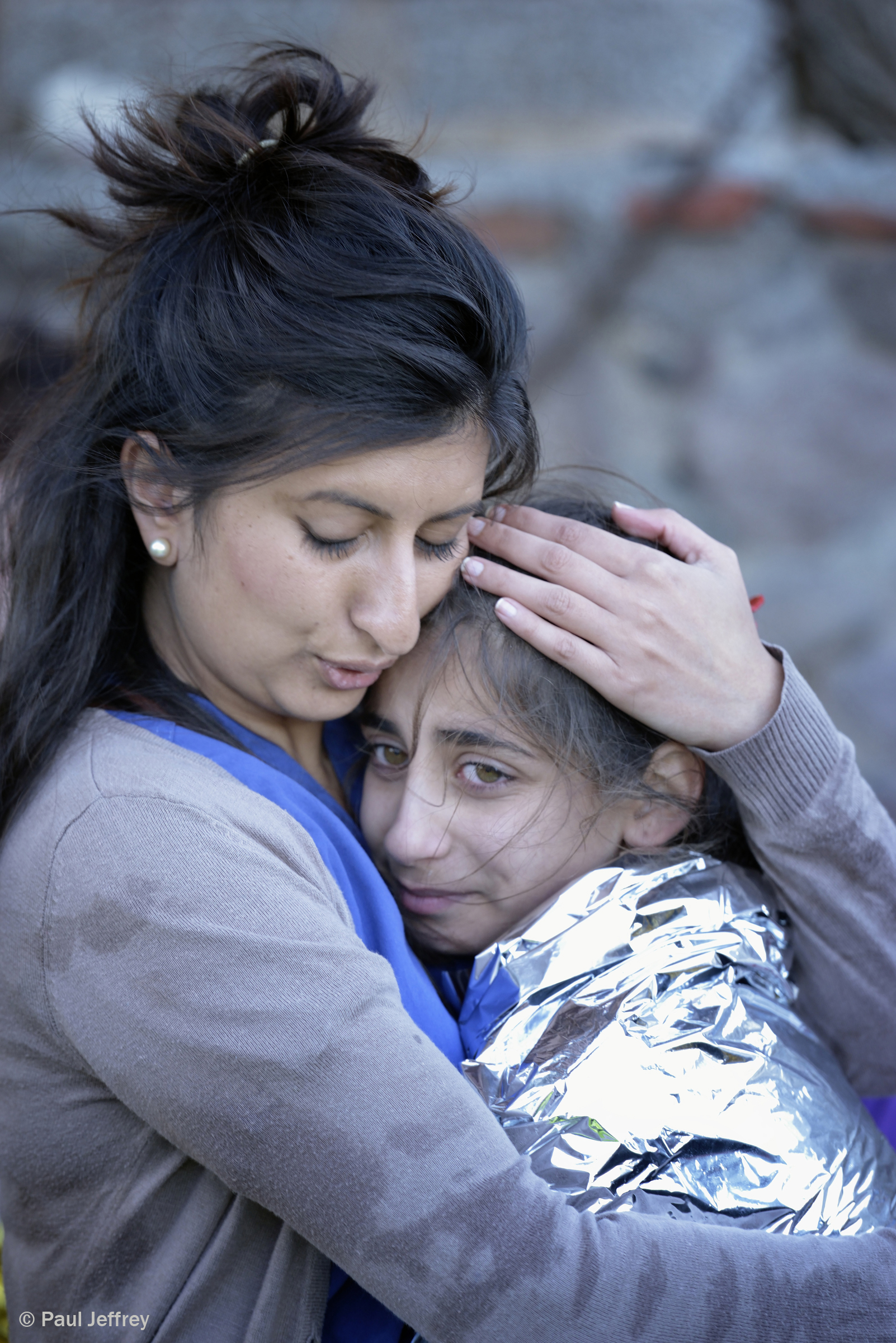 The real heroes
The solidarity flows from volunteers, from Greece and elsewhere, who, in some cases, literally rescue the refugees as they wash ashore. The sea journey begins in Turkey, but the passengers come from places like Syria, Afghanistan, Iraq and Iran.
Those volunteers — local fishermen and farmers, Spanish lifeguards — are the real heroes, Jeffrey reported.
Volunteers wade into water to bring those in the boats to safety, offer dry clothes, space blankets, food and water and then help get the refugees to a registration center.
"Without the volunteers, this would be an incredible disaster," he declared.
One day, Jeffrey watched, as he recounted in a letter to his supporting congregations, as Nabil Minas, a Christian from Syria, carried his children to the shore, kissed the ground, crossed himself and gave everyone nearby a wet hug.
As silly as it may sound, Jeffrey said, hugs are an important part of the welcome to Greece. Some people are scared when they arrive, are crying or shaking, and often the volunteers just hold them so they can feel safe and not quite so alone.
"When they're crossing the Agean and coming into Greece, that's the first step for them," he noted. "It's an incredibly emotional time."
REFUGEES AND PARIS ATTACKS
The political backlash against refugees after the Nov. 13 terrorist attacks in Paris has included an effort by some U.S. governors to bar Syrian refugees from resettling in their states, drawing protest from some United Methodists.
Jeffrey wishes people would learn more about what most refugees are facing before making snap judgments out of fear.
"Over recent weeks, I interviewed several refugees from Iraq and Syria who were given an ultimatum to support ISIS or get killed. Instead, they fled," he reported.
"The attacks in Paris dramatically illustrate what they are fleeing from, and underscore the need for a humanitarian response that recognizes that the refugees are victims of terrorism, not perpetrators.
"ISIS wants us to blame the refugees, because restricting their reception would support the ISIS narrative that the west is anti-Muslim," Jeffrey pointed out. "The governors who have tried to block resettlement efforts in their states are acting as dupes for ISIS."
Dangerous crossings
If volunteers are the heroes along the shores of Lesbos, the villains, Jeffrey asserted, are the Turkish smugglers who charge large sums to provide boats across the Aegean Sea and expect refugees to pilot the boats after "a crash course in how to steer." It's a frightening experience that can end badly. Jeffrey waited with some local fishers who found the body "of what appeared to be an Afghan boy of about 8 years of age" until some volunteers arrived to cover it.
"Of all the people I encountered, one image I can't get out of my head is that of a Syrian girl whose parents had taped pieces of Styrofoam to her body," Jeffrey wrote in his letter.
"In case the cheap inflatable vest provided by the Turkish traffickers didn't suffice in keeping her afloat in the event their boat capsized, the Styrofoam would supposedly help. Such measures underscored for me the desperate nature of this migration."
While there has been much reporting of the current migration to Europe, Jeffrey suggested that faith-based organizations could work with refugees to document their stories. It could help dispel any notion, he said, that most are just looking for a handout.
"Being a refugee has nothing to do with your economic status," he explained. "It has to do with fleeing a situation of violence or oppression."
Young Syrian men, for example, have decided to leave rather than join the government's army or be recruited by the Islamic State. "There are reasons that men of military age are leaving," Jeffrey said. "It's an underground railroad of sorts."
Jeffrey posted images and commentary on his Facebook account throughout his stay on Lesbos. As he was preparing to leave the island on Nov. 3, he reflected on how the refugees he met graciously let him "into their lives at a difficult moment," thanking him as he took a photo.
"Most of all they gave me an example of courage, of loving their families enough to risk their lives to seek a place where their kids won't be bombed," he wrote. "I wish them all well. May they find what they are seeking."
Bloom is a United Methodist News Service multimedia reporter based in New York. Follow her at https://twitter.com/umcscribe or contact her at (646) 369-3759 or [email protected]
---
Like what you're reading? Support the ministry of UM News! Your support ensures the latest denominational news, dynamic stories and informative articles will continue to connect our global community. Make a tax-deductible donation at ResourceUMC.org/GiveUMCom.