Three years ago, an Aug. 12 march in Charlottesville, Virginia, by white supremacists opposing a city council vote to move a statue of Confederate Gen. Robert E. Lee
ended in tragedy
.
Heather Heyer, one of many anti-racism protesters, was killed when a car rammed into a crowd of protesters there to counter the march by white supremacists.
This summer,
a new Virginia law that took effect July 1
makes it possible for localities to remove, relocate or contextualize more than 220 Confederate monuments in the state.
Political action by people from Charlottesville was at least partly responsible for the successful legislation, said the Rev. Phil Woodson, co-pastor of First and Wesley Memorial United Methodist churches there.
"For the community of Charlottesville, we view that as an absolute win," he added.
As debate over Confederate symbolism continues across the U.S., some United Methodists believe the continued presence of such tributes is doing harm.
"Our founder John Wesley's first rule encourages us to do no harm," said the Revs. Jonathan and Angela Marlowe, senior pastors of Mt. Zion United Methodist Church in Cornelius, North Carolina, in a statement about the statue of a Confederate soldier that stands near the church building.
"Today, we are seeing very clearly the harm inflicted on Black people in our communities as a result of the long heritage of racism and white supremacy that pervade our society, as it has from our country's founding. Policies are changing, and confederate monuments similar to this one are coming down around the country."
The pastors and administrative board of Mt. Zion United Methodist Church
have called for the association that owns it to move the monument
.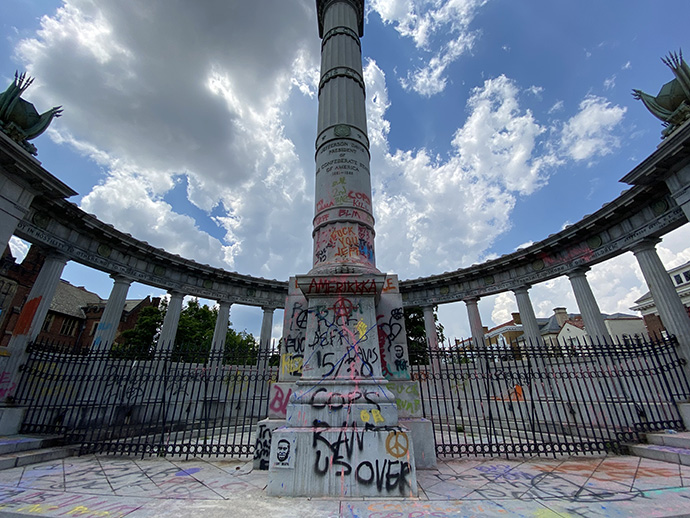 In Charlottesville, Woodson and the Rev. Isaac Collins marked the momentum created as the new laws were to take effect — as well as the protests for racial justice following the murder of George Floyd — by offering an outdoor Bible study, "Swords into Plowshares: What the Bible says about Injustice, Idolatry, and Repentance," on June 11. Started last year
as a series of hour-long free seminars at monument sites
, the Bible study pairs theology with history.
This year, mindful of the need for social distancing because of the pandemic, they convened a small group at the base of the Robert E. Lee Statute in Market Street Park. Part of the message that day, Woodson said, was that human actions do not need to be permanent. "God has the power to undo the things we have done and make them into something new," he added.
The two pastors found inspiration to create the Bible study
through the tour of Confederate monuments
given by Jalane Schmidt, a professor at the University of Virginia and Andrea Douglas, executive director of the Jefferson School African American Heritage Center.
Clergy set Aug. 12
online worship
The
Charlottesville Clergy Collective
has actively opposed white supremacy while working for racial justice. United Methodists are part of the 20 faith traditions represented in the collective.
"It's like church when you go to these protests and gatherings," said the Rev. Phil Woodson, co-pastor of First and Wesley Memorial United Methodist churches. "In a lot of ways, it's church in the streets that's happening."
The coronavirus pandemic has put constraints on recent public actions and the activist community in Charlottesville is "very clear and very intentional" about proper precautions for public safety, Woodson said.
Rather than worship in person, the Charlottesville Clergy Collective has created a 40-minute online interfaith service to commemorate this year's anniversary of the deadly white supremacist rally and anti-racism protests.
The service will have its live debut at 6:30 p.m. on Wednesday, Aug. 12, led by more than 30 faith leaders. The service will reflect on the events of Aug. 11-12, 2017. The service will also consider the significance of Confederate statues and their removal and how convictions of faith provide motivation to work toward a more just and equitable future.
In a trailer for the service, clergy members offer reflections on racism and look to the future.
Watch trailer for Aug. 12 worship service
Watch Aug. 12 service on Youtube
"We just started doing some research about the religious connections that the statues had and decided that we wanted to talk about the reasons to take them down that came from Christianity," explained Collins, who last month became the pastor of Friendsville United Methodist Church in Blount County, Tennessee.
Some were not happy to be made aware of those connections, even "good liberals," he added. But younger people were more open to looking at the Confederate monuments in a new way.
Removal of the monuments is not erasing history, Collins contends, but a "re-narration" of the public space. "We're erasing a myth and making a space for real history to be told," he said.
"Virginia does not stand in isolation with issues of white supremacy," Woodson pointed out. The murders of young Black men like Trayvon Martin and Michael Brown and events like "Unite the Right" rallies, he added, "have built momentum in the public consciousness for a much needed reckoning for our ongoing complacency with white supremacy."
In North Carolina's Rutherford County, 10 United Methodist pastors are among an ecumenical group of clergy calling for the relocation of a Confederate statue in front of the county courthouse in Rutherfordton.
The Rev. Samuel Burleson, lead pastor of Salem United Methodist Church in Bostic, said participation in the petition grew out of United Methodist missional network and the area's ministerial alliance, representing a wide spectrum of religious ideology and racial diversity.
Their letter to the commissioners
supports an earlier petition
started by Antwan Matthews — an African American and Rutherford County native who now lives in New York — and is in opposition to a competing petition started by a local Baptist pastor, the Rev. Creighton Lovelace, to let the statue remain. Lovelace
gained national attention in 2005
for a displaying a disparaging sign about the Koran at his church, but later apologized.
Burleson, who also signed the petition from Matthews, said he didn't want Lovelace "to define what normative Christianity would look like" in Rutherford County.
Addressing the county commissioners, the clergy group acknowledges the tension of racial injustice "that lies at the heart of our American society," as well as the deep pain within the nation's soul and the need for everyone to participate in the healing process.
"There are deep wounds that rest within our community," the letter said. "There is a darker part of our past that is hidden beneath the glory of statues such as this one. As men and women who claim that God is at work to heal this broken world, we commit to working with our communities to make sure that every object that hinders this healing be removed."
When the group researched the statue's unveiling in 1910, it found that all four speakers were well known for their white supremacist views. "That's all the more reason why we suggest it was not a symbol to honor those who had died but rather was a symbol of intimidation," Burleson explained.
The next step is to have consideration of the statue removal placed on the commission's meeting agenda. Representatives are attending each monthly meeting to renew that request. Towns in the state with similar demographics have removed monuments without incident, he noted.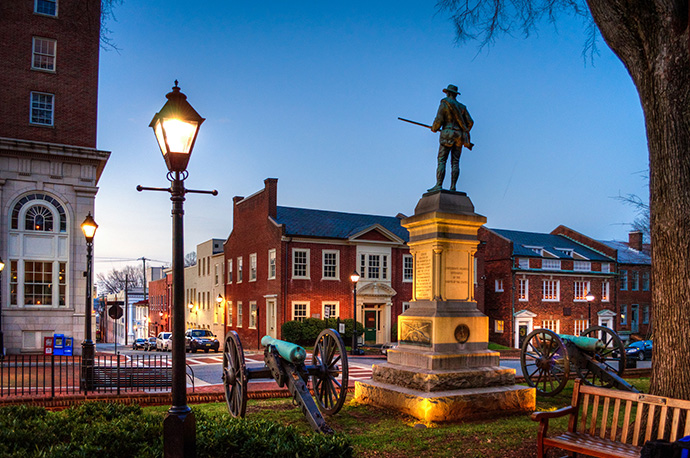 Burleson is a member of the United Methodist Western North Carolina Conference, whose leaders issued a statement in July calling on Confederate heritage groups "to work with towns, cities and counties to remove Confederate monuments from the courthouses, public squares and main streets of our country." The statement specifically refers to the monument near Mt. Zion church in Cornelius.
Such symbols, commonly associated with white supremacy, "do not represent the values of a holy, just, equitable, and Beloved community,"
the statement said
.
The denomination's own history shows that the church has both honored and tolerated Confederate monuments over the years, the Western North Carolina statement said. "In doing so, the church helped perpetuate a deep societal wrong and brokenness."
Subscribe to our
e-newsletter
Like what you're reading and want to see more? Sign up for our free daily and weekly digests of important news and events in the life of The United Methodist Church.
First United Methodist Church in Charlottesville was built in the same decade as the Robert E. Lee Monument that sits in the park across from it, Woodson pointed out, and the church also has to reckon with its own history, actions and complacency.
Charlottesville itself has at least five "very public and prominent idols that it needs to reckon with," says Woodson. The horseback riding Confederate generals — Lee and Stonewall Jackson — are owned by the city. A legal injunction currently prohibits their removal but an appeal has been filed with the Virginia Supreme Court.
Woodson said he has been disturbed by the fact white supremacists are often guarding the Confederate monuments at night, openly carrying guns and accosting people who are simply walking downtown.
Constructive dialogue with the police has been hard to achieve, he said, in the attempts change systems like policing because of harm to black, brown and indigenous people.
But churches can provide a witness and a challenge to imagine something better so that "we're not simply just passing along the same systems of oppression and injustice," Woodson said.
Bloom is the assistant news editor for United Methodist News Service and is based in New York.

Follow her at https://twitter.com/umcscribe or contact her at 615-742-5470 or

[email protected]

. To read more United Methodist news, subscribe to the free daily or weekly digests.
---
Like what you're reading? Support the ministry of UM News! Your support ensures the latest denominational news, dynamic stories and informative articles will continue to connect our global community. Make a tax-deductible donation at ResourceUMC.org/GiveUMCom.