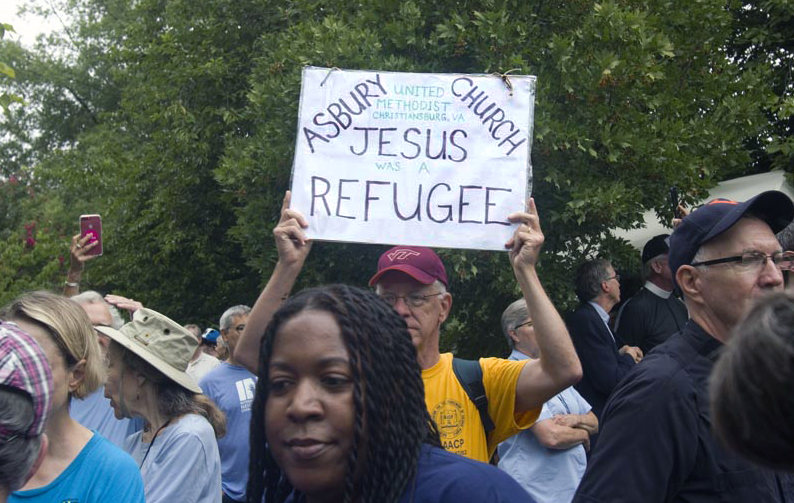 Five elderly white women encircled a young black woman to provide a human barricade as she left First United Methodist Church, which provided a safe space on a tumultuous day when tensions erupted around a white supremacist rally, leaving three dead and dozens injured.
"As horrible and scary as everything was at the supremacist rally, what will stay with me for the rest of my life is so very many good people coming together," said the Rev. Phil Woodson, associate pastor at First United Methodist Church. "They came together to ensure the safety and security of the most vulnerable among us."
The church was already on lockdown even before a car rammed into a crowd of protesters who were there to counter the Aug. 12 march by white nationalists fighting the moving of a Confederate statue.
Subscribe to our e-newsletter
Like what you're reading and want to see more? Sign up for our free daily and weekly digests of important news and events in the life of The United Methodist Church.
James Alex Fields Jr., was later charged with second-degree murder and other counts, in the car crash that killed 32-year-old Heather Heyer and injured dozens of others. Some of the injured, as well as people who were emotionally traumatized by the violence, were brought to the church by medical teams who were set up there and by clergy and others who went out to help, Woodson said.
"It was a war zone and our church was ground zero," Woodson said. He said volunteers turned over tables and literally created a buffer zone around the church, locking doors so that there was only one entrance. People entering the church were scanned with $20 metal detectors and no one with a weapon was allowed in, he said.
A few hours after Heyer was killed, Virginia State Police Pilot Lt. H. Jay Cullen and Trooper-Pilot Berke M.M. Bates died when their helicopter crashed. They were assisting law enforcement officers monitoring the white nationalist rally in Charlottesville, police said.
United Methodist clergy have been among the leaders of the efforts to counter protests by the Ku Klux Klan and other white nationalists in Charlottesville.
Bishop Sharma D. Lewis, who leads the Virginia Conference, called on United Methodists to "witness to others what prayer can do in times of fear and hate.
"Charlottesville is a city hurting in many ways, so we pray for the restoration of calm, civil order for the community and its people today and in the days ahead," she said in a statement.
First United Methodist Church has served as a staging point for protest marches and as a safe space for previous marches, including a counter protests to a Ku Klux Klan rally in July. The Aug. 12 white nationalist rally is believed to be the largest such gathering in a decade and included skinheads and neo-Nazis as well as KKK members.
Connor Kenaston, a former Global Missions Fellow who is now a graduate student at the University of Virginia, said he was shocked at how many of the white nationalists were young men in their 20s and 30s. "It was scary to see them," he said.
His fiancé, Maria Niechwiadowicz, who works with a nutritional outreach program at a local Episcopal church and is also a former Global Missions Fellow, agreed. Both saw young men carrying machine guns and rifles.
The couple attended an interfaith worship service on Aug. 11 at St. Paul's Episcopal Church and then took part in a clergy march the next morning with several hundred anti-racism marchers.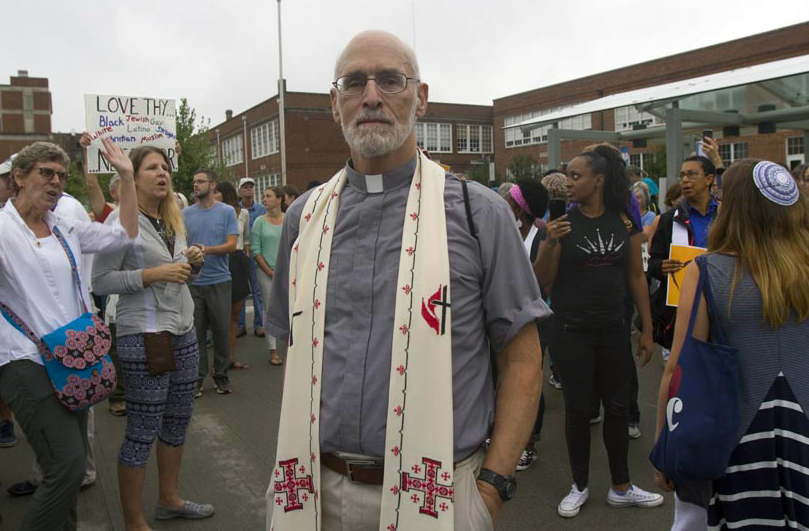 "The interfaith worship service was one place we saw God at work," Niechwiadowicz said. They were unable to leave after the service because the white nationalists who had held a rally at the University of Virginia rotunda lingered in the area, creating security issues.
United Methodists throughout the world are joining in more than 100 vigils on Aug. 13 to remember Heyer.
Despite the chaos, many found cause for hope as individuals and churches organized to oppose white nationalism.
"We have to engage instead of talk," said the Rev. Alvin Horton, senior pastor of First United Methodist Church. "It is in our DNA as United Methodists to be concerned. The clergy may be divided on some issues, but it is not divided regarding racism."
The Charlottesville Clergy Collective, which is among the most significant organizations opposing the white supremacist efforts, includes five United Methodist clergy from four churches.
Demonstrators from 14 states who joined in the anti-racism protests on Aug. 12 included many United Methodists.
"It is crucial that, as United Methodists, we confront this evil," said the Rev. John D. Copenhaver, retired pastor of Calvary United Methodist Church in Salem, Virginia. He travelled 140 miles from his home in Winchester, Virginia, to join the worship service and anti-racism protests in Charlottesville.
"We do it individually. And we do it as a church. We see that activism in the letter that Bishop Sharma Lewis sent us encouraging us to participate in the counter-demonstration."
Rabbi Tom Gutherz of Charlottesville's Congregation Beth Israel said the main purpose of the clergy cooperative is community.
"Clergy and lay people are very interested in coming together," he said. "This provides a way to do it and it filters through to our congregations."
Home to the University of Virginia, Charlottesville is viewed as a liberal bastion within the state. Its statue of Confederate General Robert E. Lee became a focal point when the Charlottesville City Council voted on Feb. 6, 2017, to move it from the city's most prominent park. In March, opponents of the statue's removal sued, and the statue remains in place as the court case continues.
As the Rev. Jan Rivero, lead pastor of Wesley Memorial United Methodist Church and member of the clergy collective, wrote on Facebook:
"There will be more of this… we simply have to keep showing up. We cannot do it alone."
Morning services at First United Methodist Church were cancelled Aug. 13 because many streets were still barricaded and there were still groups of protesters roving around. However, the church planned to hold a service at 4 p.m.
And Woodson planned to talk about where God was in the Aug. 12 events.
"God is good. And on that day, the day when Nazis and white supremacists came to our town with their guns, cars, bats and pepper spray, the work of God's people was also good because so many people asked for God's ultimate will to be done and then actually went out and did it," Woodson planned to say in his sermon.
He said despite the "threatening waves" hundreds of people went out to help countless victims, demonstrating their dependence on the power and word of Christ.
Lord is a photojournalist based in New York City and Ivy, Virginia. Vicki Brown, United Methodist News Service editor, contributed to this story.
Contact Brown at 615-742-5470 or [email protected]. To read more United Methodist news, subscribe to the free Daily or Weekly Digests.
---
Like what you're reading? Support the ministry of UM News! Your support ensures the latest denominational news, dynamic stories and informative articles will continue to connect our global community. Make a tax-deductible donation at ResourceUMC.org/GiveUMCom.