Key points:
United Methodists who want to remain with the denomination are in need of leadership in the wake of disaffiliations over sexuality issues.
Retired United Methodist pastors are putting their golden years on the back burner to help congregations that have been displaced.
Some of the former retirees report that enthusiasm is evident as United Methodists refocus on the basics of their faith.
---
Last year, the Rev. Britt Skarda didn't go to church on Easter.
"My son and I climbed into his car early Easter morning and … made a trip to (Washington) D.C.," said Skarda, who retired in 2020. "I wasn't in a worship service, but was spending some quality time with my son, reminiscing and going back to some places that have been important to us."
It will be a different story on Easter 2023. Skarda has made an unexpected return to his old vocation, courtesy of the dispute over LGBTQ inclusion in The United Methodist Church that is resulting in disaffiliations.
So far, according to UM News' tally, 2,095 churches have received annual conference approval for departure under Paragraph 2553 of the United Methodist Book of Discipline, with more expected as annual conferences meet during special sessions this year. That total represents about 7% of U.S. United Methodist churches.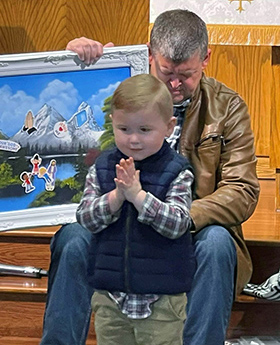 Scott Holloway, a former member of the disaffiliating First United Methodist Church of Jonesboro (Ark.), delivers the children's message during a worship service for church members planning to remain United Methodist. The worship service was held at First Presbyterian Church of Jonesboro, where the loyal Methodists are meeting. The child is Isaac George. Photo courtesy of the Rev. Britt Skarda.
This year, Skarda will be leading the Easter service for members of First United Methodist Church of Jonesboro in Arkansas who wish to remain United Methodist. They are meeting at First Presbyterian Church of Jonesboro for now.
Arkansas Conference leaders and the group that voted to leave the denomination are battling in court over the United Methodist church property, which the Jonesboro Sun reported is insured for $25 million.
Skarda has agreed to pastor the church members who wish to remain United Methodist until the end of June. A new pastor will take over July 1 after the conference makes an appointment during its June 21-23 annual conference meeting.
Skarda is striving to be a steadying presence while church members on both sides of the debate are uncertain about their future.
"I've never served an appointment like this in my life," he said. "I never expected to. I am trying through the pulpit to address things in terms of looking future-forward and healing and just helping the church regain its momentum."
In spite of the tense situation, Skarda said things are going well.
"I think they're very energized about what's happening and I've had members tell me that they have grown in their faith more during this period than any other in their lives."
In North Carolina, the Rev. Pam Stoffel came out of retirement to lead Fair Haven United Methodist Church in Rodanthe, formerly half of a two-point charge with Clarks Bethel United Methodist Church in Salvo. Church members staying United Methodist are meeting at Fair Haven, while Clarks Bethel is now home to members who plan to join the Global Methodist Church, the breakaway traditionalist denomination launched last year. The former pastor of both is aligned with the GMC and Clarks Bethel.
"There are a lot of families in these churches that go back several generations," Stoffel said. "So the good people at Fair Haven lost a lot — they lost financially, they lost their pastor, they lost connections. There have been some hardships between family members.
"They're very broken about the whole thing."
Stoffel's approach is simple: "I'm just here to preach Jesus and the resurrection," she said.
Since her arrival, Fair Haven has begun converting its former parsonage, a home with an ocean view, into a "respite house" for pastors and their families who otherwise couldn't afford a vacation. Stoffel also is planning an outdoor music ministry.
"They are so happy that they have a pastor who is 100% United Methodist, and I can share with them all the reasons," Stoffel said. "The first Sunday I was there, I had 10 members, and the past few weeks, we're back up to 25 or 30.
"So, people are starting to come back and they're starting to feel safe there again."
The Rev. Leigh Ann Raynor retired in 2017 and said she was "the happiest retired person." She had just purchased a home in the mountains to live in the summer; now, she is trying find tenants for it.
Subscribe to our
e-newsletter
Like what you're reading and want to see more? Sign up for our free daily and weekly digests of important news and events in the life of The United Methodist Church.
"I can't afford to let (the mountain home) just sit," she said.
After Thomasville First United Methodist Church voted 303-87 on Jan. 22 to disaffiliate from the denomination, Raynor, a member of that congregation, began getting calls about what would come next there for committed United Methodists.
She decided to answer the call again, this time at 67.
"I knew there was going to be a vote, and I knew we would lose that vote," she said. "I had sweep over me the exact feeling that I had when I was called into ministry at 16 years old. I knew without any doubt whatsoever I had to come out of retirement, because these folks wanted to remain Methodist, and I could help them do that."
Raynor has committed to stick with the new post through June 2024.
The new congregation, for now called United Methodists of Thomasville, is drawing about 50 people each week at services conducted at nearby Saint Thomas Episcopal Church. Its Facebook page has about 80 followers.
"I wanted to be retired, but I am energized and excited about what these folks are doing," Raynor said, adding that it's possible she'll stay on as pastor longer if asked.
"I don't know how I would say no. I love these people," she said.
The Easter service at United Methodists of Thomasville will be short of pageantry. Raynor said she was initially worried that members would be missing their old church building.
"I really thought that the building was going to make just a massive difference," Raynor said. "First Methodist is a very historic building with a beautiful pipe organ and gorgeous pews.
"We don't have a choir and we don't have an organ, but people are telling me that they're feeling the spirit of God in a way that they haven't in a long time."
Patterson is a UM News reporter in Nashville, Tennessee. Contact him at 615-742-5470 or [email protected] To read more United Methodist news, subscribe to the free Daily or Weekly Digests.
---
Like what you're reading? Support the ministry of UM News! Your support ensures the latest denominational news, dynamic stories and informative articles will continue to connect our global community. Make a tax-deductible donation at ResourceUMC.org/GiveUMCom.