On the first Sunday after the 2019 General Conference, Bishop Karen Oliveto witnessed the impact of the assembly's votes on homosexuality as she was serving Holy Communion at St. Andrews United Methodist Church in Highlands Ranch, Colorado.
"Every young person in the church came and stood before me, they were crying," she said. "I gave them the bread and they would just stand there, so I said to each one of them, 'Do you want a hug?' And they would just collapse in my arms and sob."
Oliveto became the first openly gay bishop in The United Methodist Church in 2016. Legislation passed at the 2019 General Conference, the denomination's top lawmaking assembly, reaffirms the church's ban on ordaining LGBTQ people as clergy or officiating at same-sex marriages.
"I think of every child who stood before me at communion … I just said to them, 'God loves you with a love that will never let go,'" the Mountain Sky Area bishop said.
Almost immediately after the vote to adopt the Traditional Plan, the bishop said she started getting emails and texts from young people.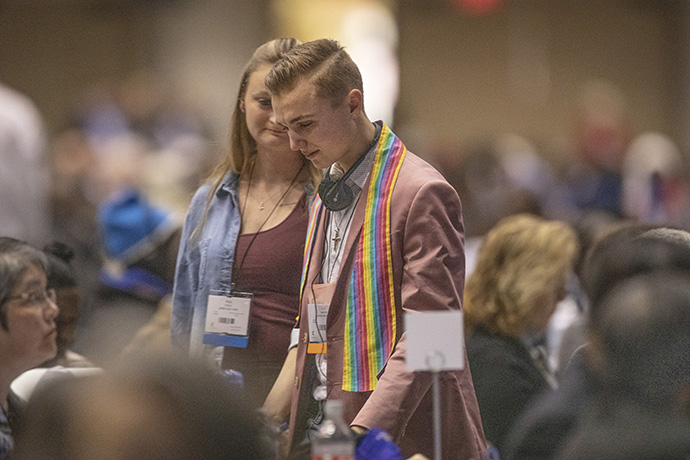 Young people spoke to the harm done during the General Conference in St. Louis, reading a statement calling for unity signed by 15,529 young people around the world and warning of the harm actions of the legislative assembly could cause.
"We as the church need to stop the harm that is done when we debate one another's humanity and worth, and focus on our shared mission to live into our primary identity as God's children," read part of the statement.
A study published in the Journal of Adolescent Health while the Feb. 23-26 conference was underway stated one in four youth between the ages of 12 and 14 who commit suicide are LGBTQ youth.
"That is something we need to talk about because as these studies show, it is not conflict over one's identity that is the cause of suicidal tendencies, it is how the world treats one as an LBGTQ person," Oliveto said. "I just want us as a denomination to have the resources to help young people through this trauma."
Oliveto asked each bishop to offer information about resources such as the Trevor Project, a suicide lifeline for LGBTQ youth.
"I have a pastor's heart and I go to the most vulnerable. The most vulnerable right now are young people and LGBTQ people."
The Rev. Leo Yates Jr., a deacon and licensed clinical professional counselor, said that LGBTQ adults are more equipped to protect themselves than youth. Adults can decide to attend a different church, for example, but youth may not have the same choices, he wrote in a blog post after General Conference.
"The pain is palpable. Reaction is strong. How do we help? Where do we go? What can we offer? With these and other questions, churches, pastors, and others are wondering how they might help LGBTQ+ persons following the adoption of the Traditional Plan at the Special General Conference in St. Louis, Missouri," he wrote.
Yates offers many resources for pastors, church members and youth in his blog. He is a consultant with the United Methodist Committee on Deaf and Hard of Hearing Ministries, secretary for the Baltimore-Washington Area Reconciling United Methodists and associate pastor at Magothy United Methodist Church of the Deaf.
Though the Traditional Plan keeps the current Book of Discipline language on homosexuality and increases accountability by streamlining the processes to enforce penalties for violations related to marriage and ordination of LGBTQ persons, the church also speaks to the fair treatment of LGBTQ people.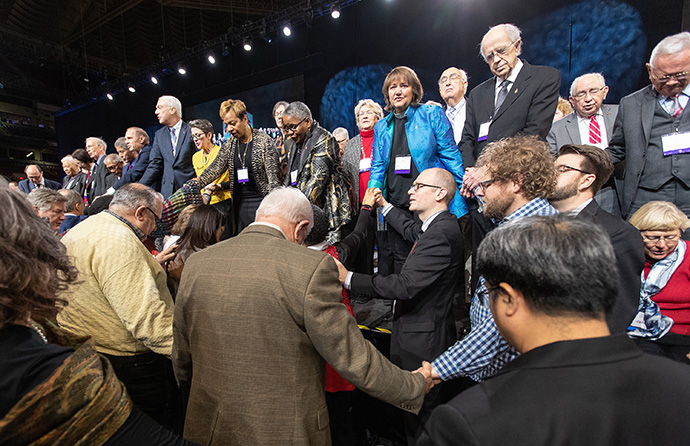 In Article IV of the constitution, "The United Methodist Church acknowledges that all persons are of sacred worth."
The denomination's Social Principles support basic human rights and civil liberties "for all persons, regardless of sexual orientation."
The Social Principles also support "equal access to housing, education, communication, employment, medical care, legal redress of grievances and physical protection" and deplore "acts of hate and violence against groups or persons based on … sexual orientation [or] gender identity."
The Judicial Council had ruled some parts of the Traditional Plan unconstitutional and at the request of General Conference delegates will review the plan as approved during the court's April 23-26 meeting. The legislation is not official church law for U.S. churches until Jan. 1, 2020. It takes effect in churches outside the U.S. 12 months after the 2020 General Conference, scheduled for May 5-15 in Minneapolis.
Many people in crisis turn first to a faith leader, Dr. Melinda Moore, co-chair of the The Faith Communities Task Force of the National Action Alliance for Suicide Prevention, wrote in a column published by the United Methodist Board of Church and Society last year.
The task force encourages faith leaders to include three messages when praying with someone who has come to them for help:
An acknowledgment that the pain felt by the struggling individual is real.
Reassurance that they are not alone.
Expressions of hope — that through faith and with the support of others in the community, there is a path toward a better life in the future.
Young People's Ministries, a part of Discipleship Ministries, posted reflections and a discussion guide on "Being in Ministry with LGBTQ Youth after GC 2019."
"This post is not designed to change your mind," Chris Wilterdink writes. "I write this with no liberal, nor conservative, theological agenda. The only explicit or implicit agenda set forth in this post is as follows: To help the church become (or remain) a safe place for youth.
Resources for helping LGBTQ teens
"Many youth workers identify safety as one of the top priorities of their ministry. Teenagers all struggle with sexuality, as hormones turn on and off, teens experience new world of power dynamics, pleasures, dangers, and identity questions that they did not know about in childhood. Teenagers also all experience bullying in different degrees."
Wilterdink also offers resources for teenagers struggling with their sexuality or gender.
Oliveto said young people are in The United Methodist Church because they have been taught about God's love.
"They are shocked the church would make a pronouncement that would tell them or their friends your gifts aren't welcome here," she said.
On the final day of General Conference, Jeffrey Joseph Warren, an openly gay reserve lay delegate from Upper New York Conference, made an impassioned plea for The United Methodist Church to stay united.
"And as someone who has grown up in our church, as someone who is gay and goes to the least religious college in the U.S., my evangelism on campus has grown. We have brought people to Jesus, because they said they have not heard this message before. They didn't know God could love them, because their churches said God didn't," said Warren, who attends Sarah Lawrence College.
"I want to be a pastor in the Methodist church, because I love our tradition," he said.
Gilbert is a reporter for United Methodist News Service. Contact her at (615) 742-5470 or [email protected]. To read more United Methodist news, subscribe to the free Daily or Weekly Digests.