Most hospitals don't have royalty on staff, but then Ganta (Liberia) United Methodist Hospital is not like most hospitals.
Rocked and ravaged by years of war, the battle-scarred hospital was founded by two Methodist missionaries in 1926.
Ester Deline became "Queen of Ganta United Methodist Hospital" on July 31, 2010.
Deline was the top fundraiser for the hospital and the prize was a crown and title. She credits her win to contributions from her seven children and many friends among the staff and patients at the hospital.
There are no signs Deline will give up her crown anytime soon.
Her day job is the warehouse assistant for the hospital, a job with much responsibility. She catalogs everything that comes into the hospital - from purple scrubs, to pink baby sheets, to heavy equipment like the air conditioner sitting in front of her desk.
She keeps detailed ledgers, carefully printing everything that comes into or goes out of the hospital. Many of the boxed items are donations from United Methodists around the globe.
"It's a tough job … whew," she says.
But in addition to her heavy responsibilities in the warehouse she is also the face and voice for the hospital. She comes to work every day dressed for spur-of-the-moment royal visits. Even on a Saturday she looks exquisite, from her brown, ruffled hat to her black pumps.
"I serve as public relations. As queen, they carry me out for ceremonies, marriages, deaths, all kinds of things. I speak on behalf of the hospital."
Patients wait in the eye clinic at Ganta United Methodist Hospital.
Troubled history
Ganta is a hospital that needs all the good will it can get.
Despite a red mud road that makes traveling to the center a long tedious journey, the medical center cares for more than 450,000, including patients from the surrounding countries of Guinea and Côte d'Ivoire. It is a hospital that was literally a battlefield during the long years of civil war in Liberia. It is riddled with bullet holes and other scars as proof of its troubled history.
War devastated the hospital, said United Methodist Bishop John Innis of Liberia. "They practically broke down the main hospital, and we became hopeless."
Charles Taylor, 22nd president of Liberia, led a group to overthrow then-President Samuel Doe. That action initiated the first Liberian Civil War from 1989 to '96. The second civil war was from 1999 to 2003.
The hospital became the base for Taylor and his people, Innis said. "It was like a battlefield, a real battlefield. But God kept eyes on the hospital. In 2005, the United Methodist Liberian Conference voted to build a new hospital that would receive patients from all over Africa."
Dr. Albert Willicore, chief medical officer of Ganta hospital, was in Liberia during the days of the civil war.
"The whole place was devastated because there was a seesaw era between the government troops and the rebellious troops," said Willicore. "So this place was dilapidated, everything down. Most of the equipment in the operating theater was bullet-ridden so that we did not do very involved surgery that would need sophisticated equipment."
Even today the hospital doesn't have running water or reliable electricity. Generators are turned on when there is surgery or during emergencies, he said.
"The church has operated a hospital in Ganta that has met a very critical need of the people of this country as well as in adjoining countries," President Ellen Johnson Sirleaf said in a recent interview with the United Methodist Liberian Conference. The goal to build a new hospital is most welcome, she said.
"We ask all the partners of the church, domestic as well as international, to come and work with The United Methodist Church to achieve this very, very needed goal.
"This hospital provides healing for thousands, thousands of people here and around. And so with a new hospital all their lives will be made whole. They will be happy people."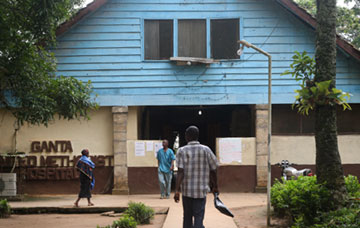 Ganta (Liberia) United Methodist Hospital was founded by two Methodist missionaries in 1926.
Personal toll
Deline was hired at the hospital Dec. 1, 2008. She clearly loves her job and the hospital and works to raise awareness and funds for its repair.
"The population is increasing, patients are increasing and our hospital is full," she said. "Our dream is to build a new hospital."
The war took a personal toll on Deline. She and her father and children fled to Guinea. Her husband and mother stayed, and both were burned to death in a church rebels set on fire.
One of her sons, who was 5, died when they were in exile because she couldn't get him to a hospital.
She said it took her a long time to come back to Liberia. Her days are much happier now.
"Being queen is very important," she said. "Since I became queen, everyone loves and respects me."
*Gilbert is a multimedia reporter for the young adult content team at United Methodist Communications, Nashville, Tenn.
News media contact: Kathy L. Gilbert, Nashville, Tenn., (615) 742-5470 or [email protected].
---
Like what you're reading? Support the ministry of UM News! Your support ensures the latest denominational news, dynamic stories and informative articles will continue to connect our global community. Make a tax-deductible donation at ResourceUMC.org/GiveUMCom.