Morning, March 1, Port-au-Prince
Gulley stands amid the rubble of the Hotel Montana with the driver who dropped him off just before the earthquake.
Barely a month after his ordeal, the 64-year-old is back in Haiti, living out his commitment to stand with the people in this impoverished nation.
He says he cannot answer the question of Job, why some people such as Dixon and Rabb suffer and die, and others such as himself in a similar situation do not.
What he felt called to do was to attend the annual meeting of the Methodist Church of Haiti, to make a statement that he and The United Methodist Church are determined to walk together with the people of Haiti.
He is not alone.
Sarla Chand still cannot believe Dixon and Rabb died.
"Somehow, I don't feel they're gone from me. I feel they're around me," she says. "It's a total mystery, what was God's plan" in their deaths.
What is not a mystery is that she has a calling to make sure the work IMA World Health began with The United Methodist Church continues and is expanded.
"I am determined," she says, to "not let this drop."
In Dallas, Fish is among those committed to get the rural eye clinic in Petit-Goâve back up and running, perhaps with a new name such as The Jean Arnwine Memorial Eye Clinic.
"You bet," Fish says from his office at Texas Retina Associates. "We have to rebuild that building."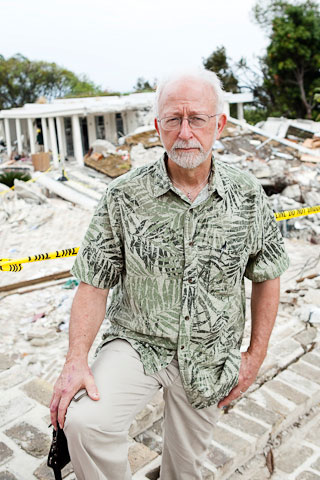 The enormity of the need is striking to Gulley during his time in Haiti. While at the late February church meeting, he and other leaders were trapped in a church when 28 inches of rain fell. He came face to face with the reality of Haitians displaced from their homes, now facing the rainy season in open fields where people sleep beneath pieces of plastic and cloth.
"It's just mind-boggling to me," Gulley says. "There's no way that I can walk away from them and not do whatever I can do."
The remains of the Hotel Montana are one of his last stops in Haiti. It is a bright, sunny morning March 1, the day before he goes back to the United States. For Gulley, it is "a solemn occasion, a solemn place."
He learns how the hotel collapsed forward, burying him and his colleagues so far down that they could not hear the cries of his driver, Eric, or other Haitians roaming through the debris calling out names of loved ones.
Not for the first time, Gulley makes a connection with the biblical Lazarus. Like Lazarus, he says, he was entombed with no hope and brought back to life.
The memory of his late colleagues, Sam Dixon and Clinton Rabb, fills him with sadness.
What has not changed, Gulley says, is their calling from God through Christ.
"It's not my mission. It's not Clint's mission. It's not Sam's mission. It's God's mission," he says. "It's going to take us as instruments of God's power and presence to transform Haiti."
Late spring 2010, Hawthorne, N.Y.
From her home in suburban Hawthorne, a 19th-century Dutch farmhouse she shares with two dogs, a cat and a parakeet, Suzanne Rabb writes letters to her late husband, just like she would when he was away on a mission.
She also talks to Clinton Rabb throughout the day, telling him what is going on or that she misses him. She can experience her husband comforting her, understanding her sorrow.
Sometimes, this connection is "so painful, I can barely breathe. Sometimes, it gives me the great breath to get through the day &ellipsis; as another holy day."
What also gives her and her children strength this Lenten season is their commitment to honor Clinton Rabb. The room seemed almost to "catch on fire," Suzanne Rabb recalls, the day they decided to set up a charity in his name, where through passionate mission and service her husband's ministry would live on.
Not only will they collect money, but she and her children have made vows to go on missions themselves.
What Suzanne Rabb tells her husband is the message of resurrection that she and others who endured the flames are taking to the people of Haiti.
"We are not finished yet, us together."
The fire still burns.
*Briggs is news editor of United Methodist News Service.
News media contact: David Briggs, Nashville, Tenn., (615) 742-5472 or [email protected].
Back to page two
Related Articles
Missions of mercy become tests of faith
Trapped Haiti workers search for way out
Resources
---
Like what you're reading? Support the ministry of UM News! Your support ensures the latest denominational news, dynamic stories and informative articles will continue to connect our global community. Make a tax-deductible donation at ResourceUMC.org/GiveUMCom.