Late evening, Jan. 14, en route to Martinique
Clara Jean Arnwine is on an airplane to a hospital in Martinique.
She never panicked when an earthquake struck Haiti, pinning her for hours under concrete at a rural eye clinic where she was serving as a mission volunteer. Arnwine, whose pelvis was crushed, has been stoic throughout her ordeal, accepting the ministrations of others without complaint.
And she is calm now, even though it took more than two days to transport her from rural Petit-Goâve to Port-au-Prince for a flight out.
Dr. Gary Fish is by her side on the plane, answering her questions about the medical procedures ahead. "What kind of surgery are they planning on doing?" she asks Fish, who selected her for the mission team.
Without warning, her breathing stops.
Arnwine's sudden death is difficult to grasp. What Fish can understand, and wants to share with the world, is a witness of grace and courage amid suffering.
His voice cracking with a mixture of sadness and purpose, he says, "Let them know she died a noble death."
Morning, Jan. 15, New York
Her death is a sobering moment for The United Methodist Church. Those following the drama of several mission workers injured in Haiti barely have a moment to celebrate the seemingly miraculous news that all were safe.
Only this Friday morning, Jan. 15, church members are hearing news that six humanitarian workers-including four United Methodists-believed dead underneath the rubble of the Hotel Montana in Port-au-Prince-have been found and rescued.
"We thank God for answered prayers," said an early press release from the United Methodist Committee on Relief.
The Revs. Clinton Rabb, Sam Dixon and James Gulley of the relief agency were on their way to dinner with three representatives of the humanitarian agency IMA World Health-Sarla Chand, Rick Santos and Ann Varghese- when the earthquake collapsed the hotel where they were meeting. The news of their survival after being entombed for more than two days is stunning.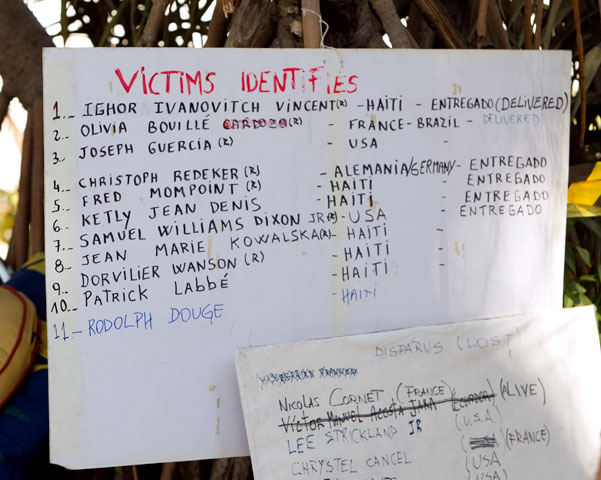 Gulley, Santos, Varghese and Chand, a United Methodist , are on flights home Friday. The relief agency reports that Dixon and Rabb were taken to a hospital.
The initial reports, received in the chaos of post-quake Haiti, are incorrect.
Dixon and Rabb cannot be saved so easily. Underneath the Hotel Montana in Port-au-Prince, a doctor waits beside the two men through the night and into the day Friday as rescue workers carefully try to free them from under a steel beam.
After nearly three days of valiant struggle, Dixon dies of cardiac arrest. Due to difficulties communicating with people at the scene, his death is not reported until the next day.
Hope remains alive for Rabb, who endures the added agony of lying beside his dead friend as rescuers ultimately free him. As he lies in the rubble, Rabb gets word to his wife that he loves her.
Suzanne Rabb says in response:
"Oh my God, oh Clint, Clint, I'm so happy you are alive. I'm so happy. I'm just so thankful. And I love you so much. And I'm just so glad. I can't wait to see you!"
Evening, Jan. 16, Deerfield Beach, Fla.
Clinton and Suzanne Rabb come together again in a Florida hospital.
Sedated and with tubes in his mouth to help him breathe, Rabb is unable to talk. Suzanne is told her husband is probably able to hear her.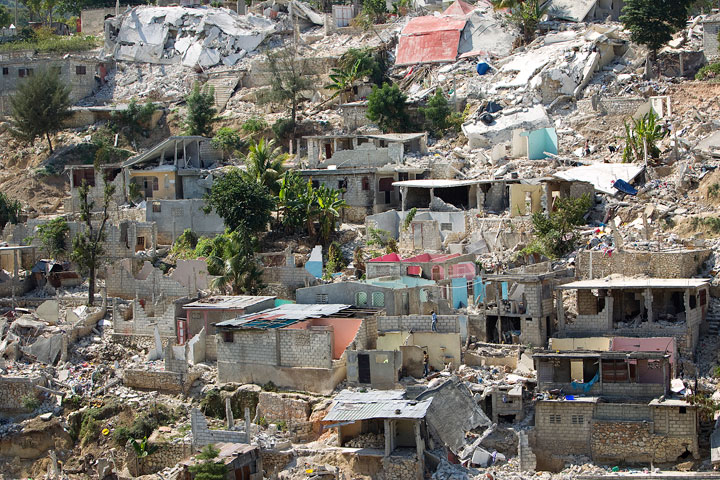 Before she goes to bed, she returns to her husband. This time, the sedation is turned down, and she gets right next to him and close to his face.
"I love you, and I am here," she tells him. Her husband opens his eyes and tries to smile, but it is difficult with the apparatus in his mouth. Tears form in his eyes.
One of their sons moves closer, and says, "It's me, Andrew." And Clinton's eyes open again and he seems to smile.
"Yeah, we're here, honey, and everything's going to be fine," Suzanne says. "You're going to be fine."
The tears begin flowing down her husband's face. He knows his family is by his side, Suzanne believes.
She says again, "You'll be fine, and I love you" as he drifts off to sleep.
The next morning, Suzanne is with her husband when he stops breathing. Emergency personnel rush her out of the room, and she prays in the hallway. She is praying so loud someone comes and brings her in to be with the medical workers.
"You need to let him go," someone tells Suzanne.
But that is her husband there. She is not ready to let him go.
She continues praying, insisting, "Clint, let's breathe. C'mon, c'mon, you can do this. I'll help you breathe."
Nothing more can be done.
Related Articles
Missions of mercy become tests of faith
Trapped Haiti workers search for way out
Resources
---
Like what you're reading? Support the ministry of UM News! Your support ensures the latest denominational news, dynamic stories and informative articles will continue to connect our global community. Make a tax-deductible donation at ResourceUMC.org/GiveUMCom.