---
Key points:
Native children face many challenges, including bullying and racism as well as cultural insensitivity, a United Methodist pastor says.
A rural church and an urban charter school are two examples of programs that are focusing on giving Native American youth a foundation in their own cultures.
United Methodists from nine states visited the church and the school during an immersion experience in the Oklahoma Indian Missionary Conference.
---
Serving in a rural town of 9,000, Clinton Indian Church and Community Center is a hub for tribal life and a place of refuge for young people.
Due east in the state capital, Sovereign Community School is a new public charter campus that emphasizes teaching Native American culture and arts, including language preservation.
Church and school alike are working to give Native American young people a foundation in their own heritage and equip them to navigate an environment where they are not part of the dominant culture.
A group of United Methodists from nine states visited both sites in late October as part of an immersion experience organized by the denomination's Oklahoma Indian Missionary Conference.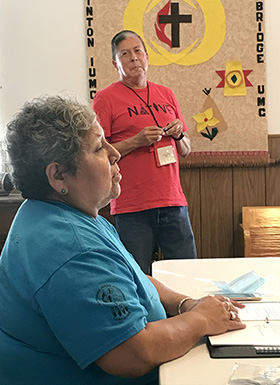 The Rev. Donna Pewo describes how Clinton Indian Church and Community Center is working to help children and youth, as the Rev. David Wilson listens. Wilson and Pewo are on staff with the Oklahoma Indian Missionary Conference. Photo by Tim Tanton, UM News.
Besides being a place of worship, the Clinton church offers tutoring classes, free haircuts for students and the community, and a place for Cheyenne and Arapaho health fairs and other events. For the past eight years, the Rev. Donna Pewo has led a program that serves 38 children in kindergarten through high school.
They are "sweet, sweet kids," said Pewo, who also serves as director of connectional ministries for the conference. "They're smart, they're creative, they're funny and they love Jesus."
The program includes Bible lessons, arts and crafts, and learning tribal hymns in Cheyenne and Arapaho. It offers children and youth "the ability to embrace tribal culture, traditions and ceremonies," Pewo said.
"Everything we teach and share with the children and youth about Jesus Christ is relatable in everyday living," she said. Traditional ways are reflected in the lessons about Jesus and his ministry, she said.
The kids feel so comfortable at the church that they often fall asleep in the pews, she said. "This is their refuge. This is their place of safety and peace." The kids know they can turn to her for a listening ear and support, she said.
"Native children deal with many challenges," Pewo said. Those include bullying and racism in the community and school. "A male child can be bullied just for having long hair.
"A child can be put in awkward positions in class by teachers who assume every Native student knows everything about other tribes or nations," she said. "Just because we are Native Americans doesn't mean we know everything about other Native people."
Schools should also stop being insensitive and assuming students are willing to participate in re-enactments of the Oklahoma land run, she said.
Drugs, alcohol, unemployment and domestic violence are problems in the community. Mental health issues were a problem before COVID-19 and are worse now, Pewo said.
"We have challenges, but we as Native people know how to persevere. We know how to make do with what we've got." They are also good at helping one another and those in need, she added.
Though making do, Pewo said the program needs a van, a youth room, a storage area and supplies.
The van is a particularly urgent need. "With a more current vehicle," Pewo said, "the center would be able to travel longer distances to visit other tribal communities or attend tribal festivities in the state. The van is also used to pick up children and youth during weekly church gatherings."
The additional storage area "would give us the ability to store supplies and host events that pertain to education, health," Pewo said. "Additional room would allow youth to gather and establish their own space with focus on issues that pertain to school, family and self-worth."
Since becoming director of connectional ministries, Pewo has been looking for a successor — someone who will embrace the culture, gain the kids' trust and keep telling them they are worthy of God's love. "I want them to know that there's hope in their lives," she said.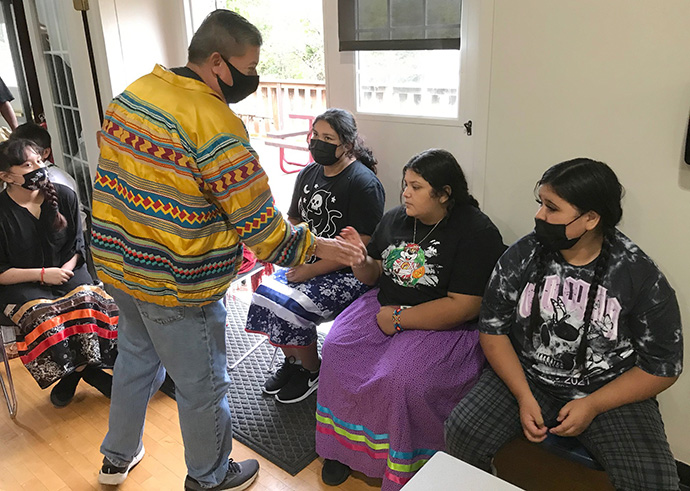 In Oklahoma City, Sovereign Community School is also seeking partners and funding support. The school is open to all and has 121 students enrolled this year, 5% of whom aren't part of a tribe. Superintendent Dusty Delso wants to grow enrollment to 400 students in a couple of years.
The school offers math, science, language arts, Native arts, performing arts and athletics for grades 5 through 11, and this year's 11th-graders will form a new 12th grade next year. All students study a tribal language or Spanish. The school wants to get speakers past the novice levels in order to keep the languages alive.
"Those that saved the Native languages were the churches," Delso noted.
"As far as I know, we're the only ones that are formally doing that," he said. A lot of schools teach tribal languages, but he doesn't know of any other school that combines those with the arts and culture courses.
The school also teaches wellness, including diet and healthy lifestyle. "Native people … have a lot of health problems," Delso said. Diabetes is a particular concern, and posters addressing it are visible around the campus.
The Sovereign students and staff performed songs and dances for the immersion group and served their visitors dinner.
"This was a really good event for us," Delso said. The kids got to go through the process of focusing, preparing costumes and finally performing, he said.
It was important "to see that others care, and other people like what they're doing and not just their families," he said.
Sovereign, which relies on grants and state funding, is seeking someone to adopt the school and help it grow, Delso said.
"Five years from now, I really believe we can be a model for indigenous education," he said, "but right now, we're just getting started."
Return to main story, Group gets immersion in Native history, concerns.
Tanton is chief news officer of United Methodist Communications and director of UM News.
News contact: Tim Tanton at (615) 742-5470 or [email protected]. To read more United Methodist news, subscribe to the free Daily or Friday (weekly) Digests.
---
Like what you're reading? Support the ministry of UM News! Your support ensures the latest denominational news, dynamic stories and informative articles will continue to connect our global community. Make a tax-deductible donation at ResourceUMC.org/GiveUMCom.