As plant manager at Sistersville Tank Works, the Rev. Don Rush helps oversee a staff of 50, including a young welder named Kenny Livingston. Rush is also Livingston's pastor.
One day last spring, the two men stood next to a massive pressure-vessel-in-progress, Livingston having climbed down from the top of it and doffed his safety goggles.
"He's my boss here," Livingston said, nodding toward Rush, "and he gives me guidance in the spiritual life."
Trending Local
Read profile of the Rev. Gina Stewart
, a former police officer who became a part-time local pastor in rural West Virginia.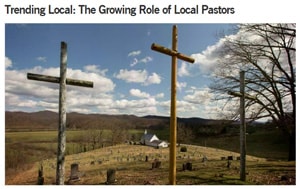 Read the full the series
about growth of local pastors in The United Methodist Church.
Rush, 57, has been a bivocational pastor for nine years. He leads the Limestone and Laurel Point United Methodist churches, two small rural congregations, and he finds time to serve as associate pastor of Sistersville United Methodist Church, where Livingston goes.
If you like word play and can't resist the notion of a "son of Sistersville," Rush is your man. He grew up in the country outside this Ohio River town. He came into Sistersville to go to school and to church at Sisterville United Methodist. And he began at Sistersville Tank Works as a welder 38 years ago.
The old company flourished during World War II, helping build LSD landing craft. The company was struggling in the 1980s when its bookkeeper, Janet Wells, and purchasing agent, Darlene Morgan (Janet's daughter), mortgaged the family farm to buy it.
The women led the company to a remarkable ongoing renewal, and Rush has been part of it, working his way up and traveling as far as South Korea to deal with customers for tanks, boilers and other pressure vessels.
Church, too, has been central to Rush. He was a certified lay servant at Sistersville United Methodist when a pastor told him he should consider "taking a charge" — in other words, leading some nearby rural churches.
"I didn't have to think about it," Rush said, feeling too busy already. "I said, 'No.'"
But the pastor encouraged him to talk to the Rev. David Ehrenich, district superintendent, and Rush eventually did.
Ehrenich mentioned the two churches he had in mind, Limestone and Laurel Point. Rush's ancestors had attended Limestone, and his wife, Joyce, had roots in Laurel Point.
See related slideshow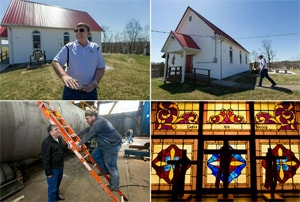 "I think I've just been called home," Rush recalls telling Ehrenich.
Until recently, Rush led the churches as a certified lay minister. In April, he attended local pastor licensing school.
He finally chose that route because he couldn't administer the sacraments as a certified lay minister.
"How can a church grow if you can't do baptisms?" he said. "If you love people and care about the church, you say, 'Well, maybe I need to do a little bit more.'"
Rush has fallen hard for the people and the settings of Limestone and Laurel Point. Limestone is on a windswept hilltop, offering a spectacular view. Approaching that white frame, steeple-topped church early on an autumn morning, with mist in the valley and the sun lighting the changing trees, offers a foretaste of heaven, Rush says.
Limestone has seen a growth spurt, but Rush is humble about his contribution to either church. The stories he tells tend to be on him. There was the time he and his wife carefully printed church bulletins and drove them to Limestone. When they opened the car doors at the same time, a gust blew the bulletins off the console and irretrievably down into the valley.
One story Rush tells gives him a lump in the throat. Limestone was having a revival, and after the guest's sermon, Rush got up and told the crowd, "You guys heard a real preacher speak."
A member cornered him afterward.
"He says, 'Listen, I'll grant you that man's a great preacher and you could feel the spirit moving. But I want to tell you something. You're our preacher, and that's what makes the difference.'"
Hodges, a United Methodist News Service writer, lives in Dallas. Contact him at (615) 742-5470 or [email protected].
---
Like what you're reading? Support the ministry of UM News! Your support ensures the latest denominational news, dynamic stories and informative articles will continue to connect our global community. Make a tax-deductible donation at ResourceUMC.org/GiveUMCom.