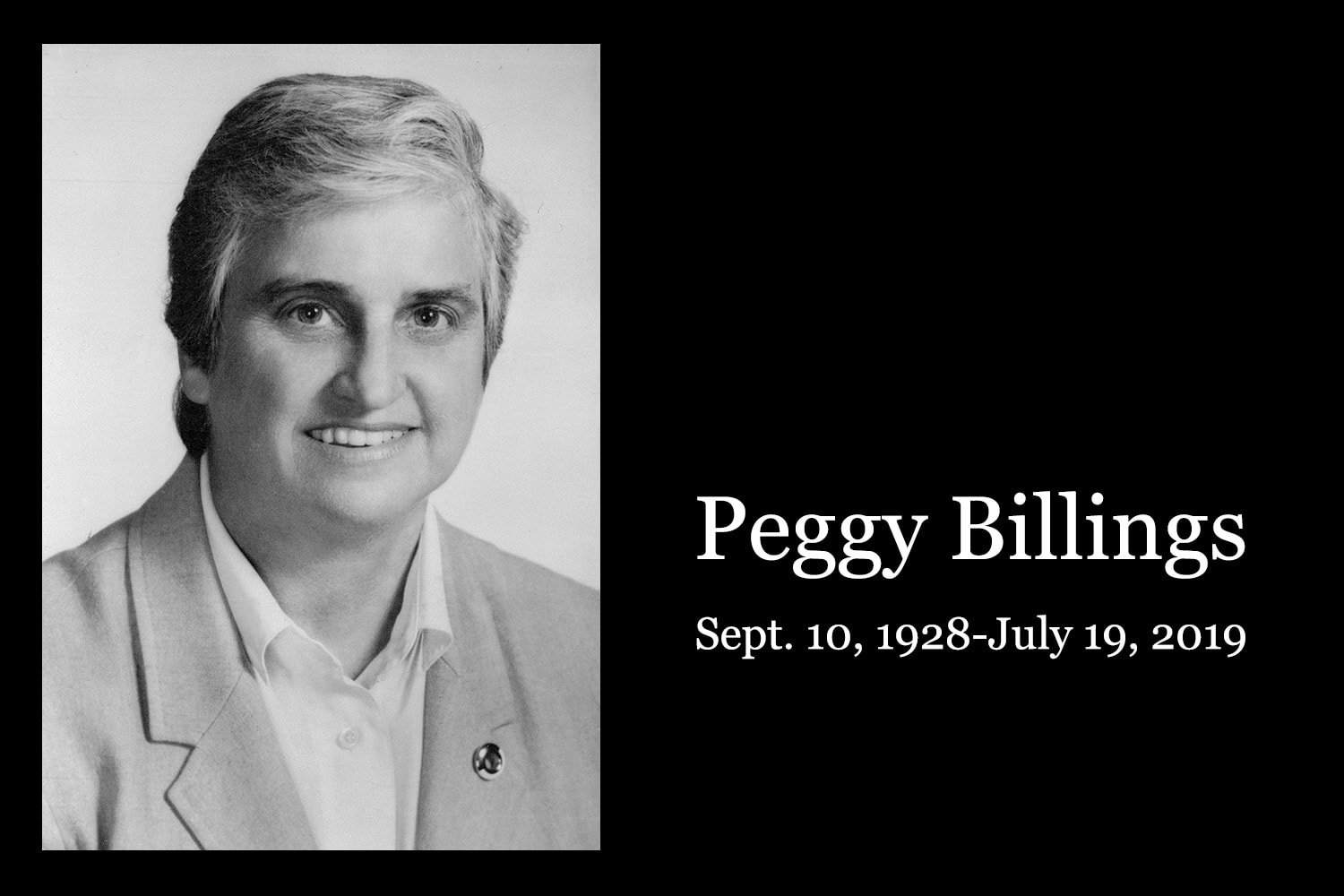 Peggy Billings often spoke out "in the public space" — influenced by the public ministry of Jesus and John Wesley's philosophy of social holiness, she wrote.

Her life experiences, both within The United Methodist Church and on the broader world stage, contributed to her "ultimate commitment to civil rights and social justice," as Barbara Campbell, a former colleague describes it.

Billings, 90, who suffered a severe stroke in June 2018, died July 19 at Bridges Cornell Heights, in Ithaca, New York. An ecumenical service of celebration and thanksgiving is set for 1 p.m. July 27 at the Church of the Epiphany in Trumansburg, New York, where she was a longtime resident. The service will be livestreamed and also available for viewing afterward.
Billings served as a staff executive with the Women's Division of the Board of Global Ministries — now United Methodist Women — from 1964-84, and led the board's World Division from 1984-88 before retiring in 1989.

"Her leadership, mentorship and ability to couple keen analysis with effective action are a rich legacy for our organization and set a high standard for how we engage in support of women, children and youth today," said Harriett Jane Olson, UMW's chief executive officer. "We are grateful, beyond words, for her life and witness."

Andris Salter, UMW operation officer and a longtime staff executive, added that, "She was not afraid and not a pushover."

"From her work with Korean human rights issues to the civil rights movement to her peace movement work, and all the in-between work, she was a force to be reckoned with."

As a colleague and mentor, Billings was inspirational, Salter said. "Her energy encouraged you to do more, to be more, to want more. Her insight into issues really caused you to think, then act and act well so that the impact would make a statement."

Ellen Kirby, who worked with Billings and succeeded her as the head of Christian Social Relations at the Women's Division, agreed. "She really brought an incredible and a unique insight into what needed to be done in the world," she explained.

And she was also a joy to work with, Kirby noted. On a personal level, Billings was "a wonderful human being who was kind and generous and funny."

Her advocacy for social justice was largely shaped by two factors, Kirby believes: Growing up in Mississippi at a time "when there was more obvious racism entrenched in the whole culture" and finding similar injustices as a young missionary in Korea.

The influence of "the good women" at a small Mississippi church propelled her forward. In her 1995 book on UMW's work, "Speaking Out in the Public Space: An Account of the Section of Christian Social Relations," Billings wrote, "They told us children thrilling stories of heroic women who had traveled to far-off places to serve God. I determined to be one, too."

Assigned by the then Woman's Society of Christian Service, Billings arrived in Seoul in 1953, with the assignment to reclaim the Tai Wha Community Center, used by the U.S. Army during the Korean War. Over the next decade, she also was involved with the Korean Methodist Church and with social welfare institutions.

Sung-ok Lee, UMW Connection Officer, recalled Billings' legacy as a missionary "in the gravest time of conflict and poverty in modern Korean history. She was a giant in bringing about a path where there was no path. She changed so many, inspired so many."

Billings' experience resulted in lasting friendships — including one with Lee Hee Ho, a Methodist and former first lady of South Korea who worked to expand women's rights and supported her husband, President Kim Dae-jung, in his pro-democracy campaign. It also was the start of a lifelong effort to work for reunification of the Korean Peninsula, a passion shared by many Christians.

However, her desire to "to be part of the civil rights movement to bring about change" drew Billings back to the U.S., Kirby said.

In 1963, she was hired to represent UMW within the movement, and then joined the Women's Division staff in 1964, first as the secretary for racial justice and then to lead the section for Christian Social Relations. She was instrumental in guiding the Charter for Racial Justice policies, later adopted by the 1980 United Methodist General Conference.

Campbell recalled that Billings worked to ease the tensions around the 1968 formation of the new United Methodist denomination, which also saw the end of the Central Jurisdiction that segregated African-American Methodists. She said Billings also helped make connections between UMW and groups that organized social justice events, such as the Poor People's Campaign.

Those connections and partnerships occurred at all levels of the denomination, Kirby said. Billings made it clear, she added, "that we could not make change unless we were part of a bigger effort to bring about change."

In retirement, Billings lived in upstate New York with Mary Lou Van Buren, a retired Women's Division executive and her longtime friend and partner. Even their home — built by Quakers in the 1820s and a one-time stop on the Underground Railroad — seemed to serve as a reflection of her longtime social activism.

"Having known Peggy for more than 50 years, and living together for more than 45, I have been with her through highs and lows and much fun," Van Buren said. "Her focus on social justice was sustained by her active membership in Washington Square Church in New York City, from services in cathedrals to Quaker meetings and from the Taize community. The two of us had hymn-singing times."

Billings also had become "a beloved poet" around nearby Ithaca, Van Buren said. "Our retired Cornell English professor said of her, 'Some people write poetry but Peggy is a poet.'"

Other survivors include a sister-in-law, Dorothy Billings of Memphis, Tennessee, as well as dozens of nieces and nephews and great-nieces and nephews.
Bloom is the assistant news editor for United Methodist News Service and is based in New York.

Follow her at https://twitter.com/umcscribe or contact her at 615-742-5470 or [email protected]. To read more United Methodist news, subscribe to the free Daily or Weekly Digests.