As relief efforts continue in parts of Zimbabwe ravaged by Cyclone Idai in March, local pastors are tending to survivors' spiritual needs.
Those who lost loved ones, homes and belongings are struggling to pick up the pieces, and pastors in Zimbabwe are doing their best to help.
The Rev. Stephen Chitiyo, pastor in charge for the Chimanimani East Circuit stationed at Ngangu United Methodist Church, swiftly offered accommodations in the sanctuary to the homeless and injured in the aftermath of the cyclone, which killed more than 900 people in Zimbabwe, Mozambique and Malawi.
He also provided space to hold bodies awaiting identification and burial.
"I had to program (two hours daily) as time for counseling sessions, because at one time in the sanctuary, there were bodies, the injured and the homeless. I had to either do individual or group counseling, depending on the situation, and set aside time to bury the dead," said the soft-spoken Chitiyo.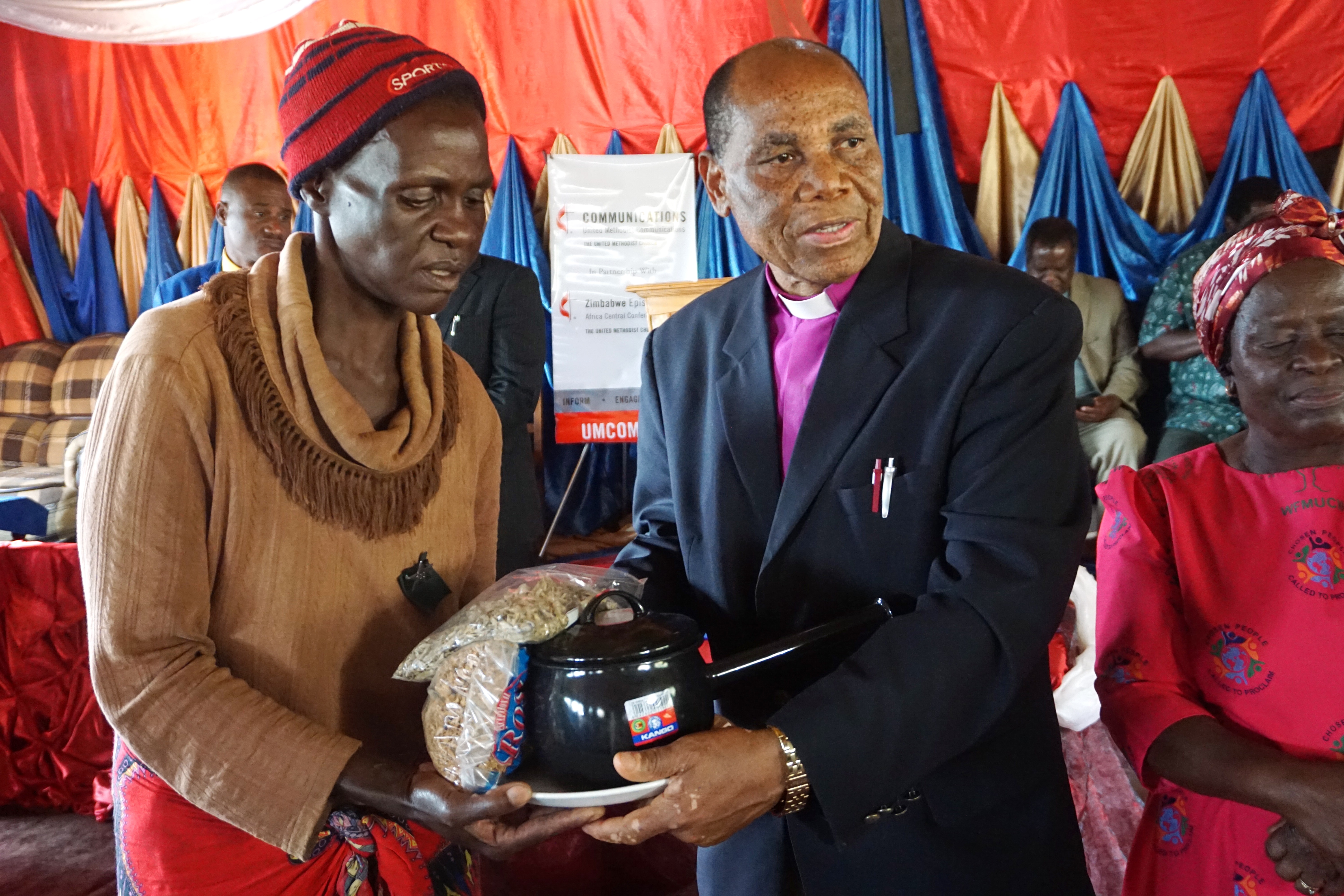 "A lot of counseling was taking place to those who lost family members," he said. "(But) even those who lost properties or sources of livelihood were also grieving and needed counseling."
A member of The United Methodist Church's Ministry of Women, Youth and Children lost her husband in the cyclone, and her oldest son, 20-year-old Silence, was injured and remains hospitalized.
"As though that was not enough, I was left homeless," said Nelia Samhiri. "Now I am staying with a good Samaritan. My house was totally destroyed and all my belongings were swept away. I did not recover anything."
How to help
To make a donation to UMCOR's International Disaster Response (Advance #982450),
click here
.
She said the rest of her family survived the frightening experience because of God's grace.
"I managed to climb and stayed at the trusses of the roof (of the neighbor's house) together with my children. The challenge was of lifting Silence, who was groaning in agony because of the deep cut (on his back). … We wrapped him in a sheet, pulled him and finally we were together.
"Imagine, by a twitch of an eye, I was a destitute, a widow. The breadwinner had gone. No roof over my head. I am a sick person and I need attention always, and my children need school fees. Silence is hospitalized. How will I manage all these? Where will I get the school fees (and) money to sustain my family?" she asked.
Chitiyo said there are many like Samhiri who are grappling with similar questions and need assurance and spiritual guidance.
"I had to visit her and give the needed word of hope and encourage her to move on and be forward looking," he said.
The demand for counseling sessions has been overwhelming since the day after the disaster, Chitiyo said. He said children and adults would mill around the sanctuary, consoling each other and waiting on word of their loved ones.
The church also provided daily worship services and meals to the homeless.
Shylet Murahwa, a member of Apostolic Faith Mission Church, said initially there were about 160 homeless people gathered at the United Methodist church.
"The pastor organized us to start a one-pot (meal) for all. Anyone with a food item brought it and women volunteered to prepare the food," she said.
Today, she said, there are fewer than 50 homeless people still being sheltered at the church.
"We thank the pastor for his warm hospitality and counseling sessions we are receiving. There is no discrimination on denominational grounds. We are all treated equally, because in God, we are all the same," she said.
Two of Irene Chingwaru's children, ages 9 and 14, died in the cyclone. The rest of the family is taking refuge at Ngangu United Methodist Church.
"I lost my two sons, Adore and Ashely," said Chingwaru. "Together with my husband, Arthur, we feel comforted with the support we are getting at (the church). The pastor listens to whatever we share with him about what we experienced and gives us a word of hope."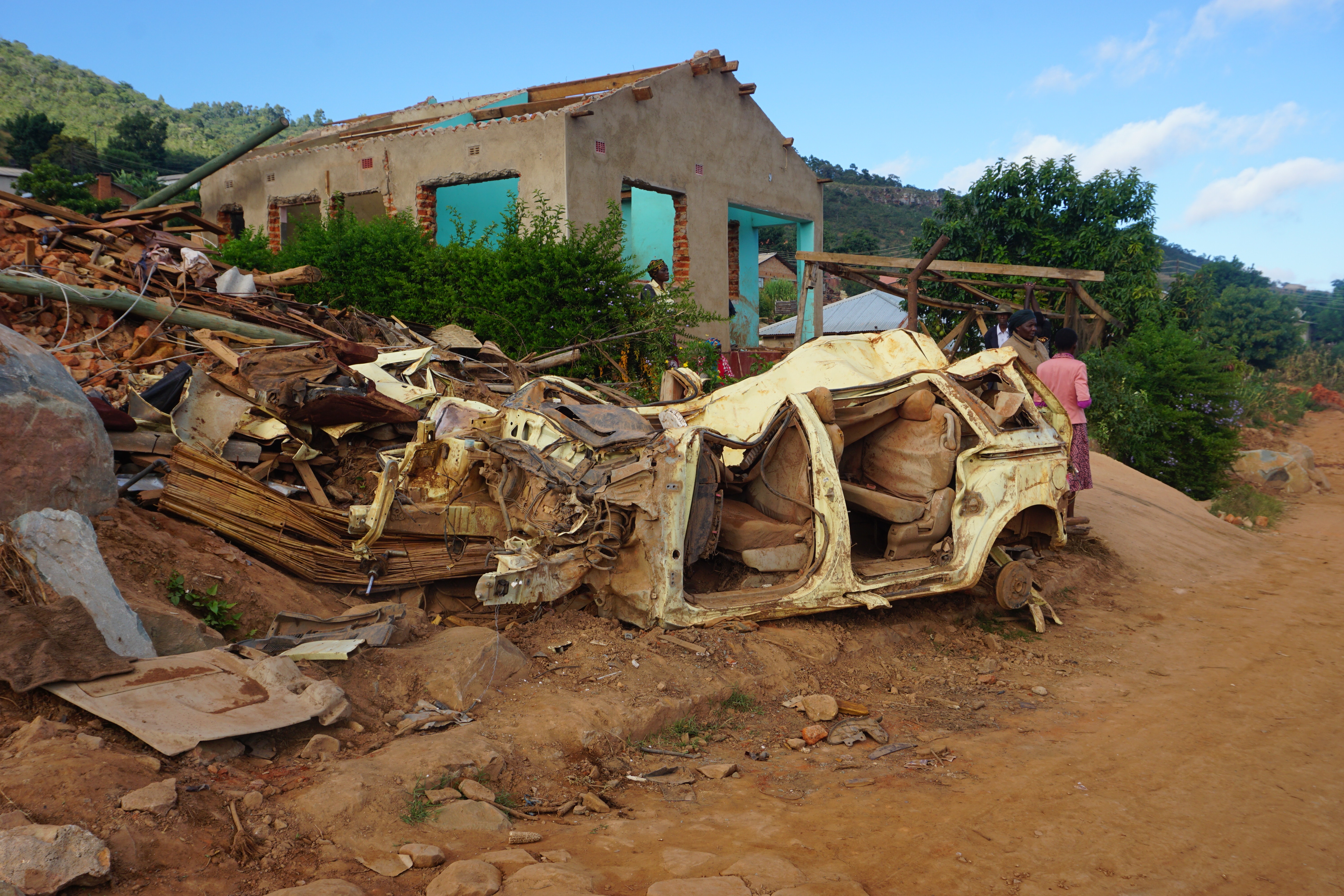 Because the cyclone tore through the community at night, many people are now afraid to move after dark. Some are experiencing nightmares, said Josephine Mutambambishi, a Ngangu Township resident and member of Zimbabwe Zion Church. Even those whose houses were spared head to the church when it rains.
"Despite many counseling sessions we have received," Mutambambishi said, "we are not yet comfortable to move at night — worse still to sleep in the house when it starts raining. We would rather join others in the churches.
"Our lives will never be the same," she said. "It will take time to recover."
The government's Ministry of Defense Department of Chaplaincy sent nine chaplains to support the work being done by the resident pastors.
"We have come … because Ngangu was the epitome of Cyclone Idai and many people lost their lives. Houses and furniture were destroyed," said Major Simon Mpahlo. "This alone causes grieving, and spiritual support would be needed, hence the government has sent us to provide that."
Chitiyo welcomed the additional help.
"The coming of the chaplains was a great relief, because we share the pulpit. I have time to rest and listen to others sharing the Word," he said.
United Methodist leaders also have made an effort to provide counseling to Chitiyo, who has been busy caring for everyone around him.
The Rev. Stephen Jeyacheya, Chimanimani Chipinge district superintendent, said he has visited the area several times to support Chitiyo.
"I know he has been participating in saving lives, (the) finding and identification of bodies, making sure the bodies are stored in the sanctuary and buried. The survivors are counseled and taken care of," Jeyacheya said. "This does not mean he is immune to trauma and distress, but he also needs words of encouragement. Hence, we are visiting him often."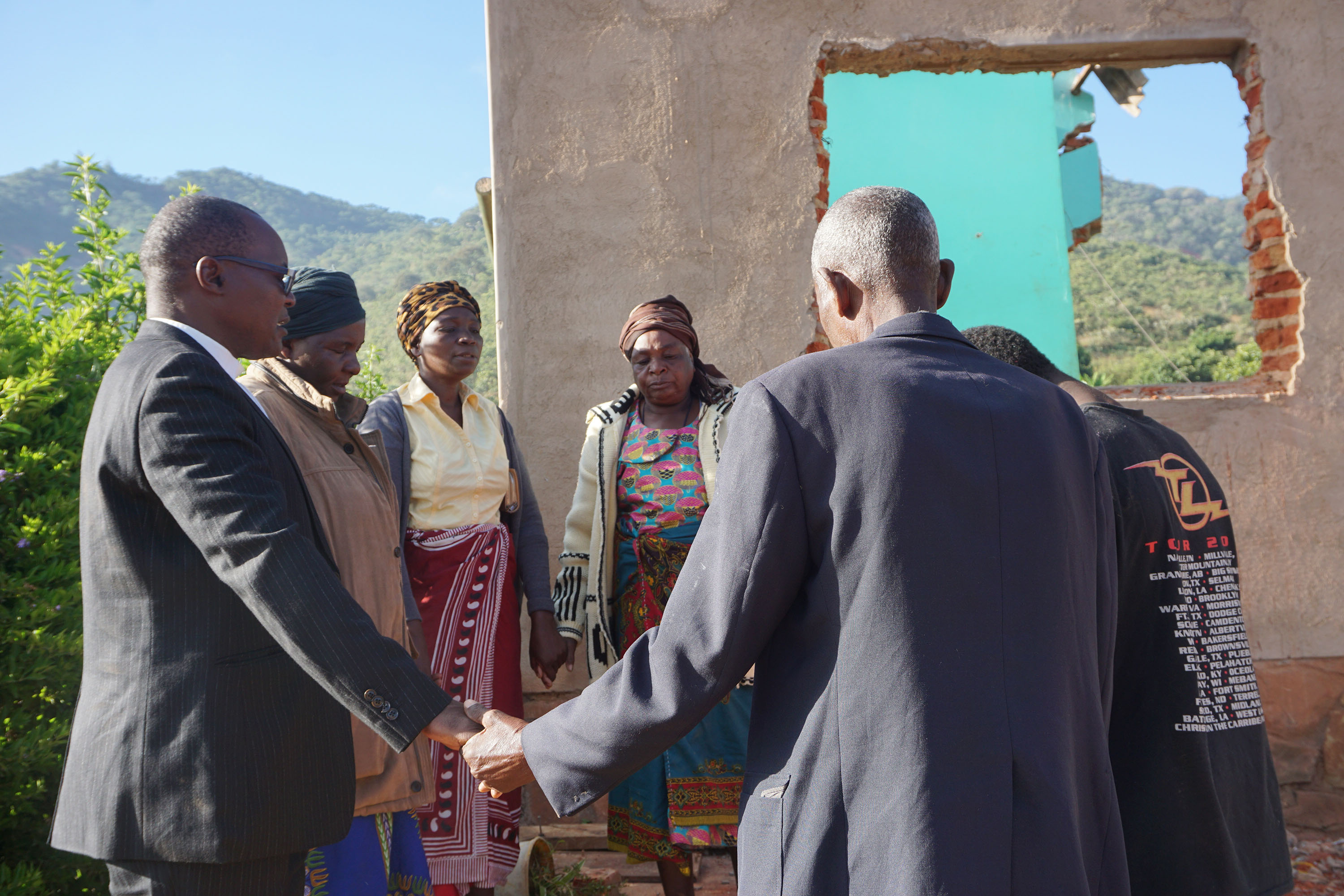 In addition to the district superintendent's moral support, Chitiyo received encouragement from fellow pastors and his former teachers from United Theological College in Harare.
"Our main objective for coming," said the Rev. Sifiso Mpofu, former principal and lecturer on counseling at the college, "was to give moral support to Rev. Chitiyo, knowing well what he has gone through. We were impressed with how he is coping."
Zimbabwe West deputy administrative assistant to the bishop, the Rev. Vienna Mutezo, was sent by the bishop to visit Ngangu.
"As a church, we felt obliged to support our pastor who is on the ground . . ." said Mutezo. "He needs to be re-energized."
Bishop Eben K. Nhiwatiwa also visited Ngangu last week to tour the affected area and help distribute some of the $25,000 worth of donations provided by the church through an emergency grant from the United Methodist Committee on Relief and other partnerships.
He offered a word of solidarity to all of those who lost loved ones.
"I have left everything to be with the pastor of Ngangu and the community. What has happened is beyond human comprehension. It is only God who can heal the heart," he said.
The bishop also delivered a prayer at the site of Samhiri's destroyed home that more bodies would be recovered in the region to give families closure.
"Since a body was recovered just yesterday (April 23) of a girl with her school books close by," said the bishop, "it is my prayer and hope that more can be found to give comfort to many."
During his visit, the bishop presented motorbikes to Chitiyo and Gift Kufazvineyi, pastor of the Rusitu Valley Circuit, to access more remote areas where survivors need counseling. The United Methodist Church UK Mission Area — a group of United Methodists in Britain — donated $3,000 for the bikes.
"Our mobility has been enhanced with the availability of the motorbikes," said Chitiyo. "We can reach all corners of the circuit to give the highly needed psychosocial support."
As he handed over the keys, the bishop encouraged the clergy to continue their outreach.
"Pastors are there to bandage the wounds of those who have been wounded. Many survivors are crying and they need their tears to be removed."
Chingwe is communications coordinator for the Zimbabwe East Conference.

News media contact: Vicki Brown at (615) 742-5470 or [email protected]. To read more United Methodist news, subscribe to the free Daily or Weekly Digests.
---
Like what you're reading? Support the ministry of UM News! Your support ensures the latest denominational news, dynamic stories and informative articles will continue to connect our global community. Make a tax-deductible donation at ResourceUMC.org/GiveUMCom.