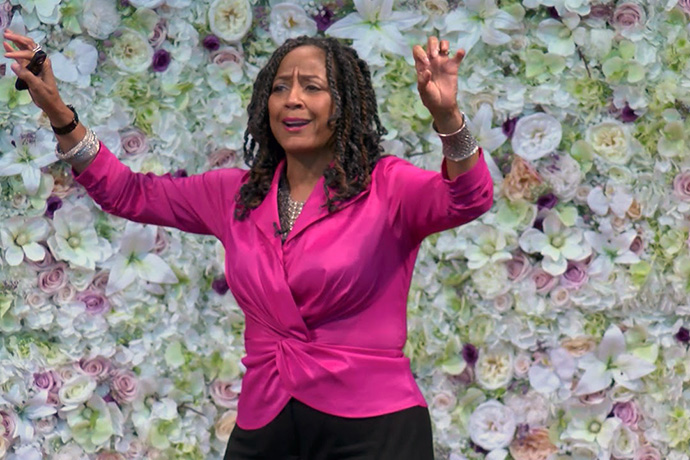 ---
Key points:
The Rev. Juanita Rasmus is offering a five-hour "Learning to Be: Immersive" workshop, drawing from her experience with major depression.
She's co-pastor of St. John's United Methodist Church in Houston, a megachurch recognized for community outreach.
Her journey back from depression led her to a new understanding of God.
---
The Rev. Juanita Rasmus was having it all and then some in 1999, as a 37-year-old wife, mother of two young girls and co-pastor of rapidly growing St. John's United Methodist Church in Houston.
Depression ambushed Rasmus early one morning as she stood at the bathroom mirror, applying mascara. Instead of heading off to the church, she went back to bed.
And stayed.
"I proceeded to sleep 18 to 20 hours a day for several months," she said.
Rasmus' harrowing experience with depression and the lessons learned during the long road back — including a new understanding of God — are the subject of her 2020 memoir "Learning to Be: Finding Your Center After the Bottom Falls Out."
More about the 'Learning to Be: Immersive'
The Rev. Juanita Rasmus' event will be from 10 a.m. to 3 p.m., U.S. Central time Nov. 20. Limited, socially distanced in-person attendance will be at St. John's United Methodist Church in Houston. The program will be offered online as well. Tickets range $197-$390. For more information and to register, click here.
She's also been telling her story in podcast interviews, a TED Talk and workshops.
And on Saturday, Nov. 20, Rasmus will go deeper by leading "Learning to Be: Immersive," a five-hour in-person and online event offering solidarity and suggestions for those feeling besieged.
"I believe I can speak to anyone who knows what it's like to have the rug of life pulled from under their feet," she said.
Rasmus' fans include the Rev. Richard J. Foster, author of the modern spiritual classic "Celebration of Discipline" (he wrote a blurb for her book) and Cindy Bunch, her editor at InterVarsity Press.
"Juanita's story has connecting points for many different types of people," Bunch said. "She even has different labels for her experience — 'depression,' 'exhaustion,' 'nervous breakdown,' 'dark night of the soul.' All of it was a part of her experience."
Rasmus is 60 now, and remains co-pastor at St. John's United Methodist with her husband, the Rev. Rudy Rasmus, himself a published author and popular speaker on church issues. They assumed leadership of a tiny, elderly congregation in 1992, and soon had it growing by 500 members a year.
Currently, St. John's membership is almost 11,000, with average attendance (in person and online) at about 2,500, according to the 2021 Texas Conference Journal.
Along with being an urban megachurch, St. John's Downtown (as it is locally known) is recognized for community outreach, working with partner nonprofits to address food insecurity and provide low-cost housing.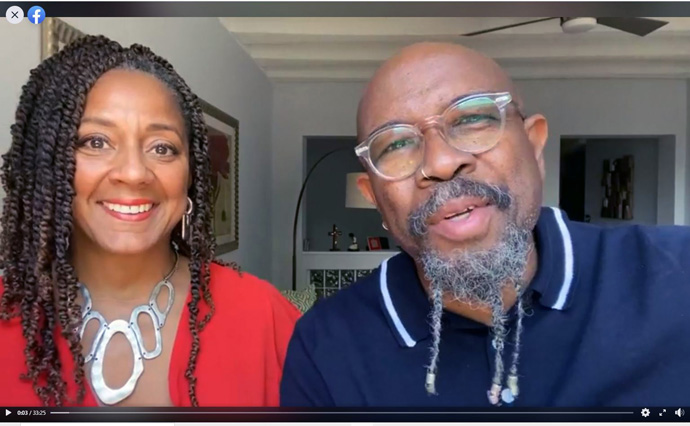 In the early days, Juanita and Rudy Rasmus were trying to lead their growing congregation with just one other staff member. Usually, one of them was at a church meeting at night, so breakfast — when the family was all together —was a cherished time and one the parents sought to make special.
Juanita Rasmus recalls that on Aug. 27, 1999 — a Friday — she served their daughters heart-shaped pancakes and apple cider in wine glasses. When the meal ended, Rudy said he would drive the girls to school — an offer Juanita gladly accepted.
"That way I could put my makeup on in the bathroom mirror instead of the rearview mirror," she said.
But as Juanita Rasmus looked in the mirror a bad feeling gripped her, body and soul.
"It kind of felt like the flu," she said. "I could literally feel the nerves in my body were frayed."
Rasmus called the church and postponed her morning appointments, then went back to bed. A short while later, feeling worse, she re-dialed the church and said she wasn't coming in that day and didn't know when she'd be back.
What ensued was a lengthy, incapacitating bout with the blues and fatigue. Rasmus' physician sent her on to a psychiatrist, who diagnosed her as having a major depressive episode.
"My grandmother would have called it a nervous breakdown," Rasmus said.
Roughly three years would pass before Rasmus was able to return to full duties at St. John's, and she's quick to acknowledge that depression is not something she's licked — but rather learned to deal with.
Her recovery has included taking medication, but also many hours of talk therapy. She became deeply invested in lectio divina (spiritual reading, prayer and meditation), as well as the self-understanding tool called the Enneagram. The latter helped her recognize that — despite all her public speaking — she was fundamentally an introvert.
Early in her depression, Rasmus felt God assuring her that good would come out of what she was going through. Later she would connect that communication with Isaiah 45:3: "And I will give thee the treasures of darkness … ."
Rasmus considers one of those treasures a new understanding of God.
"I had this very punitive, judge-oriented image of God," she said. "For me, God was a cross between Judge Judy and Santa Claus."
Rasmus would come to embrace the description of God offered by James Weldon Johnson in his poem "The Creation" — "Like a mammy bending over her baby" — and let go of what had been a desperate need to fulfill others' expectations, especially in a church setting.
"I was a performance addict, addicted to doing," Rasmus said. "For me the church was like a crack house, and I was a crack addict."
Eventually Rasmus reentered church life, fortified by a better understanding and strengthened spiritually by practicing the spiritual exercises of St. Ignatius, particularly the Daily Examen.
Meanwhile, Rasmus committed to self-care, drawing boundaries around work, making time for retreats and gardening, and even fulfilling a childhood dream of skydiving.
At St. John's, she began to share her story while teaching and preaching, and found crucial support from the congregation's recovery community.
"One of the things they taught me was transparency and that sharing your story could help others," she said.
Through the years, she and Bunch, the InterVarsity editor, would run into one another at conferences. Bunch pushed for a book.
"I heard the wisdom she had to offer, appreciated her presence and thought her voice was needed," Bunch said. "She showed me pieces of writing from time to time, and we kept talking. Finally, the time came when a book outline came together for her, and I contracted 'Learning to Be.'"
The book's publication — smack in the middle of the pandemic — yielded a good bit of press coverage, as well as podcast interviews. One was with Nathan Foster, director of community life for the Christian resources center Renovaré, with which Rasmus is affiliated.
"I think the world of Juanita," Foster said. "She's an amazing person with a compelling story. I believe many will find her upcoming event to be extremely helpful."
The Nov. 20 immersive will draw from the book, while also addressing the emotional challenges brought on by COVID-19.
Rasmus calls the event an occasion for "spiritual reorientation," and she can't wait to offer solace and point the way for those with full-blown depression or even low-grade malaise.
"The time is long gone for just showing up in the world without a desire, without recognizing that our longing and discontent are ways the spirit invites us to live our most abundant life."
Hodges is a Dallas-based writer for United Methodist News. Contact him at 615-742-5470 or [email protected]. To read more United Methodist news, subscribe to the free Daily or Weekly Digests
---
Like what you're reading? Support the ministry of UM News! Your support ensures the latest denominational news, dynamic stories and informative articles will continue to connect our global community. Make a tax-deductible donation at ResourceUMC.org/GiveUMCom.