More than 100 Pacific Islanders gathered recently at Claremont School of Theology for a serious conversation about the human sexuality issues that divide The United Methodist Church.

They were clergy and lay members invited by the denomination's Pacific Islander Ministry Plan, which supports and provides resources on leadership and ministry for nine Fijian churches, 19 Samoan churches and fellowships and 64 Tongan ministries and congregations.

At the beginning of the Dec. 10-11 gathering, Bishop Grant Hagiya, California-Pacific Conference, said the objectives of the gathering were to share openly and honestly "our own position on human sexuality," engage in honest dialogue "without trying to convert others to our position" and to build trust by engaging in deep and open dialogue now and into the future.

"To worry about what will happen in February is not really important," Hagiya said, referring to the special General Conference on Feb. 23-26 in St. Louis. "We cannot control it. … However, the church must continue to do what the church has been doing. And we must prepare the church for the next generation and the generation after that generation."

He expressed his concern for ethnic minority churches grappling with this denominational debate.

"I understand the (human sexuality) issue is difficult for ethnic churches, especially for first-generation members," he said. "I know your passionate heart for the church."

Mele Maka, a member of Moorpark (California) United Methodist Church and a General Conference lay delegate, was positively impressed by the gathering and conversation.

"There was confusion among Pacific Islanders about what the three plans are and what is going to happen at the special General Conference in 2019," she said.

"They wondered whether they would have a vote and a voice. But after this meeting, we have come to understand. I am grateful to God for the opportunity we had to have an honest and open conversation about human sexuality because in the Tongan culture we don't discuss or have a conversation about human sexuality because it is taboo."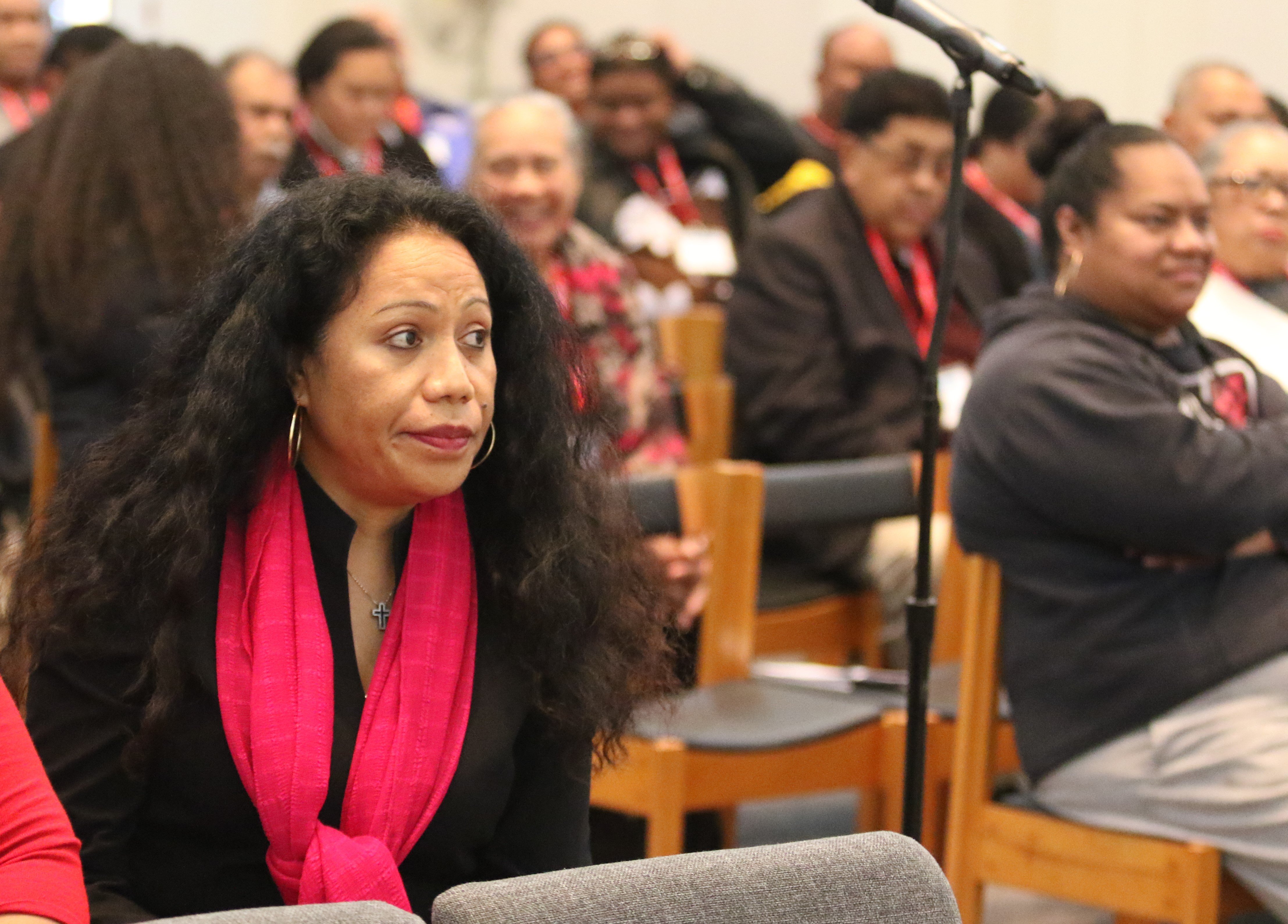 "As a delegate I feel it is important to express my personal opinion freely, and I support the One Church Plan," she continued. "I feel that everybody has their own mission fields where they minister and they should have freedom to minister to those.

"Our brothers and sisters in the central conferences can minister to those who are more conservative, and here in the Western Jurisdiction we should be able to have the freedom to minister to all as we accept our brothers and sisters in the LGBTQI community."

Two professors of the Claremont School of Theology also participated and gave lectures on family and human sexuality. They suggested that all should read the Bible with the eyes of culture and context.

The Rev. Jeffery Kuan, the theology school president, discussed the importance of contextual theology in understanding the biblical community's changing encounters and experiences of God, in relationship to the context of current experiences and issues.

"We are different from others because we are shaped by our cultural context," he said. "The institution of marriage in the Bible is different from today's understanding. If you take the Bible seriously, please take every single passage seriously."

The Rev. Sam Lee, professor of practical theology, shared his experience with the Korean church.

"They did not want to discuss any substance about human sexuality issues," he said, noting that the culture and tradition were barriers. "Culture and faith are related and your culture influences your understanding of the Bible."

The Rev. Michael Seui, pastor of Kalevaria United Methodist Church in Tacoma, Washington, and an advisory member of the Pacific Islanders Ministry Plan, was pleased with the gathering.

"Having our own conversation was more comfortable," he explained. "The intention was not necessarily to make a statement or decision or even a stance but to just converse to ease the tension and fear of whatever was to be decided in February of 2019."

After the gathering, Tamari Marawa, a lay member of Centennial United Methodist Church in Sacramento, California, expressed her feeling of relief.

"I was concerned about the One Church Plan," she said. "As a whole, within the congregation and among members we have accepted each other as members of the church, regardless of sexual orientation. We come to the church and we work together for the ministry in church. But I could not understand the appointment of LGBTQ clergy and ordination of pastors. That is where the church draws a line. I could not accept a pastor in front of me as my spiritual leader who is LGBTQ. That was my concern, and I think the church can make some changes and improve on that because it will be a concern in each conference, as far as I understand it. I am no longer concerned with that, even though I don't agree with certain ways this process has worked."

Tupouseini Kelemeni, a lay member from First United Methodist Church of Honolulu, said her concern was the mission of the denomination. She questioned whether The United Methodist Church would continue to support the mission and ministry of ethnic minorities after the special General Conference.

The Rev. Kalesita Tuifua is pastor of Knollwood United Methodist Church in Granada Hills, California, which has both an English and Tongan ministry. To her, the first priority of a church is to worship God and continue the call to fulfill the church's mission.

She said she appreciated the interaction with fellow participants and the presentations. "It's rare to have Pacific Islanders together for such an event to talk about our ministry and how we can be equipped, nurtured, support and pray for each other for the sake of our United Methodist Church's mission and our ministries."

The Rev. Piula Alailima serves Wesley United Methodist Church in Honolulu, which is a multicultural and reconciling congregation. He said he respected the input from young participants during the gathering.

"I appreciated the bravery of our Pacific Islander young people to express that the issue of human sexuality is not an issue for them," he said. "A young man shared a moving witness as a gay man growing up as a pastor's son. I also appreciated hearing the testimonies of parents and pastors with young people in their families and churches who are gay, and how they are struggling with the traditional understanding and stance of the church."

Steve Maga, executive director of The Pacific Islander Ministry Plan, said he expects the discussions to continue as a way to build a bridge on human sexuality. A second gathering is planned in March.

Kim is the Korean/Asian News Director of the UMNS. If you want to contact him, please call 615-742-5470 or email him at

[email protected]

. To read more United Methodist news, subscribe to the free Daily or Weekly Digests.