The word of God is reaching poor and illiterate people in the Democratic Republic of the Congo in several ways, thanks to the generosity of a United Methodist congregation in Tulsa, Okla.
The project was born in 2004 when the Rev. Jim Lenderman, then a pastor in Conway, Ark., heard an African bishop speak at the United Methodist General Conference in Pittsburgh.
Lenderman said he was astounded to hear that few United Methodist pastors in the central African country have their own Bibles in their own language.
The pastors must walk 12 to 20 miles for a chance to read the one Swahili Bible shared by thousands of people in the region. They must rely on their memories of what they read to preach and conduct Bible studies.
Lenderman said he was unable to imagine serving a congregation without that most basic tool, the Bible.
"God captured my heart," he said. The course of his life changed in an instant.
He vowed to work "until the need is met" to send Bibles to the Congo in both Swahili and other indigenous languages.
"I've committed myself for life," he said.
He took his mission to Tulsa's Asbury United Methodist Church in 2008. "It stirred something in our church," said Lenderman, who is an associate pastor there.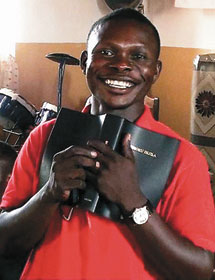 This smile shows the happiness felt by a man in the Democratic Republic of the Congo who is holding a Bible in his own language.
Funding for 22,000 Bibles
During Lent in 2011, the Asbury congregation gave $272,000 toward the project - funding to provide more than 22,000 Bibles.
In July 2011, the church was able to buy 8,000 Bibles for $12 each. Distribution is "at an intentional pace - when they need it and where they need it," Lenderman said, because of the challenges of transportation, storage and security in the Congo.
Each pastor receives one case that contains 16 Bibles.
Lenderman made two visits to the Congo in 2011, including an initial distribution of Bibles in February, when video was shot to help promote the mission.
It is difficult for Americans to imagine what a printed Bible means to a minister in the Congo, Lenderman said. Over the years, invading armies destroyed many Bibles.
Tears poured from the eyes of a 90-year-old United Methodist minister when he received a Bible. "He never imagined in his entire life that he would ever own a Bible," Lenderman said.
"There is nothing like seeing a person getting a Bible for the very first time."
Three-pronged approach
The Bible project is part of Asbury's "three-pronged" approach to offering God's word to the Congo, Lenderman said.
The second prong is the purchase and distribution of digital devices called "Proclaimers," which play an audio version of the New Testament. Designed for areas where technology is scarce, the devices run on electricity, batteries, solar power or hand-crank, Lenderman said.
These enable the word of God to reach groups of listeners, he said, especially those who can't read.
Proclaimers are from the nonprofit group Faith Comes By Hearing, based in Albuquerque, N.M., which produces audio versions of the Bible in hundreds of languages and formats.
This year Asbury UMC plans also to provide in 2012 about $7,500 to buy 50 Proclaimers for the Congo as part of a pilot program. Local residents will learn how to use the device and form listening groups.
Tryouts of the Proclaimers have been "incredibly fruitful," leading to the formation of new churches and new listening groups, Lenderman said.
In the future, Asbury is planning a third prong, a Bible story-based literacy program through Literacy and Evangelism International, which teaches reading up to the fifth-grade level.
In other places where that program has been tried, "80 percent accept Jesus Christ as their savior," Lenderman said. And, "because they're now literate, they can get a job."
*Kinyon Schutz is a freelance writer based in the Oklahoma City metro area and a longtime United Methodist.
News media contact: Maggie Hillery, Nashville, Tenn., (615) 742-5470 or [email protected].
---
Like what you're reading? Support the ministry of UM News! Your support ensures the latest denominational news, dynamic stories and informative articles will continue to connect our global community. Make a tax-deductible donation at ResourceUMC.org/GiveUMCom.