Trustees of Baldwin Wallace University, in Berea, Ohio, have voted unanimously to end the school's formal affiliation with The United Methodist Church.
The April 26 decision came in response to the 2019 General Conference's affirmation of bans against same-sex unions and ordination of LGBTQ persons as clergy, and strengthening of enforcement against violators.
Other United Methodist-related schools in Ohio and beyond have made clear their unhappiness with the church lawmaking body's actions.
But officials of the United Methodist Board of Higher Education and Ministry said they knew of no school besides Baldwin Wallace that has disaffiliated since, and because of, the 2019 General Conference.
Baldwin Wallace, with an enrollment of about 3,700, was founded in 1845 as one of the country's first schools to admit students without regard to race or gender.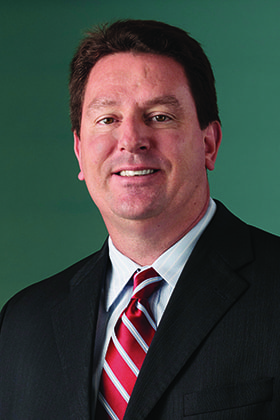 Charles Rotuno, chair of the Board of Trustees.
Photo courtesy of Baldwin Wallace University.
"Baldwin Wallace's Methodist founders were committed to inclusion 174 years ago," said Charles Rotuno, trustee board chair, in a press release. "While we value the relationship that we have had with The United Methodist Church, we've concluded that becoming an independent university will allow the Baldwin Wallace community to continue to fully embrace and embody the values of diversity and inclusion today and always."
Mark Hanshaw leads Higher Education and Ministry's Division of Higher Education, and he described the agency as "saddened" by Baldwin Wallace's decision.
"This is a loss for the church, but it has been encouraging to see so many of our colleges, universities and seminaries seek to remain in connection with the denomination despite their disapproval of the actions undertaken by the 2019 special General Conference," he said.
Baldwin Wallace said the Rev. John Gordon, a United Methodist minister, will continue as chaplain. The school said it will honor United Methodist scholarship commitments to current and incoming fall 2019 students.
Before the February General Conference, Baldwin Wallace President Bob Helmer had joined more than 90 presidents of United Methodist-affiliated schools in signing a statement that affirmed non-discrimination policies on their campuses and called on church leaders to change policies that discriminate against LGBTQ persons.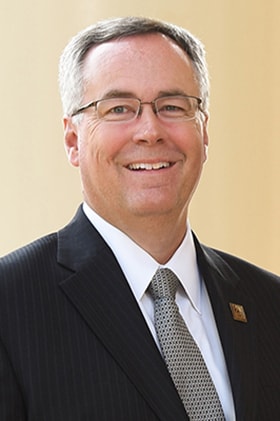 President Bob Helmer
Photo courtesy of Baldwin Wallace University.
"Baldwin Wallace is not changing," Helmer said after the disaffiliation vote. "We are a campus where all people are welcome, all are valued, all are given the same opportunities and all are supported."
Another Ohio school, University of Mount Union, in Alliance, will be considering its affiliation relationship with The United Methodist Church.
"This is slated for discussion at our board of trustees meeting on May 17," said university spokesman Ryan Smith. "We will be holding a few roundtables across campus regarding this topic prior to the meeting so that our president can inform the board's decision with perspective from the campus community."
The president of Ohio Northern University, Daniel A. DiBiasio, emphasized his disappointment in General Conference's actions and noted his school's commitment to LGBTQ inclusion, including having same-sex weddings in the chapel.
But Ohio Northern, in Ada, is not moving to disaffiliate.
"Ohio Northern has enjoyed a long-lasting relationship with The United Methodist Church, one that has continued during changing times over the years, and we look forward to continuing to partner with those who seek to make the church more welcoming to all people," DiBiasio said.
The board of Otterbein University, a United Methodist-related school in Westerville, Ohio, met April 27 and approved a "resolution of dissent" to the actions of the General Conference.
"Otterbein believes in the UMC motto of 'Open hearts. Open minds. Open door.' That's why Otterbein will continue to welcome, affirm, nurture and regard as essential the LGBTQIA+ students, faculty and staff as part of its diverse and inclusive community," the school said in a statement.
But Otterbein's dissent resolution is not a move to disaffiliate, said Roberto Ponce, spokesman.
Ohio Wesleyan University's president, Rock Jones, issued a statement after the General Conference calling its strengthening of bans against same-sex unions and LGBTQ ordination "unacceptable and in direct conflict with the Gospel as I understand it."
Jones said the Delaware, Ohio, school offered "unwavering support" for LGBTQ members of its community and would continue to make the chapel available for same-sex weddings.
Ohio Wesleyan issued a press release April 30 saying it had asked the University Senate of The United Methodist Church to delay a site visit by a year.
The school remains affiliated with the denomination. The site visit delay was requested "in hopes that current discussions result in a new form of Methodism that is fully inclusive in matters related to the LGBTQIA+ community," the press release said.
Hanshaw, of Higher Education and Ministry, said: "We hope that more schools will elect to stay and lend their expert voices and considerable leadership resources to the church's ongoing discussion. We remind everyone that the floor will be open for debate and the Book of Discipline open to revisions once again at the General Conference in 2020."
The National Association of Schools & Colleges of The United Methodist Church had 115 members before Baldwin Wallace's disaffiliation, said Katie McNally Tait, communications specialist for Higher Education and Ministry.
Those affiliated schools are recognized by the denomination's University Senate. They work together and with church agencies to advance education and address issues of mutual concern to the church and the academy.
Hodges is a Dallas-based writer for United Methodist News Service. Contact him at 615-742-5470 or [email protected]. To read more United Methodist news, subscribe to the free Daily or Weekly Digests.
---
Like what you're reading? Support the ministry of UM News! Your support ensures the latest denominational news, dynamic stories and informative articles will continue to connect our global community. Make a tax-deductible donation at ResourceUMC.org/GiveUMCom.