Teachers Charity Horiro and Shushikai Mushapaidze have become accustomed to some of their female students missing classes every month. The truancy, through no fault of their own, is a major cause for concern for the staff at The United Methodist Church's Nyadire Primary School.
"Female pupils from the age of about 12 years regularly miss school during their monthly menses because they cannot afford sanitary protection and therefore opt to stay at home," Horiro said.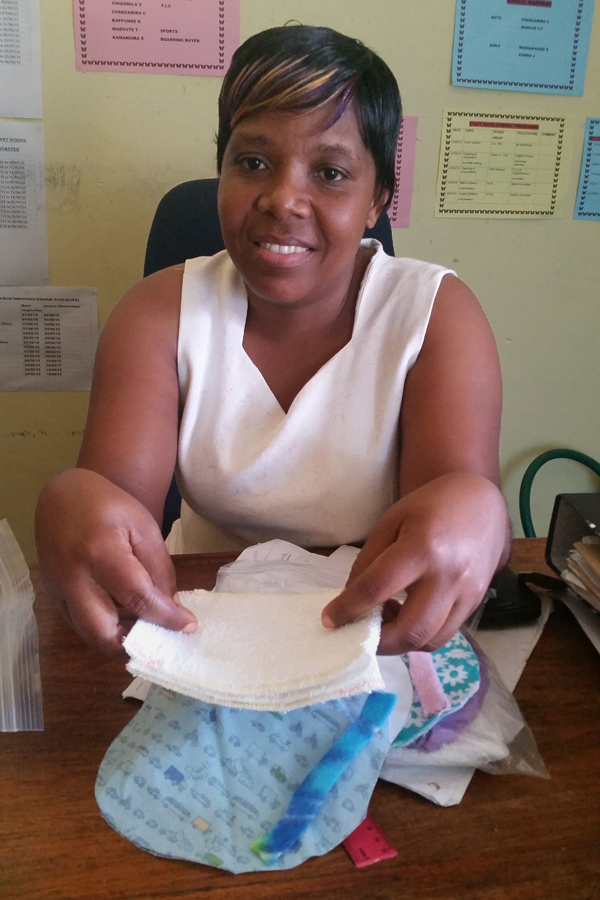 The students sometimes are out for up to five days, disrupting their education, said Horiro, deputy head of the school.
This pattern of absences may soon become history thanks to the introduction of reusable sanitary napkins by The Nyadire Connection, a nonprofit organization founded by a group of United Methodists in Pittsburgh, Pennsylvania.
"In January this year, we received 25 kits of Empowerment Pads from (The Nyadire Connection) and we chose needy children who cannot afford to buy sanitary products and taught them how to assemble the reusable kits," Horiro said. "Female pupils can now attend classes and participate in all activities."
Previously, the pads were destined for secondary schools and maternity wards.
Mushapaidze said the kits, which contain flannel, leak-proof and toweling material, underwear and soap, are easy to assemble. Students can hand-sew their kits with assistance from teachers; sewing thread and needles also are provided.
Bonnie Lawson of The Nyadire Connection, who is the team leader for the sewing parties in Pittsburgh, said the program started as a grassroots project in 2010 in a Women's Bible Study at Mt. Lebanon United Methodist Church. 
"One of our members, Kathy Surma, had recently traveled to Nyadire Mission and was discussing the issue of girls missing school due to the lack of sanitary pads.  Volunteers downloaded patterns for sewing reusable cotton sanitary napkins and consulted with Zimbabwean women to find partners and learn their preference for a pattern. They converted electric sewing machines to manual ones and sought fabric, monetary donations and volunteers of all ages for sewing parties," she said.
Lawson said an October 2015 shipment contained about 400 kits.
"We have used several types of patterns. Our kits currently contain the components for a 'Mwezi' pad.  This pad was selected by our partners in Nyadire due to its simple construction. It can be made by hand (each kit contains a sewing kit) or it can be made with a sewing machine. This pad also uses simple materials, and the inserts allow for layering when necessary," she said.
Lawson said she was grateful to be part of a team that helped transform the lives of girls on the other side of the world. 
"I am happy that our efforts can make a difference in a girl's life. We live in a complex and conflict-filled world and the needs of women and girls are often overlooked. I am a strong believer in the value of education and am happy to be part of the team."
Caryl Drabick, a volunteer at the Pittsburgh parties, agreed.
"I am so grateful that this need was put before a group of women who were determined to find a solution. It was unthinkable to us as mothers with daughters that their education would be interrupted every month. I am glad that my ability to sew can help others on the other side of a very big ocean.
"I am also glad that we are helping by not only supplying pads but teaching people how to make their own supplies and, in turn, they can educate others," Drabick said  
Cost and alternatives a concern
The high cost of feminine hygiene products is a national concern in the country.  In July 2014, a female member of Parliament, Priscilla Misihairambwi Mushonga, caused a stir when she moved a motion for government to remove import duty on sanitary wear and brought samples of the products to drive the point home. 
Sanitary products were classified as "luxuries" and attracted 20 percent import duty and 15 percent Value Added Tax (VAT).  The prohibitive duty was later scrapped. Sanitary napkins now cost between $1 and $3.70 for a pack of 10, which is still beyond the reach of low-income groups, especially in rural communities.
"The products are very expensive, so as a result girls miss between two and five days of school every month," said Chakanetsa Ruzvidzo, programs manager for local advocacy group Shamwari Ye Mwanasikana ("friend of the girl-child"). "This means about 20 percent of their school life is lost due to their inability to afford protection during their menses."
Ruzvidzo said his organization had discovered in the rural areas of Murewa and Mutoko that some girls were using non-hygienic products such as cloths, blankets and even leaves and cow dung as alternatives to the costly sanitary wear. The unorthodox products resulted in discomfort and the introduction of harmful bacteria and fungi that had a devastating effect on the girls' health, he said.
"It is a sad situation and we need government intervention as sanitary health is not a choice. Sex is by choice and our government provides free condoms, why not also issue free sanitary pads?" he said.
He commended the TNC Empowerment Pad program saying it is easier for needy girls to source washing soap and use the hygiene-friendly products.
A study by the Netherlands nonprofit organization SNV, titled "Girls in Control," in Ethiopia, South Sudan, Tanzania, Uganda and Zimbabwe showed the majority of girls were not using commercial or disposable sanitary pads. In Zimbabwe, 72 percent of respondents were not using commercial products, while that number was 70 percent in South Sudan and 93 percent in Uganda.
Chikwanah is a communicator of the Zimbabwe East Annual Conference. News media contact: Vicki Brown, news editor, [email protected] or 615-742-5469.
---
Like what you're reading? Support the ministry of UM News! Your support ensures the latest denominational news, dynamic stories and informative articles will continue to connect our global community. Make a tax-deductible donation at ResourceUMC.org/GiveUMCom.