The decision to change the name and logo of the Washington NFL team is a "huge victory" for Indian Country, said the Rev. David Wilson, conference superintendent of the Oklahoma Indian Missionary Conference and a member of the Choctaw nation.
"Many Native advocates have worked for decades to get us to this point. I say thank you to all who have contributed to make this change happen," Wilson said in a statement.
What the church believes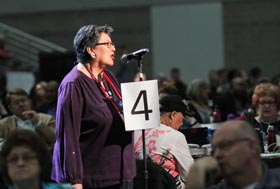 Cynthia Kent, chairperson of the Native American International Caucus, speaks on a petition that asks The United Methodist Church "to be intentional about raising awareness of the harm caused by some sports teams through the use of mascots and/or symbols promoting expressions of racism and disrespect of Native American people," during the May 19 plenary session of the 2016 General Conference in Portland, Ore. File photo by Maile Bradfield, UM News.
Dropping Redskins as the team name is historic and begins "an era of understanding the psychological and negative impact this has for Native peoples," said Anne Marshall, councilwoman for the Muscogee (Creek) Nation and member of the Wewoka United Methodist Church in Holdenville, Oklahoma.

"Many people won't abandon their opinion that using these terms is honoring Native people," she said. "This is an acknowledgment that just maybe this is not profit over people and we're people not caricatures."

The team announced July 13 that it would drop the name and the Indian head logo in the wake of pressure from sponsors and decades of criticism from Native advocates that the name was a racial slur.

The issue of using Native mascots began years ago with the Cleveland Indians, Atlanta Braves, Kansas City Chiefs, etc., Marshall said.

"While some people mistakenly believe that mascots are harmless or even respectful, the mascots actually represent a long-running dehumanization of Native peoples," Wilson said. "This is a very important step that we hope other teams will follow, whether professional, college, or at the high school level."

The United Methodist Church has a long history of grappling with this issue.

Delegates to United Methodist General Conference 2016 overwhelmingly approved a resolution calling on United Methodist agencies to raise awareness about the harm caused by sports teams that use mascots or symbols that disrespect Native Americans.

Wilson said until 2012, the denomination's Book of Resolutions included language that discouraged hosting events in cities with Native American mascots. The 2016 resolution did not include the same text.
In 2006, the denomination's Commission on General Conference retracted Richmond, Virginia, as the site of General Conference 2012, having belatedly learned that the city's minor league baseball team was the Richmond Braves. The conference was held in Tampa, Florida.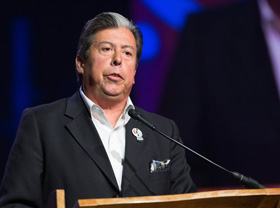 The Rev. David Wilson of the Oklahoma Indian Missionary Conference helps lead closing worship May 20 at the 2016 United Methodist General Conference in Portland, Ore. File photo by Mike DuBose, UMNS.
The United Methodist Church denounced the use of a caricature of an American Indian known as "Chief Wahoo" as an identifying logo of the Cleveland Indians baseball team in a vote taken during their quadrennial General Conference that took place in
Cleveland in 2000
.
Protest of both the logo and name started in the 1970s, but moved quickly toward the retirement of Chief Wahoo when the 2016 World Series drew international attention to the team.
The
Cleveland Indians
announced in July that the club would review its name in the wake of
nationwide protests
against the
killing of George Floyd
.
Youth 2019
, a national gathering for United Methodist young people, was held in Kansas City, Missouri, home of the Kansas City Chiefs. A group of young people at that meeting used the opportunity to raise their voices about Native-themed mascots.
One of those young voices was Alyssa Underwood, now 17. She is a member of the Comanche Nation and vice president of the conference's Council on Youth Ministry.
See video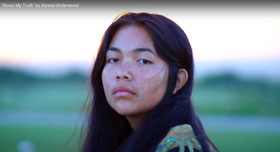 Video image from "Know My Truth," courtesy of Alyssa Underwood by UM News.
Alyssa Underwood, a member of the Comanche Nation and vice president of the conference's Council on Youth Ministry, produced the video
"Know My Truth"
to talk about how stereotypes and misconceptions about Native people have affected her life.
Underwood, a senior visual performing art major at Classen High School of Advanced Studies in Oklahoma, produced a video,
"Know My Truth"
to talk about how stereotypes and misconceptions about Native people have affected her life.
"I wanted to help change the current Native narrative and present a more authentic version of myself and Native peoples," she said.
"My entire life I have been impacted by stereotypes and misconceptions, often being called Pocahontas. I witnessed my elementary classmates reenact the Land Run as a part of Oklahoma history events. I've seen my culture mocked during football games. I've had to explain over and over why comparing me to a Disney princess puts me in a box that is not complimentary. I wanted to create something that allowed me to express my feelings in a constructive way," she explains.
Underwood, Wilson and Marshall credit the Black Lives Matter movement with bringing about change.
The country has been "galvanized to take a serious look at imagery and history and its impact on the lives of racial ethnic people in this country," Wilson said. "We would not be here today without it."
"I think it is a new beginning where people are able to learn things that they wouldn't have before. We have to continue the work and keep building awareness," she said.
Underwood said historically the church has played a role in the oppression of Native peoples. Recognizing that role and working to repair the harm is important, she added.
"Certainly, there is more work to be done across the country. Accurate history and representation of Native peoples is critical. It's more than past time to eliminate the use of Native American symbols and images as team mascots," Wilson said.
Gilbert is a news writer for UM News. Contact her at (615) 742-5470 or

[email protected]

. To read more United Methodist news, subscribe to the free Daily or Weekly Digests.
---
Like what you're reading? Support the ministry of UM News! Your support ensures the latest denominational news, dynamic stories and informative articles will continue to connect our global community. Make a tax-deductible donation at ResourceUMC.org/GiveUMCom.