Dennis G. Valstad lived a modest life in Ripon, Wisconsin. But as it turns out, he didn't have to.

Six weeks after Valstad's funeral, the publisher of the Ripon Commonwealth Press-Express got a surprise when he met a friend who attends Ripon Immanuel United Methodist Church to play golf.

"He said, 'I can't wait to show you something,'" Tim Lyke said. "And he pulled a letter out of his golf bag and he showed it to me."

The letter informed those who had attended Valstad's visitation or funeral that they would receive a portion of $500,000 Valstad had set aside. Everyone who signed one of the registers got a letter. The pastor and other participants in the service were also included.

"I was stunned and in disbelief when this happened," said Lyn Herriot, a realty agent in Ripon. "I didn't have the slightest idea that he had any money."

Valstad died after suffering a stroke in July. He was 69.

The pastor of Ripon Immanuel had been tipped off by Valstad about the plan but took it for a joke.

"I did not pay serious attention to that because I never thought that he would die so soon," said the Rev. Harsha K. Kotian. "I thought a 69-year-old man … has a long way to go."

Fellow members of Ripon Immanuel remembered Valstad as quiet and perhaps a bit lonely but omnipresent wherever help was needed, especially at church and the local Kiwanis Club. He was also involved with the Ripon American Legion and Future Farmers of American Alumni and Supporters.

"I think Dennis, in many ways, was a lonely guy," said Dan Jorgensen, the executor of Valstad's will. "He had a lot of friends, but I'm not sure how many really close, intimate friends he had."

Valstad led a men's group and the men's Bible study group at the church, worked on fundraising efforts for the Kiwanis, washed dishes at church events — whatever was needed.

"He was a low-key guy," Lyke said. "So people were surprised that he rocked our world."

Some townspeople knew that Valstad had struggled with alcohol in the past and still attended Alcoholics Anonymous meetings. Others spoke of the loss of a longtime companion a few years ago hitting him hard. Many assumed he didn't have much money.

He was spotted occasionally using a computer at the Ripon Public Library, and people wondered if he couldn't afford his own. He rode a bike around town instead of driving his car. And he never stopped working, despite his age and extensive volunteer commitments.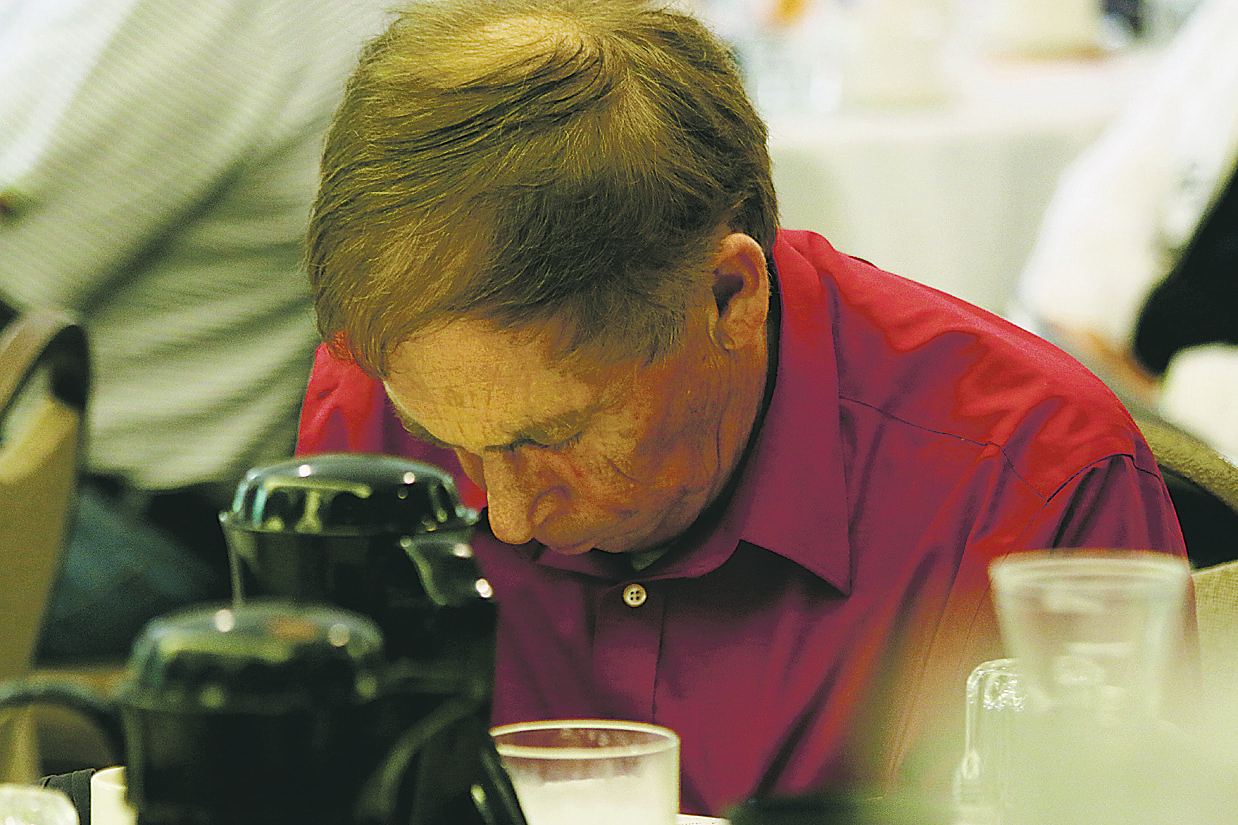 "He didn't do anything fancy," said Carol Schwark, the administrative assistant at Ripon Immanuel. "He didn't dress fancy. … He had a very deep Christian faith that was very important to him. He would do anything for anybody, if he was able to do it. He was just all over the community."

A family issue stopped Schwark from attending the visitation or funeral. She is being a good sport about missing out on the money — about $1,800 per person.

"He was the financial secretary for the church," she said. "He would come in once a week and do his work for that in the office."

Schwark, like most people in Ripon, recalled Valstad as a "very pleasant, a very caring person."

Valstad worked at various jobs over the years.

He served a two-year hitch in the Army, leaving in 1975 as a specialist fourth class. He moved to Ripon and worked at the Green Giant frozen and canned vegetables company, then owned and operated the Vogue Dry Cleaning shop for nearly two decades. He also delivered baked goods for Sara Lee and did the same with fertilizer for United Cooperative in Pickett, Wisconsin. He had rental property that he maintained.

Only one of those jobs was uncharacteristically flashy. He drove all over the country delivering firetrucks for Pierce Manufacturing in Appleton, Wisconsin.

"He absolutely loved doing that," said Pat Himebaugh, a friend from church. "That was a pride of his. He got to tell us where he went and the adventures he was on."

Valstad's faith was the center of his life, friends said. He regularly bore witness to people in his life and strangers. His Bible was held together with duct tape because he read it so much, said Justin "Rik" Rikkers, who was in a Bible study group with him.

"We would go through Bible verses and discuss what impact that would have on our life," Rikkers said.

"We had quite a wide range of thinking about the Bible," Rikkers said. He said Valstad was the hardcore conservative of the group and "a very liberal retired attorney from Chicago" held down the liberal position.

In addition to the $500,000 for the funeral attendees, Valstad made substantial bequests to churches, Christian radio stations, the Kiwanis Club and other local organizations.


Subscribe to our
e-newsletter
Like what you're reading and want to see more? Sign up for our free daily and weekly digests of important news and events in the life of The United Methodist Church.

"He was very concerned that anything he had would go to do some good," Jorgensen said. "What his gift did was make people think. It made us all think about how we treat other people and it opened a lot of people's eyes about being more kind, being more generous, being more thoughtful."

Herriot, the realty agent, is getting married Dec. 5 in the Dominican Republic. She and her groom talked it over and decided to offer to pay Valstad's transportation bill so he could make the trip. He died before they asked him about it.

Herriot and her husband-to-be attended the visitation and funeral. Consequently, they are going to use Valstad's unexpected cash for their wedding.

"He got us in the end," Herriot said.

Valstad's choice to give away the money only after he died is significant because it's clear he didn't do it so he could bask in praise, Lyke said.

"He had no ego wrapped up in it," he said.

Himebaugh said he missed Valstad, and it has nothing to do with a cash windfall from his estate. At a recent church bazaar, Himebaug washed and dried dishes alone, because Valstad was gone.

"Neat guy," Himebaug said. "We miss him a lot at church."

Patterson is a UM News reporter in Nashville, Tennessee. Contact him at 615-742-5470 or

[email protected]

. To read more United Methodist news, subscribe to the free Daily or Weekly Digests.