Editor's note: This is the sixth in an ongoing series about churches in West Virginia dealing with the opioid crisis.
One morning, a third-grader on Wheeling Island came downstairs for breakfast to find her father on the floor, nonresponsive. She didn't know what to do, so she ran to a neighbor's house and asked them to call 911.
He had overdosed and was taken to the hospital. Since he was the only parent in the home, a school guidance counselor tried to determine where else the girl could stay that night.
"It's not a big deal," the 10-year-old told her. "I've been home alone before and I know how to take care of myself."
She's now in foster care.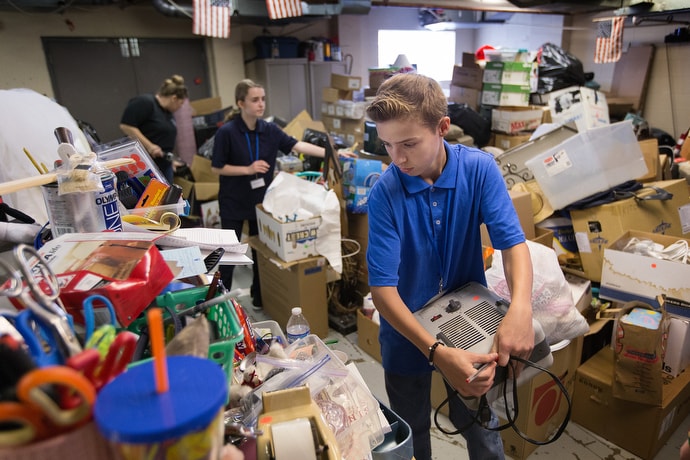 Across the street from this girl's home stands House of the Carpenter, a mission project of the West Virginia Conference. In this small community where 95% of children live in poverty and drugs and crime are rampant, House of the Carpenter aims to shine a ray of hope.
"These kids, if left in this environment, they're destined to repeat what they see," said the Rev. Mike Linger, executive director.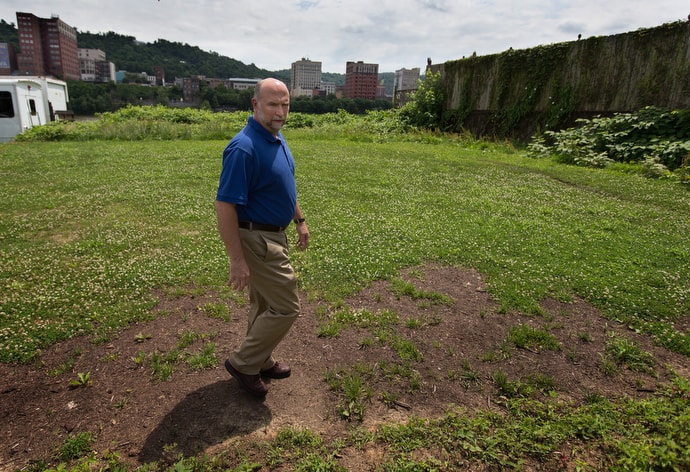 "Part of the pain of the opioid epidemic comes with the children, whose parents are so addicted they can't care for them," said the Rev. Barry Steiner Ball, who leads the West Virginia Conference's "What If?" initiative, which encourages churches to help confront the opioid crisis. "Those children often fall through the net; they're on their own."
Linger said upon his arrival, the board of directors elected to expand its ongoing "ministries of mercy" like utility and food assistance into broader "ministries of transformation," with a concentration on educating children and providing mentorship.
"A lot of adults have made decisions that will be difficult to come back from," Linger said, "but if you got to the kids and gave them some options and guidance, they could rewrite their futures."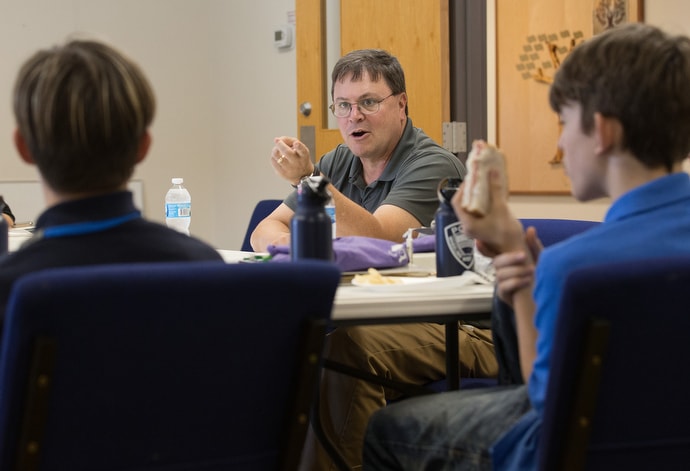 Michelle Bennington-Lucarelli, House of the Carpenter's associate director, said envisioning a future is difficult in a place like Wheeling Island. Physically separated from the city of Wheeling and situated in the middle of the Ohio River, the mile-long island was once a former summer residence for the wealthy but deteriorated as Wheeling's steel industry died in the late 1970s, and drugs and crime took over.
"We have kids roaming the streets, regularly hearing gunshots. Some don't know what a warm bath is because they have no hot water — their parents buy drugs instead of paying their bills.
"These are things kids shouldn't have to deal with," she said.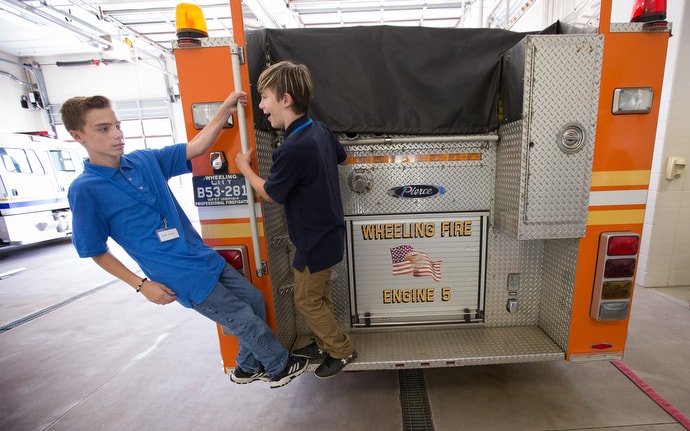 Some of the ministries of transformation include programs teaching basic life skills like managing checking accounts and writing résumés, presentations and visits with people in various careers, and other activities aimed at building self-esteem. There also are cooking and art classes, music lessons and a literacy camp.
And that's just the beginning. An empty lot next door was purchased to build a facility to house even more programs, and ground was broken in April 2018. After dealing with a number of "challenging" issues this year with city and federal government permits that delayed construction, Linger said the new facility is set to open May 1.
Resources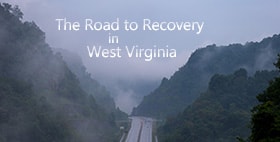 In West Virginia, 844-HELP4WV (435-7498) is a 24-hour hotline to guide addicts and families to resources and treatment for addiction and mental/emotional health.
Running such an ambitious program requires a lot of funding and volunteer hours.
"This is where I need the church to step up and say, 'These kids are worth it,'" Linger said. Citing Matthew 10:39, he added, "Lose your life with these kids and you're going to find out what living is really about."
Many churches aren't able to launch a ministry as wide-ranging as House of the Carpenter's, but there are other opportunities.
The food ministry at United Methodist Temple in Clarksburg may be more realistic: It began with two people and a shopping cart.
Church member Lynne Menendez said that she'd always wanted to run a children's food program, sharing memories of her best friend stealing lunches in grade school out of necessity. Seeing a growing problem of children in the church's neighborhood going hungry because of family addiction and poverty, she decided in 2015 that it was time.
Her initial plan was to pack food bags and have a distribution at the church on a Friday night, but no one came.
Then she had a thought: "Jesus went to the people, so maybe we should start walking."
She and a volunteer made up 35 food bags and wheeled them from house to house.
"At first, kids were wary of us, but later they accepted us and would point out other houses where they knew kids were going hungry," Menendez said.
Those 35 bags became 70, then 148, and the grocery cart was retired. Now they have two drivers.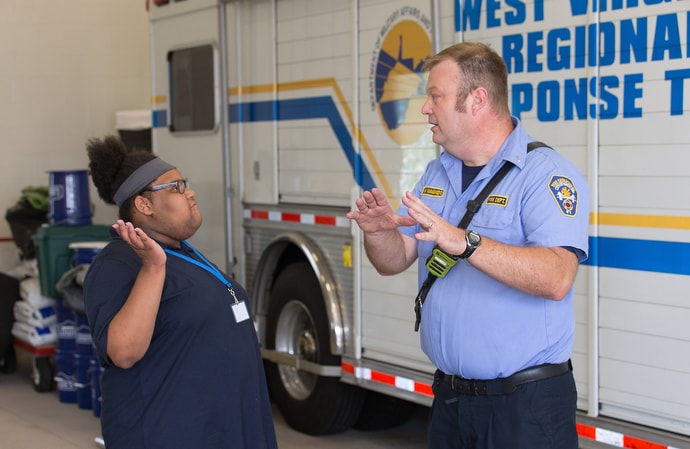 Menendez wants to encourage churches no matter how small they are: Even feeding two houses to the left and two houses to the right of you is a ministry.
"If you only impacted one child, it's more than you did before," she said. "Research says that for kids with trauma, it takes one significant adult in their lives to make a difference. If I can be that one adult, then use me, God — I'm willing."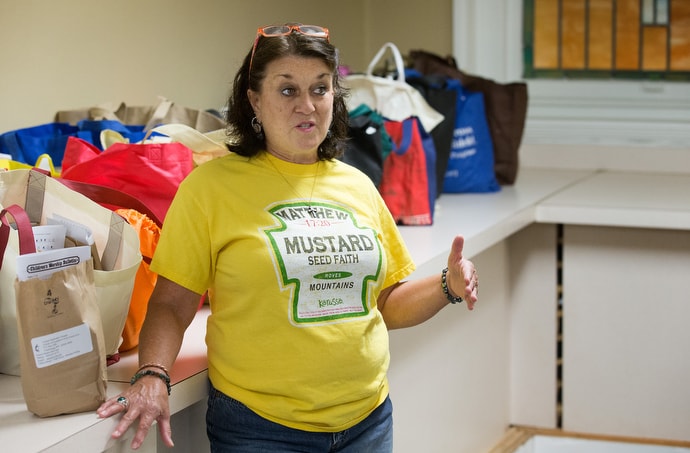 George Hohmann and the Rev. David Stilgenbauer also strive to be that "one significant adult." Both serve as volunteer tutors in public schools. While the teachers have an entire classroom to deal with, the tutors are able to devote valuable one-on-one time to their students.
"It's good for these kids to see adults who aren't paid to be there willing to spend time with them," Stilgenbauer said.
Subscribe to our
e-Newsletter
Like what you're reading and want to see more? Sign up for our free daily and weekly digests of important news and events in the life of The United Methodist Church.
He described one of his first mentees, to whom he made a challenge: For every A and B the student got, Stilgenbauer would do pushups; for every D or F, the student would do the pushups.
"The first report card, he did a lot of pushups. His last report card before graduating middle school, I was doing almost all the pushups," he said.
Hohmann, a retired journalist, tutors fifth-graders on writing skills. He helps them with an essay that students are asked to write every year about what they want to be when they grow up. Many of his students lack support at home and, he said, are "on the edge." They can express themselves well in "street talk" but struggle to properly write or spell.
"Some of these children live in situations we can't understand or believe. They need folks from the church to leave their pews, go out and find them and spend time with them," Steiner Ball said.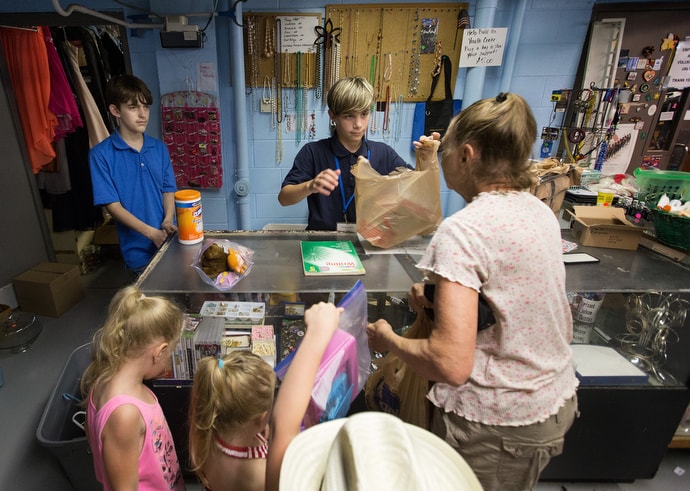 "Schools are pressed for resources; they're excited to have people willing to come spend time," Hohmann said.
"I've never walked through that door when I didn't leave twice as blessed," Stilgenbauer said.
Linger lifted up the story of Amari, a student in House of the Carpenter's Pathways to Success program. She declared early in high school that she wanted to be a doctor; last year, she put all the money she earned through a summer job into a savings account toward college. About to enter her junior year, she's focused on trying to get a track scholarship for tuition.
"She's already talking to medical schools to find their requirements," he said. "She's gonna make it, and that's what you want to hold onto."
Linger said in an environment with as many barriers to success as Wheeling Island has, "you do what you can, even when sometimes you know it's likely a losing battle.
"But I hate losing."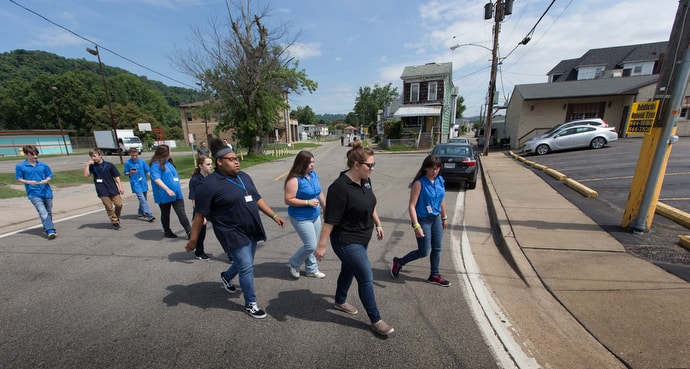 Butler is a multimedia producer/editor and DuBose is staff photographer for United Methodist News Service. Contact them at (615) 742-5470 or [email protected]. To read more United Methodist news, subscribe to the free Daily or Weekly Digests.
---
Like what you're reading? Support the ministry of UM News! Your support ensures the latest denominational news, dynamic stories and informative articles will continue to connect our global community. Make a tax-deductible donation at ResourceUMC.org/GiveUMCom.