After two U.S. mass shootings that killed at least 31 people, United Methodists are responding with both prayers and plans of action to address gun violence and hate.
Mid-morning Aug. 3, a gunman
attacked the shoppers at a popular El Paso, Texas
, retail area — claiming the lives of at least 22 people, including at least eight Mexican citizens.
Less than 14 hours later, another gunman
opened fire into a crowd in the Dayton, Ohio, entertainment district
— killing nine and injuring 27 in less than a minute. The suspected shooter, Connor Betts, 24, is also dead.
No United Methodists were known to be among the victims.
Nevertheless, many United Methodists across the country used Sunday worship for the now-familiar ritual of praying for those brutalized by violence. Pastors also took on the task of ministering to the traumatized.
The Rev. Eduardo "Eddie" Rivera, superintendent of the El Paso District, phoned his pastors on the evening of the tragedy, offering encouragement for the hard service ahead.
"The call to them was, 'Tend to your flocks. Be with them, and be a source of peace and comfort,'" Rivera said.
That challenge fell to Salvador Perales Jr., on his first Sunday as pastor of The Ridge United Methodist Church in El Paso.
Perales, a certified lay servant, had earlier in the week chosen to debut with a sermon called "Faith in Uncertain Times." While he kept the title, he scrambled to adapt the sermon to the heartbreaking circumstances.
"My message to the church was, 'God is our refuge. God is our strength,'" he said.
Perales emphasized that El Paso residents had pulled together, with so many lining up to give blood that local blood banks had to turn people away.
"In the midst of this tragedy, we saw the love of God and the love people have for each other," said Perales, an El Paso native.
Still, the people of El Paso are confronting the possibility that white supremacy motivated the massacre.
The suspect — 21-year-old Patrick Crusius of Allen, Texas, near Dallas — is in custody. Local prosecutors have announced they will seek the death penalty, and federal authorities are investigating him for hate crimes and domestic terrorism.
News accounts
noted that social media evidence, including a hate-filled manifesto, indicates Crusius may have crossed the state to El Paso to target Hispanic immigrants.
"This is a tremendous shock to the collective soul of our city," Rivera said. "El Paso being 80 percent Hispanic, Latino, and the shooter targeting Mexicans — that also brings up a new level of concern and shock."
Lydia Patterson Institute
is a venerable United Methodist school in El Paso
that offers an English language, college prep education. Students include many young people who venture daily from Ciudad Juárez, Mexico. The school informed New Mexico Conference officials that its community of students, faculty and staff apparently had not been directly touched by the attack. El Paso is part of the New Mexico Conference.
But the shootings are on everyone's mind as a new school year looms.
"My reaction was that now more than ever we proclaim being the deliverer of good news," said Socorro de Anda, longtime president, in a note to trustees. "We teach love and respect to all regardless of race, religion, national or any other God-given grace unlike our own."
Responding to mass killings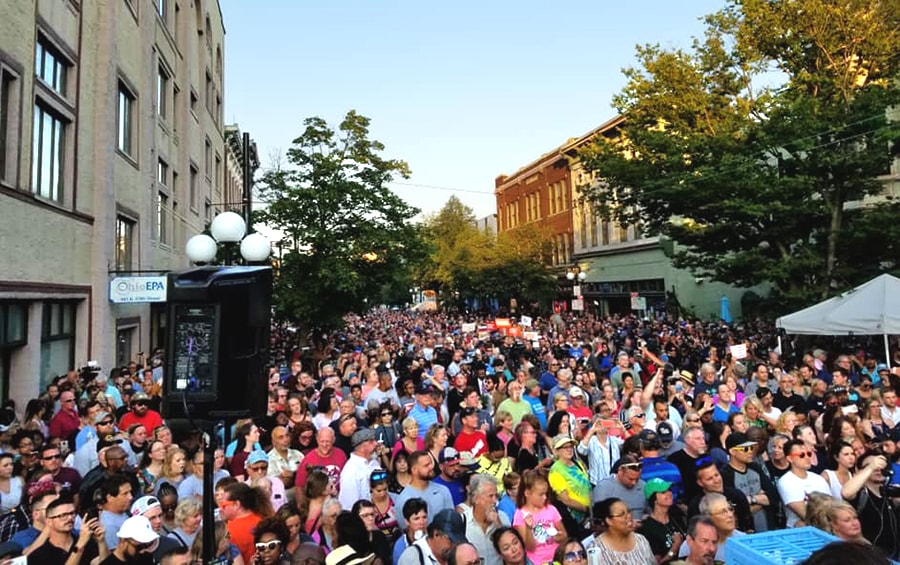 People gather in the entertainment district of Dayton, Ohio, the day after a mass shooting claimed the lives of nine people, not including the shooter. Photo by the Rev. Chris Reese, West Ohio Conference.
The motive of the Dayton shooter remains uncertain,
though the Twitter account that appears to belong to him contained extreme left-wing and anti-police posts
. The alleged killers in both cities are white men.
But as Bishop Gregory V. Palmer reeled from the tragic news, he ruminated on how such violence has become all-too common.
"It continues to be unthinkable that going about the ordinary activities of life is dangerous. It is nevertheless sobering,"
wrote Palmer, whose West Ohio Conference encompasses Dayton.
"We must find ways to act sensibly, faithfully and hopefully to make mass shootings a thing of the past."
So far this year, the number of mass shootings in the U.S. has outpaced the number of days, according to the nonprofit
Gun Violence Archive
. The research group defines mass shootings as four or more shot, not including the shooter.
As of Aug. 5 — the 217th day of the year — the U.S. had experienced 255 mass shootings by the archive's count. In a little over a week, mass shootings also occurred at the Gilroy, California, Garlic Festival, killing three; a Brooklyn block party, killing one; a Southaven, Mississippi, Walmart, killing two, and seven were wounded in a shooting in a Chicago park.
United Methodists have long looked for ways to stop gun violence in all its forms.
The denomination's Book of Resolutions
encourages congregations to advocate for such measures as universal background checks for all gun purchases and bans on large-capacity ammunition magazines and weapons designed to fire multiple rounds each time the trigger is pulled. In both El Paso and Dayton, the suspected gunmen were armed with assault weapons and extra magazines.
But such changes require federal action. Since earlier this year, the United Methodist Board of Church and Society joined with church members in advocating
for the U.S. Senate to take up a bill for universal background checks
. The House of Representatives passed a companion, bipartisan bill on Feb. 27.
The Rev. Jeania Ree V. Moore, director for civil and human rights at Church and Society, said the advocacy includes more than individual pieces of legislation.
"The argument the church makes is not that some type of guns are OK, and others aren't," she said. "It's more profoundly the vision of the prophet Micah that weapons of war will be turned into instruments of peace."
For small-group reflections, her agency offers the Bible study
"Kingdom Dreams, Violent Realities,"
based on Micah 4:1-4.
Moore also called on white United Methodists to preach against the sin of white supremacy wherever it occurs. The denomination in the U.S., she noted, is overwhelmingly white.
"If United Methodists don't preach explicitly against the glorification of whiteness, against white nationalism, against any vision of the world in which whiteness is dominant, that is a threat," she said.
MARCHA
, Methodists Associated Representing the Cause of Hispanic Americans, made a similar call during its Aug. 1-4 meeting in Philadelphia.
"We call all United Methodist and other people of faith and good will to pray for all impacted and demand our elected leaders to address these issues with urgency," the Hispanic caucus
said in a statement.
The group also called on General Conference, the denomination's top lawmaking body, "to unequivocally denounce the evil of white supremacy and declare it as incompatible to Christian teachings."
Bishop W. Earl Bledsoe, whose area includes El Paso, noted in a
statement
that United Methodists in the city are not backing down from welcoming the sojourner.
"For many years now, the El Paso area has been besieged by the controversy over immigration, and yet our faith communities have worked together to respond to the needs of those seeking asylum and a better way of life for their families," he said. "I want to thank all our churches that have given of their time, resources, prayers and love."
Hahn and Hodges are writers for United Methodist News. Contact them at 615-742-5470 or

[email protected]

.

To read more United Methodist news, subscribe to the free Daily or Weekly Digests.
---
Like what you're reading? Support the ministry of UM News! Your support ensures the latest denominational news, dynamic stories and informative articles will continue to connect our global community. Make a tax-deductible donation at ResourceUMC.org/GiveUMCom.