Dayna Barrera seems typical of a bright, accomplished U.S. high school senior.
She's filled one bedroom wall with inspirational slogans jotted on multi-colored sticky notes. Her nightstand holds books by John Green, best-selling author of young adult novels.
Slideshow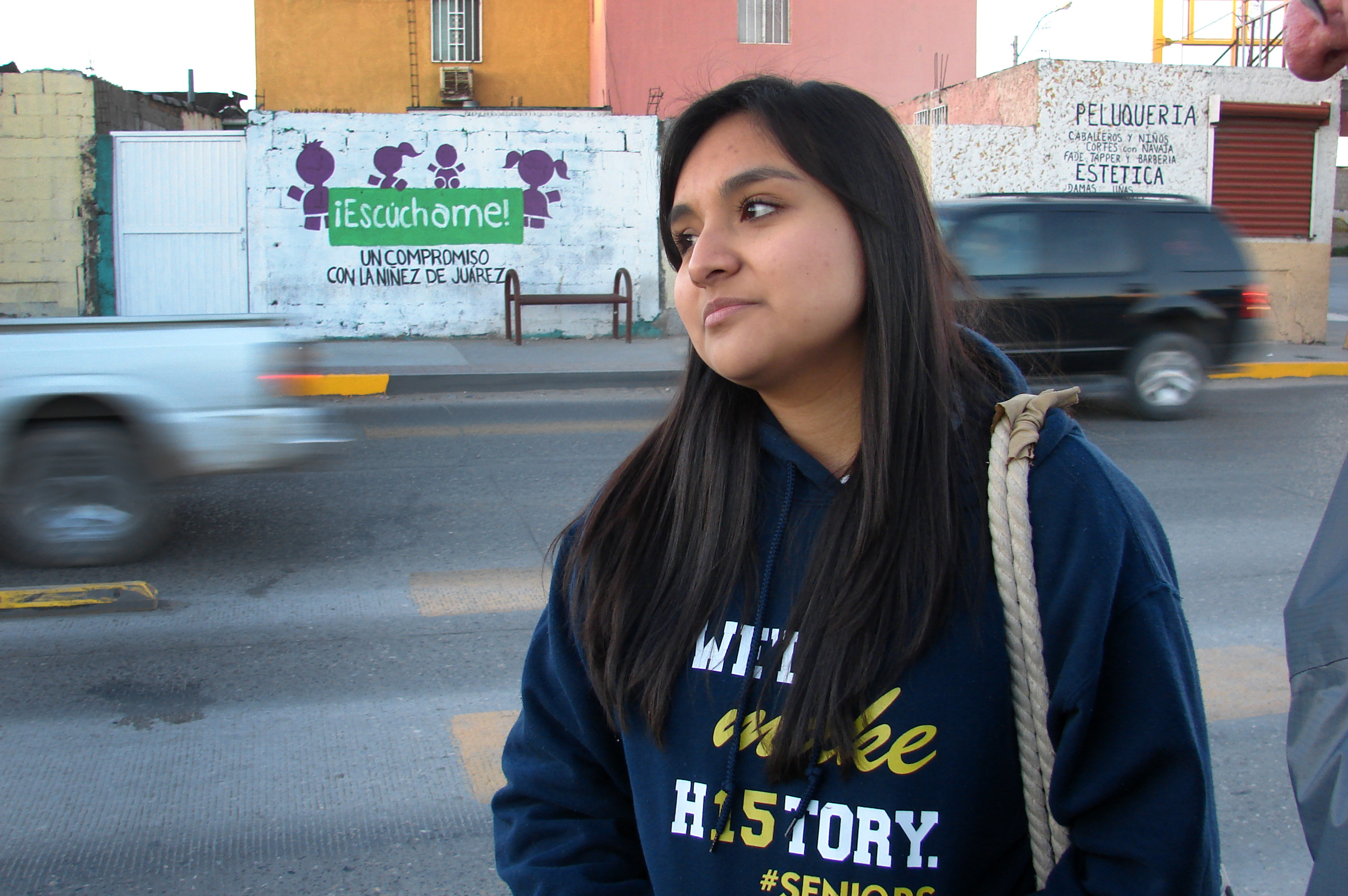 Photos by Sam Hodges document the daily border crossing of students attending Lydia Patterson.
But Barrera gets to class by leaving the country. Each weekday, she's up before dawn to go from her small, tidy home in Ciudad Juárez, Mexico, into El Paso, Texas. There she attends Lydia Patterson Institute, a United Methodist high school.
The journey takes 45 minutes on a good day. It means a standing-room-only ride on a city bus, a walk over the Rio Grande River via the Stanton Street Bridge, and shuffling through the pedestrian line at the U.S. Customs and Border Protection port of entry.
 "Sometimes they ask a lot of questions. Sometimes they don't," said Barrera, 18. "It depends on the officer."
Whatever the hassle level, she arrives grateful. Barerra – projected to be this year's valedictorian – has a full scholarship offer from Ohio Wesleyan University and a large offer from the University of Texas at El Paso.
For more than 100 years, Lydia Patterson Institute has been a beacon for young Mexicans and Mexican Americans, giving them English language fluency and a sturdy, faith-based education that often brings transforming opportunities.
The school draws from the toughest areas of Juárez, a city beset by poverty and other social ills. But roughly 98 percent of institute's graduates go on to college, with last year's senior class attracting some $1.5 million in scholarships.
The alumni ranks boast physicians, lawyers, engineers, teachers, artists, diplomats and United Methodist clergy, including retired Bishop Joel Martinez.
"Lydia Patterson offers students a future without borders on the border," Martinez said by email. "It is a community where miracles are expected and celebrated every day."
A record of survival
The early 1900s saw an influx of Mexican families into El Paso. The public schools did not accommodate Spanish-speaking children, so a local woman named Lydia Patterson, working through the Women's Missionary Society of El Paso's Trinity Methodist Church, set up schools in homes.
When she died in 1909, her husband gave $75,000 to build a two-story, red brick Methodist school named for her in El Paso's "el segundo barrio" or second ward, a few blocks from the Rio Grande. Lydia Patterson Institute remains there, albeit it in a modest compound of cream-colored brick buildings dating to the 1960s.
Early on, the school emphasized English for its students. It also became a training center for ministers serving Spanish-speaking Methodists, particularly in the Rio Grande Conference. One of the first such graduates was the Rev. Abel M. Gómez, who had soldiered under Pancho Villa in the Mexican Revolution.
Other Methodist schools were created for Hispanic youth in the United States, but only Lydia Patterson remains open. It survived the Great Depression, the phasing out of the ministerial training department after the denomination began requiring college for ordained ministers, and the 1980s devaluation of the peso, which hit Juárez families so hard that enrollment dropped below 200.
The school bounced back through expanded fundraising for scholarships and more, but faced another trial when drug cartel-related violence gripped Juárez from 2007-2011. Many families left the city, and others lived in dread of kidnappings and random shootings.
"We became more than just a school," said Socorro Brito de Anda, president of Lydia Patterson. "We became a refuge, a safe haven for the students."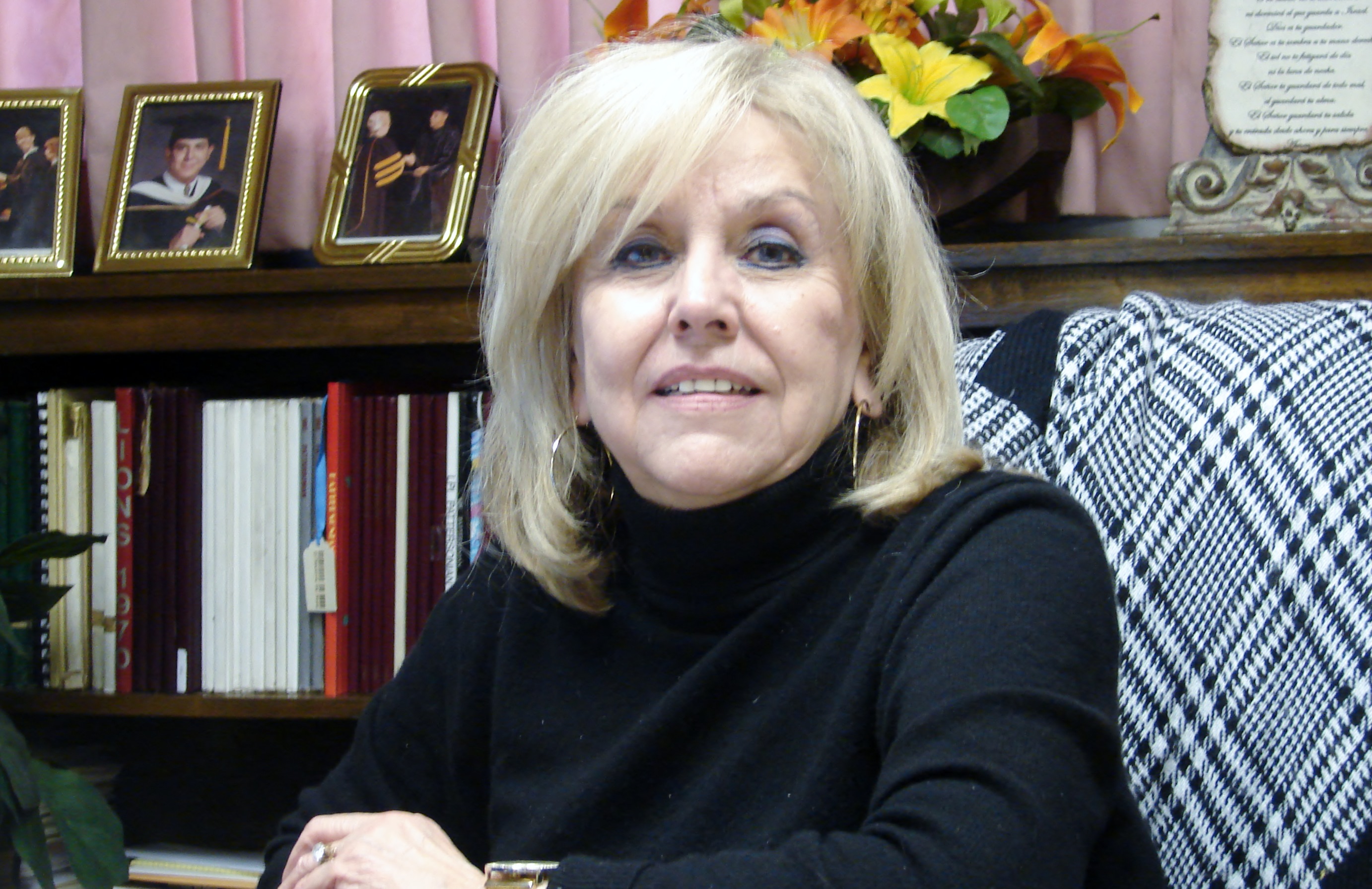 Opening doors
These days, some 400 students attend the school, in grades seven through 12. Most of the younger students get intensive English language training, and all upper-grade classes are English only.
About 70 percent of the students make the daily trek from Juárez, with others coming from El Paso or other nearby U.S. communities. Of the Juárez group, some were born in the United States and have U.S. citizenship, while others are Mexican citizens and need a student visa to cross.
Many students are on financial aid, with some so needy they get a "full plus" scholarship. That means the $4,700 annual cost of their education is covered, and they get $20 a month for spending money.
Scholarship students must work a campus job, an arrangement that allows the school to get by with a minimal support staff, including one maintenance man.
Bequer Gomez, an 18-year-old senior from Juárez, makes sure all restrooms have toilet paper. He's happy to do any job that keeps him in the school.
"Lydia Patterson has become my home," Gomez said. "It's developed my leadership skills, my character."
Gomez is one of about 50 students in the lay ministry internship program. That's given him summer work at Marvin United Methodist Church in Tyler, Texas, and at the Oklahoma Conference office in Oklahoma City.
Four courses in Christian education are required, as well as weekly chapel attendance. Students also must wear uniforms and mind their manners.
That's rarely an issue.
"When I came here, I noticed the kids were breaking their necks to open the door for me," said the Rev. Bill Davis, the chaplain and a former public school teacher. "I'm like, `What's going on?'"
Other teachers note the high motivation level.
"Grades and success are important to these kids," said Alfredo Gurrola, who teaches science at Lydia Patterson Institute after 32 years teaching in the public schools. "It's very cool to get the top grade."
Many describe Lydia Patterson Institute as a family as much as a school, in part because a high percentage of faculty and staff are graduates who came back in gratitude, even though they could make more money in public schools.
Cristina Woo, assistant principal, is an alumna who has worked at the school for 43 years. Fernando Rivera, youth activities director, arrived as a student in 1974 and essentially never left. (His son, Fernie, also a graduate, is studying at Garrett-Evangelical Theological Seminary, on track to become a United Methodist elder.)
Then there's Patricia Amador, who came from Juárez and graduated in 1965. She went to the University of Texas at El Paso, the first in her family to attend college. She returned to Lydia Patterson Institute and has been teaching math there for 39 years.
"The Lord is using the United Methodist people to bless these children through education," Amador said.
United Methodist Education
Lydia Patterson Institute, one of the 119 schools, colleges, universities, and theological schools in the United States related to The United Methodist Church, is the only United Methodist Church-sponsored campus in the U.S. with a predominantly Hispanic population. See an interactive map and learn more about these schools at www.gbhem.org/education.
Confidence amid challenges
Lydia Patterson Institute is a ministry of the South Central Jurisdiction, and about a third of its annual $3 million budget comes from apportionments. Tuition and gifts make up the rest.
The school is in a $15 million "Second 100 Years" capital campaign. The successful first phase allowed for a major upgrade of 14 classrooms, as well as adding "smart boards" and tablet computers.
But the needs remain substantial. The school has no functioning science lab, the tiny library operates with an old-fashioned card catalog, and soccer is played on a pint-size asphalt court.
Though enrollment is stable, Lydia Patterson Institute operates with a lean endowment. A downturn in the local or general economy could mean big trouble.
But there's a quiet confidence here, based on a century of beating the odds.
De Anda, the president, and Richard Hearne, development director, share a story they believe shows divine guidance in the school's affairs.
Hearne had contacted a United Methodist pastor, asking that he commit his church to underwriting a scholarship. The pastor agreed, and Hearne called de Anda, excited to share the news.
She surprised him by responding neutrally. Later he would learn that when he called she had twin boys in her office, with their parents. They were a poor family, and she feared having to tell them they would have to choose which boy would attend on the one new scholarship.
The situation turned bleaker when the pastor phoned Hearne and backed off the commitment, saying he needed an OK from the church's missions committee.
A few days later the pastor – who knew nothing of the twins – called with the committee's decision.
"We're not going to fund a scholarship," Hearne remembers him saying. "We're going to fund two."
*Hodges, a United Methodist News Service writer, lives in Dallas. Contact him at (615) 742-5470 or [email protected]
---
Like what you're reading? Support the ministry of UM News! Your support ensures the latest denominational news, dynamic stories and informative articles will continue to connect our global community. Make a tax-deductible donation at ResourceUMC.org/GiveUMCom.