The river in central Liberia where Jefferson Knight used to play and fish as a child has completely dried up due to serious drought.
His country's experience of climate change gave Knight, who works for the United Methodist Church in Liberia, a very specific reason to attend the Paris climate summit.
On Dec. 12, 195 countries signed an accord at the United Nations Framework Convention on Climate Change — popularly known as COP21 — making a historic commitment to lower the greenhouse gas emissions that cause global warming.
"I think it is a stronger outcome than most observers expected," said John Hill, an executive with the United Methodist Board of Church and Society who was present throughout the convention and sent a video message after hearing final word of the agreement on his flight home.
What made a difference during the Nov. 30-Dec. 12 summit, in Hill's view, were the relationships developed and stories heard from the communities most affected by climate change. The result is not a solution, he added, but a path and a framework to work towards a solution.
Knight, who was part of Church and Society's COP21 delegation, had access for two days to the "blue zone" inside the official conference, where he connected with other civil society groups and met government representatives, including those from Liberia.
Such access was an important advocacy tool for their delegation, said the Rev. Liberato Bautista, who also was in Paris as head of the agency's U.N. office.
"Physical presence at the official venue is crucial," he explained. "By our presence, we made known to the negotiators that we put value to the governmental process, and that we are watching and monitoring what they say and do."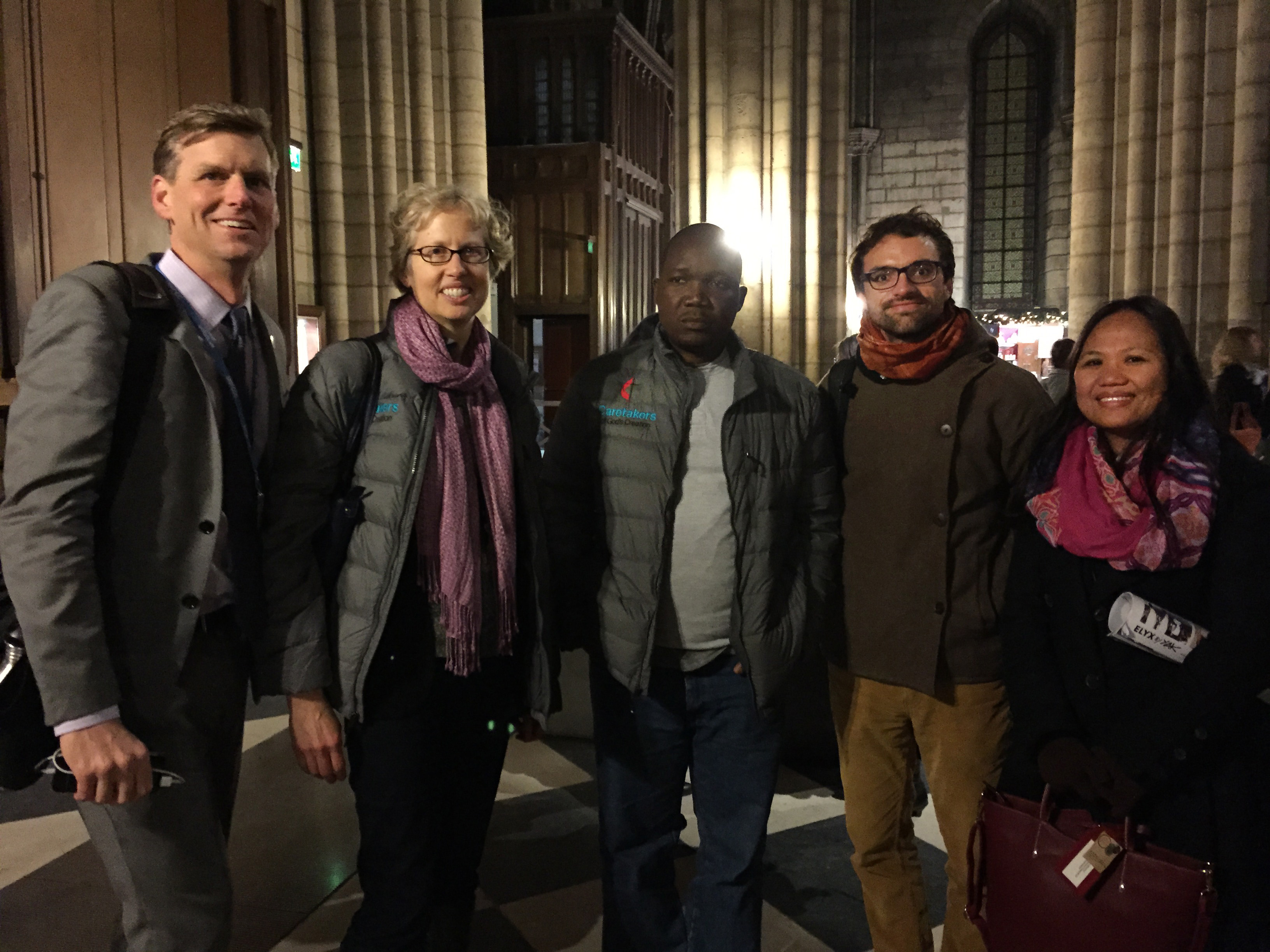 Taking care of God's creation
Knight also came to Paris as part of the United Methodist Board of Global Ministries' Creation Care Team, led by the Rev. Pat Watkins. "Personally, I see my being on the Caretakers of God's Creation Team as a calling and one of my Christian responsibilities to ensure that God's creation is properly taken care of," Knight told United Methodist News Service.
His fellow team members have the same perspective. The Rev. Marietjie Odendaal, pastor of Gelterkinden United Methodist Church in Switzerland, was encouraged to learn from of a project about the biblical witness of caring for the earth.
"I hope that will enrich the language we generate to talk about the issue and also enlarge our options for engaging as Christians, together and with groups outside of the church," she said.
Sotico Pagulayan III, a Global Ministries team member who works for the United Methodist Church in Cambodia, said he struggled with the idea of going to Paris after the deadly terrorist attacks on Nov. 13.
However, he wrote, God "touched my core," reminding Pagulayan "that He put me in this position and situation to brightly shine His light to this ever-decaying world…I knew God called me in this specific time of history to be a source of hope and an agent of change and transformation."
Like Knight and Pagulayan, United Methodists and Methodists from various parts of the world came to Paris already aware of the effects of climate change in their communities.
In Argentina, rainfall has been double the average, causing problems for farmers and sanitation issues in big cities, noted Anahí Alberti, a Global Ministries team member from Salta. In the northwest region where she lives, not having the usual six-month dry season means more insects and "will affect the entire population in terms of subtropical infectious diseases, which mostly are transmitted by insect."
Learning, connecting in Paris
While in Paris, the teams took part in advocacy strategy sessions and events, attended panel presentations and discussions, took part in an ecumenical worship service at the Cathedral of Notre Dame and joined a service at Resurrection United Methodist Church, where the congregation consists mainly of refugees from Côte d'Ivoire.  
The Rev. Susan Mullin, a creation care team member from Minnesota, attended a round table on faith, race and climate justice where she learned how problems with water contaminated by raw sewage have contributed to a rise in hookworm in Lowndes County, Alabama, not typically seen in the U.S.
The Rev. Lisa Garvin, associate dean of chapel at United Methodist-related Emory University, sat with other faith and community leaders on a panel hosted by the NAACP and joined Hill in a couple of meetings with staff from the U.S. State Department and the U.S. negotiating team.
"Everything about my experience at COP21 reminded me of the interconnectedness of all of creation ─ the climate and humanity," Garvin said.
"Our United Methodist delegation represented the global diversity of our church. Hearing the stories of colleagues on the delegation gives me a deeper understanding of climate justice."
Garvin and Jennifer Ferariza Meneses, a team member from the Philippines, attended a side event that featured creative approaches from women offering solutions to climate change. "We were both inspired (by) the deep passion and commitment of the indigenous women leaders from Indonesia, Ecuador, Africa and Canada," Ferariza Meneses said.
Throughout the week, Daniel Obergfell, a United Methodist from Germany, met some "inspiring Methodists" who showed him how they and people of faith play different roles at COP 21.
One of those was Bill McKibben of 350.org, who spoke of the necessity of the church becoming a part of the movement. "It's one thing to talk about creation, but it's another to take the steps that are necessary to safeguard it," McKibben said.
Reaction to agreement
For Watkins, a United Methodist missionary assigned to "the care of God's creation," the final COP21 agreement highlighted the more important work that the creation care team did together in Paris.
But he celebrates the accord, while just a starting place, as an achievement that eluded world leaders six year ago in Copenhagen.
"Copenhagen was an effort to try to create one agreement that would be binding on all the countries," Watkins pointed out. "It was pretty much a failure."
For the 2015 summit, each country was asked to submit an action plan based on its own economic and political situation and its capacity to make changes. This time, he said, "there just seems to be far more agreement, almost universal agreement, that we've got to do something."
Kirby Fullerton, a member of First United Methodist Church in Little Rock, Arkansas, and part of the UK Youth Climate Coalition's delegation in Paris, expressed her disappointment that human and indigenous rights and gender equality were not specifically addressed in the final operative agreement.
"Reaching a zero carbon future is intrinsically linked to achieving a more fair and just, healthy planet," Fullerton, a second-year student at the University of Edinburgh in Scotland, wrote in an email.
But she finds herself hopeful that grass roots-level solutions will follow. "This is simply the start of legal, long-term and comprehensive solutions to the greatest challenge humanity will face this century."
Bloom is a United Methodist News Service multimedia reporter based in New York. Follow her at https://twitter.com/umcscribe or contact her at (646) 369-3759 or [email protected]
---
Like what you're reading? Support the ministry of UM News! Your support ensures the latest denominational news, dynamic stories and informative articles will continue to connect our global community. Make a tax-deductible donation at ResourceUMC.org/GiveUMCom.