The Rev. Jacob Maforo drove nine hours from the Kansas-Oklahoma border to observe the special session of General Conference, underway at the America's Center here through Feb. 26.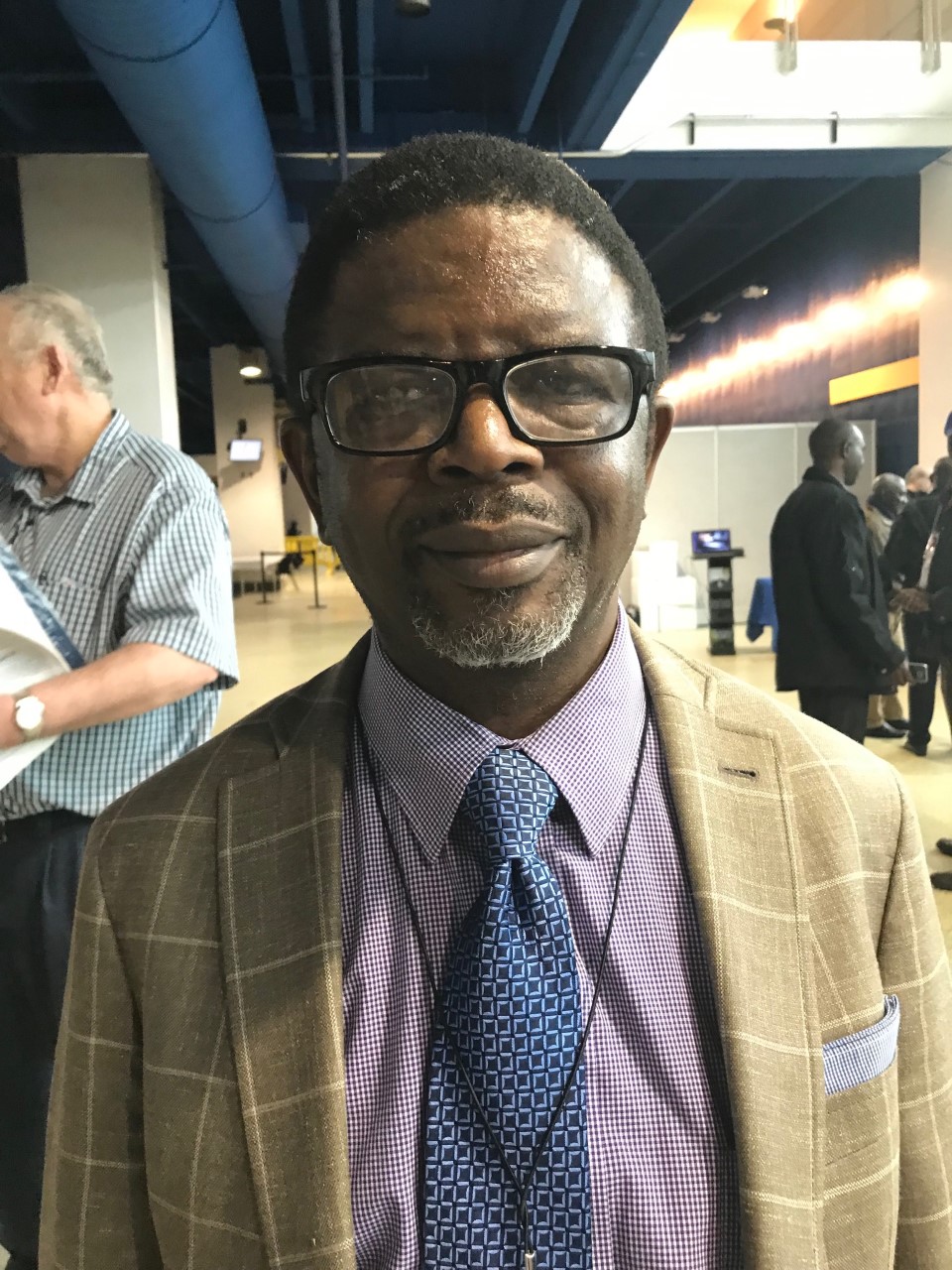 The Rev. Jacob Maforo drove nine hours from his home near the Kansas-Oklahoma border to be an observer at the 2019 General Conference. Some 3,000 observers have registered for the special legislative session, underway through Feb. 26 at the America's Center in St. Louis. Photo by Sam Hodges, UMNS.
The Zimbabwe native leads two Great Plains Conference churches but felt he had to make this journey and have a bleacher seat as delegates weigh the future of The United Methodist Church.
"This is historic, and I just wanted to be part of that history," he said. "I'm also here to pray — to pray that the church keeps the unity that we obtained in 1968."
With schism an acknowledged threat, the Council of Bishops called the special legislative gathering to deal with the denomination's longstanding conflict over homosexuality.
Delegates are considering legislative plans that would remove from church law restrictions against ordination of "self-professed practicing homosexuals" and against pastors and churches performing and hosting same-sex unions. Other plans would retain those provisions and boost enforcement of violations.
By late Feb. 23, some 3,000 observers had registered to attend the legislative assembly, and many arrived in time to watch the whole drama unfold.
The Rev. Calvin Cosnahan, pastor of Fannin United Methodist Church in Brandon, Mississippi, stood in a cold wind on Feb. 24, waiting with hundreds to go through a security check and get into the arena.
"I've never been to St. Louis before, and for the first time, I'm seeing part of the Arch," he said, laughing and pointing to his partial view of the city's landmark by the Mississippi River. "I knew it must be here somewhere."
Those who came to observe reflect the theological diversity of the church.
The Rev. Brenda Martin leads a seven-person prayer team sent to General Conference from Grace Fellowship United Methodist Church in Katy, Texas. They've been attending breakfast briefings by Good News, the unofficial traditionalist advocacy group within the denomination.
"We believe in the position that we already have in the current Book of Discipline, the language that's there, and what we want to see is for that Book of Discipline to be supported and enforced by the bishops," said Martin, the church's prayer pastor.
The Rev. Hannah Adair Bonner came from Tucson, Arizona, where she directs the Frontera Wesley student group at the University of Arizona. She wants the opposite result from Martin.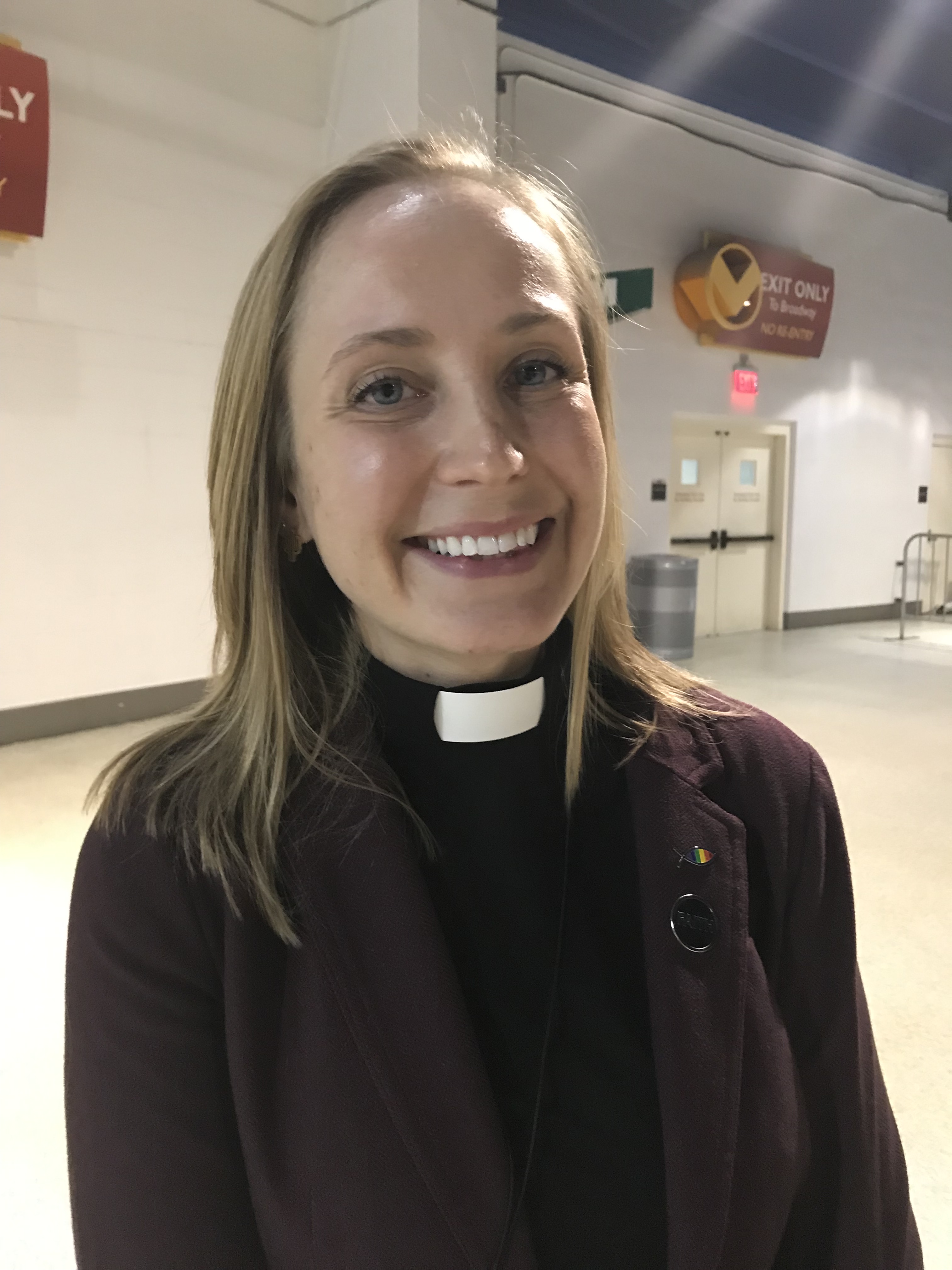 The Rev. Hannah Adair Bonner came from Tuscon, Arizona, to attend the 2019 General Conference, underway through Feb. 26 at the America's Center in St. Louis. She's among 3,000 observers who have registered. Photo by Sam Hodges, UMNS.
"I'm queer, and the outcome of this conversation could end my career in The United Methodist Church and send a message to the young people I work with that there's no place for them," she said. "It's important to be here, if nothing more than to have a ministry of presence."
People on either side of the human sexuality divide believe they've been misrepresented.
Bonner, for example, chafes at the idea that progressives aren't grounded in the Bible.
"We all, in our understandings of Scripture, are trying to live faithfully and lovingly. … This is not a 'those who follow Scripture versus those who don't follow Scripture' conversation," she said.
Cosnahan, the Mississippi pastor, describes himself as a traditionalist and laments the baggage he feels goes with that.
"To be a traditionalist, a lot of times, has been painted as a mean person without a heart, who doesn't care, who doesn't have compassion," he said. "That's totally not true. We're called to love everyone and welcome everyone, and I've always done that, and all the pastors I've known have done that. At the same time, Scripture is also clear that when you're confronted with sin, you confront it."
The General Conference crowd skews older, as does the denomination, but observers include many young people, such as Zach Nell. He flew in from Bozeman, Montana, and took time off from his marketing job.
Nell is hoping the denomination moves toward full inclusion of LGBTQ people. He's just 24, but he's been active in youth ministries at the denominational level, and he's no newcomer to The United Methodist Church's divisions.
"I've been following this for a long time," he said.
Observing at General Conference doesn't mean just sitting around. Martin's prayer team, for example, went to work soon after arriving.
"We got to the hotel and checked in, and the first thing we did after that was walk over to the arena and prayer walk the perimeter," she said. "We brought anointing oil and consecrated the area as a holy place, and invited the presence of God in."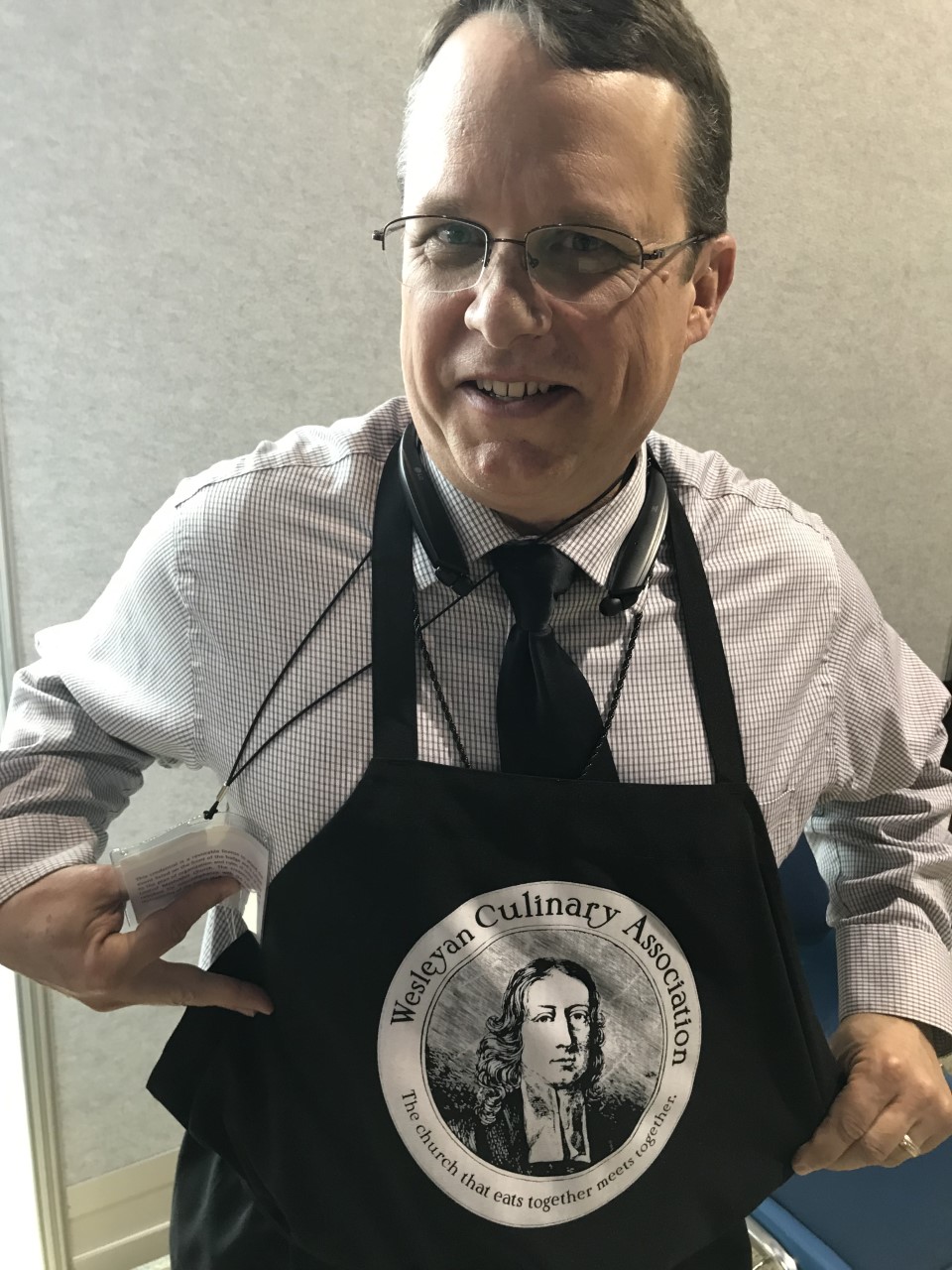 The Rev. John Feagins shows off a Wesleyan Culinary Association apron on Feb. 23. He's among many observers at the 2019 General Conference in St. Louis, and he's been in the corridors of America's Center, talking to delegates and others about how food can be a bridge for people with different theological views. The Wesleyan Culinary Association is a Facebook group which shares potluck and communion bread recipes. Photo by Sam Hodges, UMNS.
The Rev. John Feagins, an observing pastor from San Antonio, has spent time in the America's Center halls selling aprons bearing the image of John Wesley and the words "Wesleyan Culinary Association."
That's a group he started on Facebook, partly to tweak the traditionalist Wesleyan Covenant Association (which he has some issues with), but also to bring together pastors and others with an interest in the theological dimensions of food.
The group shares, via Facebook, potluck and communion bread recipes, as well as photos of food-related church events.
Feagins brought 85 aprons to St. Louis, and by early afternoon of the first day had sold 60. He's even more pleased by the conversations he's had with people supporting different legislative plans before the General Conference.
Food can be a great bridge, Feagins assures them.
"Everyone has churches that have different political views, some of them very polarized, but they come together around a church meal as family," he said.
Hodges is a Dallas-based writer for United Methodist News Service. Contact him at 615-742-5470 or

[email protected]

. To read more United Methodist news, subscribe to the free Daily or Weekly Digests.
---
Like what you're reading? Support the ministry of UM News! Your support ensures the latest denominational news, dynamic stories and informative articles will continue to connect our global community. Make a tax-deductible donation at ResourceUMC.org/GiveUMCom.