The family renting the parsonage had fallen behind in payments by $2,500, and the Kanawha Charge parsonage committee had to do something.
Evict? Give them a second chance?
Trending Local
Read profile of the Rev. Bradley Barton
, a corrections officer and part-time local pastor in West Virginia.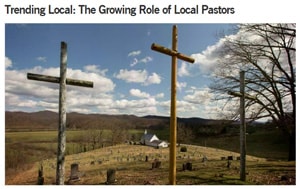 Read the full the series
about growth of local pastors in The United Methodist Church.
The Rev. Jamie Sprague, not so fresh from a 10-hour shift as a Kroger store manager in Parkersburg, West Virginia, called the evening meeting to order and then oversaw the election of a new parsonage committee president. He let the discussion take its course, as members went over how many months the family was late, as well as improvements the family had made to the parsonage.
"Here's my advice to you as your pastor," Sprague said finally, and the room quieted.
Sprague, 65, has led the Walker, Vaught, Kanawha Chapel and Mount Carmel United Methodist churches, all in the countryside outside Parkersburg, for more than a decade. He was a Kroger manager nearly all that time, having only recently retired from that work.
As a boy, Sprague infrequently attended church. That changed in high school when he began to court Kay T. Taggart.
"She said, `I'm not going to marry anybody who's not going to church with me,'" Sprague recalled.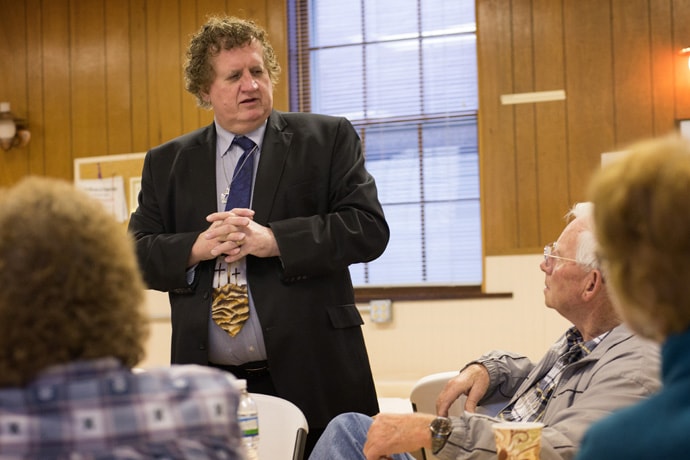 They did marry, and Sprague began his long career in groceries, including 33 years with Kroger. He found time to become a star fast-pitch softball player (he is in the Mid-Ohio Valley Softball Hall of Fame), and he relished his role as husband and as father to his and Kay's two children.
He also grew more and more active in the Lauckport United Methodist Church. He took on different leadership roles, and when he became a lay speaker, two pastors began to encourage him to join their ranks, at least on a part-time basis.
"I fought it for a long time," he said of his ministry call. "I kept saying, 'I'm just a lay speaker.' And I didn't think I could do it with my work schedule."
But when the pastor of the Kanawha Charge became ill, Sprague agreed to substitute. The pastor did not come back, and Sprague settled in, getting his local pastor's license in 2004.
From then on, Sprague balanced 50- to 60-hour weeks at Kroger with leading the four churches, which have a combined membership of about 150. He has had help from lay speakers and lately an associate pastor — Rick Haught, a school bus driver and musician. But many Sundays, Sprague has gone to Kroger before sunrise, worked a few hours, headed to churches to preach and come back after lunch to finish a shift.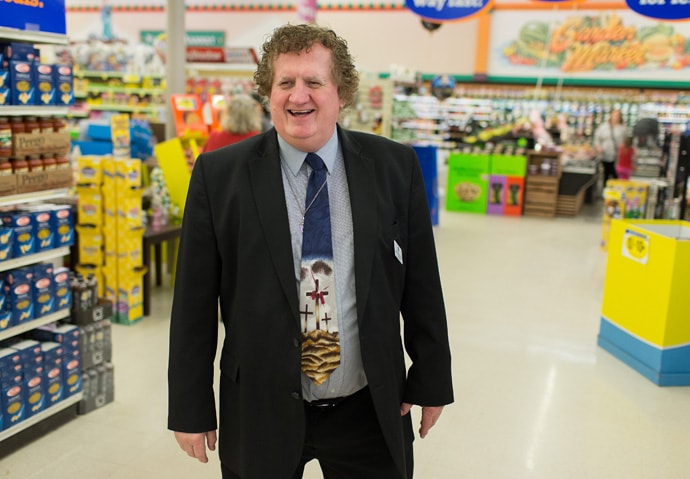 "I learned time management from Kroger," he said, but added that Kay T. keeps his schedule, while also occasionally singing solos in services he leads.
Sprague has fit in weddings, funerals, creek baptisms and church meetings. And he has done 13 of 20 classes in the Course of Study required for licensed local pastors. It's a family affair, his children at times typing his papers.
In late March, when the parsonage meeting occurred, Sprague was about to end his Kroger career, his retirement having already made the company newsletter. He was looking forward to spending more time with his grandchildren — and his churches.
After much discussion, the parsonage committee had pretty much decided to give the renting family another chance, waiving the $2,500, but also drawing up a new contract that made clear any more payment delinquency would be unacceptable. When Sprague weighed in for that position, emphasizing that eviction would be costly in legal fees, and would leave the parsonage empty and likely to fall into disrepair, the vote was unanimous.
Driving away from Kanahawa United Methodist Church in the dark, his long day extended another hour and a half, Sprague said quietly, "I'm glad they went that route."
Hodges, a United Methodist News Service writer, lives in Dallas. Contact him at (615) 742-5470 or [email protected].
---
Like what you're reading? Support the ministry of UM News! Your support ensures the latest denominational news, dynamic stories and informative articles will continue to connect our global community. Make a tax-deductible donation at ResourceUMC.org/GiveUMCom.