Kenya is facing its worst drought in 40 years, triggering a food emergency as crops and livestock die.
According to the United Nations Office for the Coordination of Humanitarian Affairs, 4.1 million people are experiencing high acute food insecurity in drought-affected areas of Kenya.
Tana River County is among the 10 counties hard hit by drought. Recently, the water levels of the Tana River — the longest river in Kenya and the main water source for livelihoods along the coastal semiarid plains — reached record lows, sending panic among residents living on the vast dryland complex. The Kenya Red Cross Society estimates that the dry weather has affected more than 200,000 people in the region and claimed the lives of over 2,000 livestock.
Tumaini United Methodist Church in Garsen responded by providing food and water to affected community members in the coastal part of Kenya.
With the help of partners, the church provided 300 individuals with emergency food rations.
The church also distributes clean water, which is outsourced from boreholes about four miles away from the church. A water tanker that holds 5,000 liters (about 1,300 gallons) comes to the church compound once a week.
The drought affects food security, trade and labor, and often women and children suffer most. In response, Tumaini United Methodist Church conducts weekly community feeding programs that support women and children with essential food items such as packed meals, maize meals, rice, cooking oil, baking flour, sugar and spaghetti.
The Rev. Margaret Halako Jilo, Tumaini senior pastor, is seeing an increase in the number of people seeking aid.
"You can't tell them that there is nothing," Jilo said. "As their shepherd, I must find a means to guarantee they feed. Oftentimes, I donate my own meals.
"Many households have been left without food, water or pasture for their cattle. Every day, scores of starving women and children walk to our church door seeking food support. We're doing everything we can to meet their needs, but many families do not have sufficient food."
Jilo, a state officer in the Kenya Wildlife Service, was deployed recently and is awaiting transition to the newly formed Wildlife Research and Training Institute.
She estimated that nearly 2,500 people in her district urgently need food aid, and about 20,000 are at risk of starvation. Two pounds of rice, a packet of flour or a bottle of oil may help a family, but Jilo said they lack enough to give to households.
"We are reaching out to the global church to support us with food items and help us drill boreholes in the communities to eradicate food and water shortages," she said.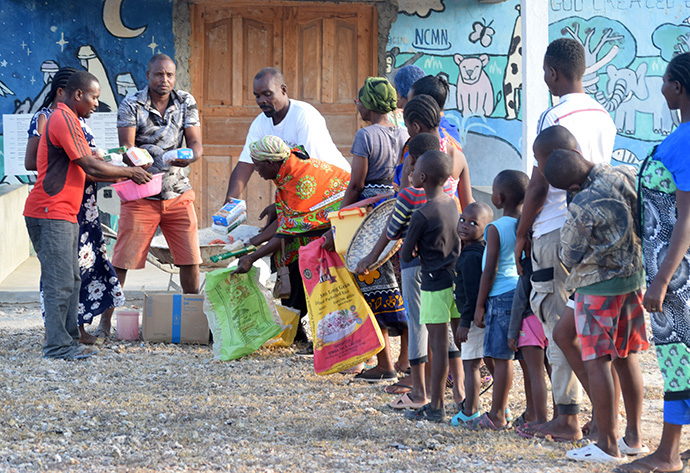 The United Methodist Committee on Relief is responding to the hunger crisis in East Africa, including in Somalia and Ethiopia, by supporting partners in the region with emergency grants.
A proposal that UMCOR has received for a project in Kenya will explore new water sources to help struggling communities. The anticipated installation of a new borehole and the rehabilitation of three others, along with community education activities, potentially will improve water access for more than 100,000 people, the agency reports.
Muhammed Noor, 14, a Muslim student from the nearby village, said the drought often forces people to drink contaminated water, resulting in diarrhea.
"For the last two weeks," Noor said, "we didn't find water at the river and had to go to school without bathing. This week, we've been fetching clean water from a water tanker at the church compound.
"I am worried that my family will starve to death from thirst and hunger if we don't find the water tanker at the church compound tomorrow or no food is given to us by the pastor," he added.
Tumaini United Methodist, currently the only Methodist church in Tana River County, was established in 2009 with an initial membership of 10 people who gathered in a house church for Sunday worship. The church membership has risen to over 300, and the congregation continues to seek and embrace unique ways to show love to God's people for the transformation of the world.
Alice Charo, 45, a cattle herder in Shirikisho village, worried about the drought that has gradually snuffed out pasture for livestock. "The extreme drought has ended our lifeline as herders," Charo said. "I have lost 10 cows in the last two weeks due to a lack of water and grass for my cattle.
"Before the drought, my family lived a better life. I used to go to the animal market as a broker to earn some daily living for the family, which at least supported the basics."
For decades, water scarcity has been a major issue in Kenya. Relatively high population growth has resulted in years of recurrent droughts, poor water-supply management, contamination of available water and a sharp increase in water demand.
Subscribe to our
e-newsletter
Like what you're reading and want to see more? Sign up for our free daily and weekly digests of important news and events in the life of The United Methodist Church.
The Rev. Alfred Abae, a pastor at Tumaini United Methodist Church, said the worst occurred in April when the less intense short rains failed to come. Farmers had already missed the long rains for the second time in succession in October, November and December since 2020.
Noting that the ongoing drought is the worst the region has experienced, Abae called upon religious leaders to partner with relevant stakeholders to prevent future disasters.
"The situation is worse," he said, "but the drought doesn't seem like (it is) ending soon. The challenge is identifying methods to implement mitigation strategies in vulnerable areas that would provide people with enough local coping mechanisms should drought reoccur.
"Preventing future disasters is critical to sustainable development, or else we merely repeat the cycles of misery and helplessness," he said.
Grace Koraso, a lay leader at the church, said the situation has been difficult.
"The drought struggles have been tough and unbearable," she said. "The government is not providing much assistance. The drought is bad for us, and we can only hope for respite as we pray and organize for additional help."
Julia Ziunge of the Shirikisho community said she is grateful for the food support from the church.
"Seeing people go hungry makes me feel desperate," she said. "I'm also dissatisfied that many of the promises made by government authorities to bring water have not been kept."
The Rev. Bernard Amani, Mombasa District superintendent, said the prolonged drought has a long-term impact on the livelihoods of community members.
"People have been able to cope in the past, but these coping mechanisms have been eroded. We don't want to see this happening in the same communities again. We are challenged as Christians to give people resilience when disaster comes through."
Amani thanked Tumaini United Methodist Church for the relentless efforts to provide access to food and water to help families navigate through intense dry spells and restore normalcy in affected communities.
"The church is appealing for support in a joint fundraising initiative to respond to the drought and famine in a comprehensive way," said Amani. "Let us join hands to alleviate the most serious needs affecting our church communities in semiarid areas where people have no access to basic needs to sustain their livelihoods."
Pastor Jilo said Tumaini United Methodist Church is a relatively small church, but the "magnificent acts of love reflect the heart of God."
"The challenge seems overwhelming," she said, "but it's an avenue to demonstrate the unfailing love of God to the less-privileged children in the kingdom."
Gad Maiga is a communicator for the Kenya-Ethiopia Conference.
News media contact: Julie Dwyer at [email protected]. To read more United Methodist news, subscribe to the free Daily and Friday Digest.
---
Like what you're reading? Support the ministry of UM News! Your support ensures the latest denominational news, dynamic stories and informative articles will continue to connect our global community. Make a tax-deductible donation at ResourceUMC.org/GiveUMCom.