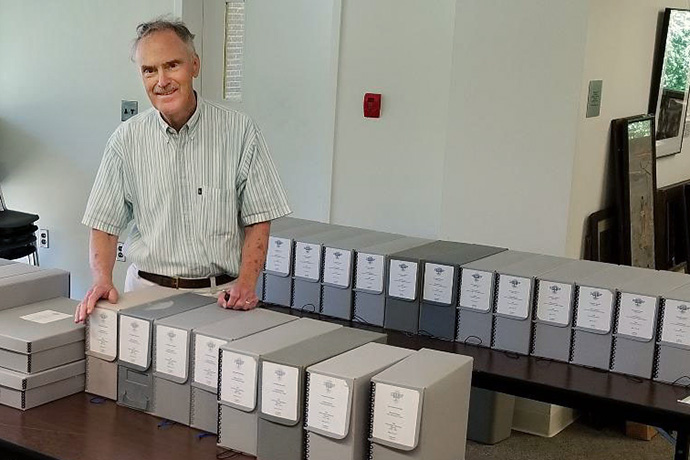 ---
Key points:
• Kenneth Rowe was a driving force in bringing the United Methodist Archives and History Center to Drew University.
• Rowe was widely regarded as the leading Methodist bibliographer.
• He co-wrote "The Methodist Experience in America," a comprehensive, two-volume account.
• In all his work, he strove for a full accounting of Methodist history, including that of marginalized groups.
---
Methodist history would certainly have happened without the Rev. Kenneth E. Rowe. But colleagues say he did as much as anyone to make sure the story was told well — and in full.
Rowe turned from parish ministry to scholarship early in his career and became the leading United Methodist bibliographer, as well as an essential player in the placing of the United Methodist Archives and History Center at Drew University.
He also taught church history for many years, and wrote or cowrote key books on Methodism, including "The Methodist Experience in America."
In his various roles, Rowe worked to have an account that went beyond the actions of bishops and other top leaders.
"He completely reshaped how we understand the narrative of Methodism in America, expanding it to include indigenous persons, women and LGBTQ+ persons," said the United Methodist Commission on Archives and History in a remembrance.
Rowe died on Oct. 8, at age 84, in New Bern, North Carolina, where he lived in retirement with his husband, James Sawyer.
As word of Rowe's death has spread, many have been paying tribute.
"He had a brilliant way of rethinking and reshaping our Methodist histories that allow our pasts to truly speak to and even shape United Methodism today," said Ashley Boggan Dreff, top executive of Archives and History.
Dreff's predecessor, the Rev. Alfred T. Day III, noted how other scholars depended on Rowe.
"If Methodist history is a treasure trove of documents and the stories those documents represent about denominational identity, Ken, more than anyone else in the contemporary UMC, knew where to lay hands on every jewel," Day said.
The Rev. Russell E. Richey, a leading Methodist historian and one of Rowe's collaborators in "The Methodist Experience in America," sought to summarize the legacy.
"Ken's death takes heavenward one of the premier shapers of Methodist historiography," he said.
Rowe was a cradle Methodist from Coaldale, Pennsylvania, a mining community in the eastern part of the state.
He would earn a Bachelor of Arts degree and a doctorate from Drew, in Madison, New Jersey. He also held a Bachelor of Divinity degree from Yale Divinity School and a Master of Library Science degree from Rutgers University.
Rowe was an ordained United Methodist elder, but after a brief period in local church and campus ministry, he found his calling in academia.
In 1970, he won a joint appointment at Drew as professor of American religious history in the Theological School and as Methodist Librarian in the university library. He held the positions until retiring nearly three and a half decades later.
Rowe would write or cowrite 14 books, including, with Richey and Jean Miller Schmidt, "The Methodist Experience in America," a two-volume work. He joined the Revs. Charles Yrigoyen Jr. and John G. McEllhenney in writing "United Methodism at Forty," an account of the denomination's first decades.
But Rowe also played a crucial role in advancing others' scholarship on Methodism, and in various ways.
Most notably, he enlisted Drew's president and university librarian in a successful effort to make Drew the new home for the archives of The United Methodist Church.
Rowe, in a posted note to the Yale Divinity School webpage, called the United Methodist Archives and History Center at Drew his proudest accomplishment.
"The Center (my idea) is a partnership of the university library with the General Commission on Archives and History of The United Methodist Church," he wrote. "The Center opened in a state-of-the-art-building in 1982, (was) refurbished in 2014-15, and has become one of global Methodism's most important research institutions."
Along with raising funds to bolster the center's collection, Rowe became widely recognized as the premier bibliographer of Methodism. He founded the American Theological Library Association's Bibliography Series and for Methodist history wrote the "Methodist Union Catalog," tracing the expansive nomenclature of denominational writings.
Other United Methodist scholars say they could hardly have done without Rowe.
"He not only assembled documents and protected them against loss or deterioration or neglect, but also provided them to others in an orderly fashion, thereby making them accessible," said the Rev. William Lawrence, a church historian, former dean of Perkins School of Theology and holder of a doctoral degree from Drew. "Ken's work enabled the rest of us to retrieve our history."
Lawrence recalled that his first book, "Sundays in New York," saw publication in part because of Rowe's advocacy.
The Rev. Paul Chilcote, another longtime church historian and retired seminary professor, shared about his own "huge debt" to Rowe. This came right after Chilcote successfully defended his dissertation on John Wesley and women preachers of early Methodism.
"Ken contacted me and insisted that my study needed to be published," Chilcote wrote on Facebook. "He said that he would be willing to navigate the publication process on my behalf. He took it from there and it soon appeared in print. I cannot begin to tell you what this meant to me."
The Rev. Robert J. Williams, former top executive of Archives and History, started graduate work at Drew in 1975, with Rowe as his adviser. He took four courses with Rowe, and Rowe chaired his dissertation committee.
"He was professor, then mentor, colleague and friend," Williams said, adding that he's not sure he would ever have become top executive of Archives and History without Rowe's help along the way.
In his report to the Yale Divinity's alumni webpage, Rowe shared about coming out as a gay man. Rowe and longtime partner Sawyer became, in 2014, the first same-sex couple to marry legally in North Carolina, Archives and History said in its remembrance of Rowe.
As evidence of Rowe's insistence on documenting the full spectrum of Methodist life, he served as "the unofficial archivist for the gay movements in The United Methodist Church," according to another remembrance, by McEllhenney and Andrew D. Scrimgeour.
Mountain Sky Area Bishop Karen Oliveto credited Rowe with advancing her research at Drew on Methodism and homosexuality.
"Ken would bring box after box filled with newspaper articles, sermons, flyers and more to my study table," she said. "This history would have been overlooked if it weren't for Ken."
In retirement in New Bern, Rowe kept writing. He gardened, sang in a church choir, volunteered at Tryon Palace (a North Carolina history center) and enjoying driving his 1964 Chrysler Imperial convertible.
Rowe's survivors include Sawyer, daughters Laura Rowe and Jennifer Constant, from his first marriage, and a grandson, Jason Constant.
A memorial service is being planned. Donations in Rowe's honor are requested to go to Drew University, 36 Madison Avenue, Madison, New Jersey, 07940.
Hodges is a Dallas-based writer for United Methodist News. The United Methodist Commission on Archives and History contributed to this report. Contact Hodges at 615-742-5470 or [email protected]. To read more United Methodist news, subscribe to the free Daily or Weekly Digests
---
Like what you're reading? Support the ministry of UM News! Your support ensures the latest denominational news, dynamic stories and informative articles will continue to connect our global community. Make a tax-deductible donation at ResourceUMC.org/GiveUMCom.