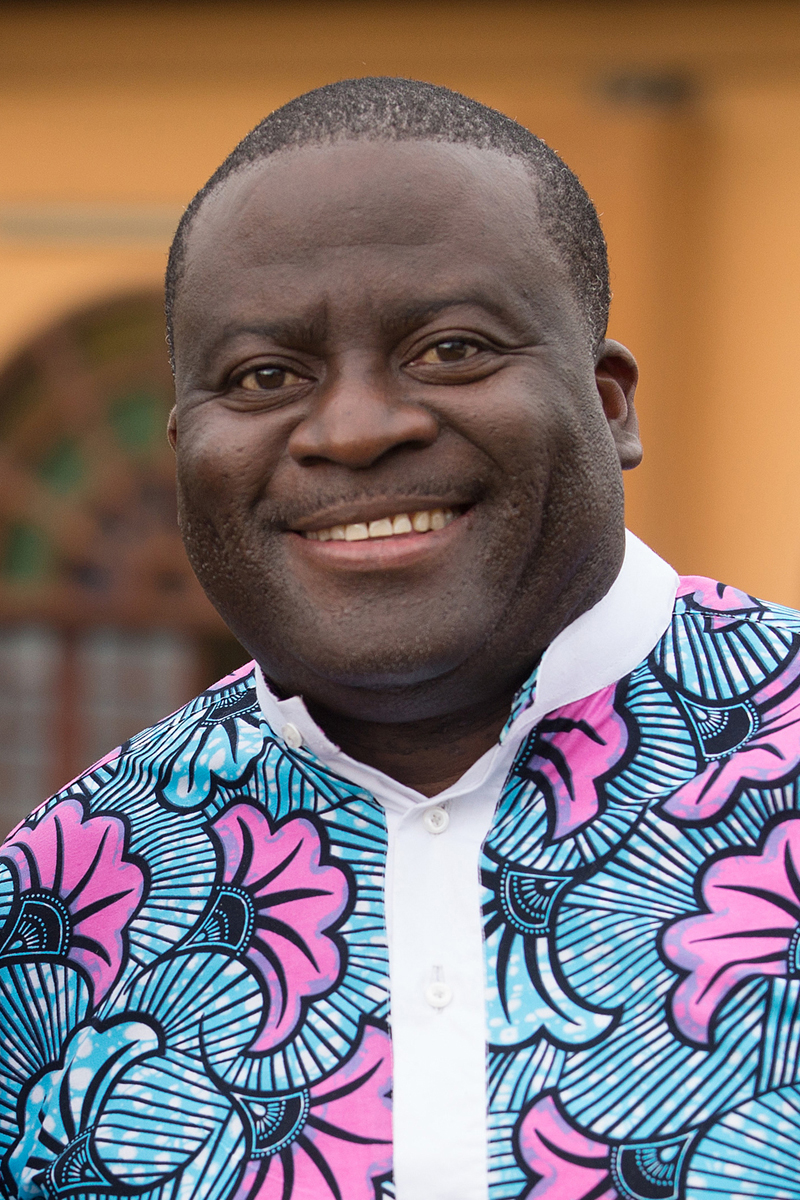 The Rev. Dr. Jean Claude Masuka Maleka. Photo by Mike DuBose, UM News.
Commentaries
UM News publishes various commentaries about issues in the denomination. The opinion pieces reflect a variety of viewpoints and are the opinions of the writers, not the UM News staff.
Where to stand as a Christian of The United Methodist Church in Africa? We are so confused about all that is happening in our beloved denomination.
I was born and raised in the church, and today I serve as a missionary in Côte d'Ivoire. I have been praying for the church and am writing this reflection for anyone who wants to understand our confusion.
We live in a period when some leaders don't admit there are differences in the world. Some are politicizing church policies. We are confused because spiritual matters and social matters are mixed together, and those who support one position consider others as enemies and sinners.
Africans by nature are traditionalists in their way of thinking and interpreting the Bible. However, I am confused today because those who call themselves traditionalists include groups of opportunists looking for power. They play with our African traditions of considering human sexuality as taboo and abomination to discuss in the church. There is no debate of views regarding human sexuality in our African church, and we are avoiding the subject. Since different plans were born, groups have formed in Africa that consider themselves adversaries, competitors looking to see who will win and lose.
Many pastors who have tried to disobey their bishops have been punished in some annual conferences. These competitors are receiving support from the United States by so-called traditionalists or centrists.
In Africa, when the leader chooses one position, all must follow the position; otherwise, you will be considered an enemy. We are expected to follow the leader, even if he or she is wrong. In addition, the leader is often surrounded by his or her tribe, making the church a hypocritical and unsafe place.
The separation of The United Methodist Church will affect Africa more than any other continent. Historically, the church in Africa has been a victim of many divisions and factions that created evangelical churches and other so-called Methodist churches. Talking about separation will drive many more United Methodists who are frustrated to leave and start their own churches.
Paul G. Hierbert, in his book "Anthropological Insights for Missionaries," writes that in the United States, the individual is viewed as "the basic building block of society. … However, in Africa and Asia, society's basic building block is not a person but a group. People do not see themselves as autonomous, but as members of the groups to which they belong."
This view helps explain why Africans are scandalized when they meet United Methodists enjoying their freedom, depending on their context and culture. On the other side, our American friends are scandalized to see Africans not taking initiative on issues we are facing today. We always consider what is suitable for the community first, then the individual second. The issue of human sexuality is an individual issue in America but a community issue in Africa. Since our legislators from different countries never said anything about the matter, this issue is not a priority to Africans. The American church should resolve the issue without including Africans in the debate of traditionalists or centrists.
It is a wrong debate because every person should read and interpret the Bible in its own culture and context. As Christians, we must respect people's views and avoid judging them as sinners.
We also should avoid the colonial mentality of looking at Africans as people who will consume what the Western world will think. The so-called new denominations are proving that the colonial approach still exists in our relationship between the West and the South. In the 21st century, our voices should be equal in debates.
God has allowed us to resolve this tricky question. We can learn from God if we will put aside what is dividing us. The United Methodist Church is God's church, no matter what it is facing. We have to sit down as humble people of God.
In my view, if we separate, it means we have never been a church, and we never existed as a body of Christ. Why not sit down as Christians and create a church policy that will honor God and the unity of Christ's body? The church of Jesus Christ should not promote disunity or separation. But the church of John Wesley has gone through many divisions its history. What is wrong with us Methodists?
Our Methodist denominations are many, and we should be careful when our generation wants to create new churches. We should understand that conflict is a reality in the global and local church. In addition to the debate over human sexuality, other issues facing the church are racism, church politics, manipulation by church leaders for selfish gains, tribal hatred, and discrimination and exclusion of so-called sinners. Approaching conflict from a biblical standpoint of behavior and attitude can advance the Gospel of Christ and the church's spiritual health.
The United Methodist Church is both a victim and an accomplice of what is happening today. As a global church, we should embrace each other to promote reconciliation in Christ and the gospel of peace. We must understand the value of unity and that there is no distinction of Jew and Gentile, but we are one family of God built on faith, love and hope.
Before General Conference, United Methodist leaders should create gatherings that push the church members worldwide to move from the exclusion and the marginalization of minority groups, to end the crisis within the church and bring unity.
Today's church is facing division in diverse forms. Followers of Christ are divided because of their differences and their theologies. Some claim the church belongs to them and reject others because of their identities. Christians must be careful to protect the unity of all believers. Christians in the early church would partake together regardless of their ethnic origins. Those who were baptized in Christ were accepted to participate together.
All Christians have a common baptism, which unites them to one faith in Christ. The baptism in Christ is a fundamental bond of unity. Followers of Christ are one people, and we are called to confess and serve one Lord everywhere in the world.
Today's church should promote unity among all so that the world will believe in Jesus Christ. God accepts all people from everywhere. We should learn to celebrate the diversity of cultures and other considerations, and bring reconciliation for all groups within the church.
In Antioch, the early church leaders represented different ethnic backgrounds (Acts 13:1). Though they preserved the ethnic and cultural character of their congregations, they demonstrated unity by working together in mission and discipleship through a more extensive body that was multiethnic. If the early church reduced barriers to hearing the Gospel, contextualized the medium of its message, targeted specific people groups, and chose to work in partnership across ethnic and cultural lines, why not in the 21st century? Christians should embrace the so-called "other" to establish a healthy global United Methodist Church.
The Bible emphasizes the value of unity, as does the Nicene Creed. Unity is the message of Christ to his disciples and all future believers (John 17:20). When members are not one, the church is not near Christ.
Today, church members are not functioning as the body of Christ. We must embrace and nurture cultural competency to be entirely one body, expressed in multiple ways. Each of us has multiple identities of equal value that intersect to form our complete selves. No identity or culture has more legitimacy than any other. The church should challenge any hierarchy of cultures or identities.
Followers of Christ are called to keep the unity of the Body of Christ. God has given Methodist people the opportunity of promoting the ministry of reconciliation. God's intention is to be reconciled with all people through the work of Christ on the cross. The cross is the reason why Christians should embrace everyone who is a member of the church, as Christ embraces all who believe in Him.
Maleka is a pastor and member of the South Congo Annual Conference. He has a doctorate in ministry from the Wesley Theological Seminary, a master's degree in Bible and theology from the Worldwide Evangelical Seminary, a master's degree in peace and governance from Africa University and a bachelor's degree of honor in history.
News contact: Tim Tanton or Joey Butler at (615) 742-5470 or [email protected]. To read more United Methodist news, subscribe to the free Daily or Friday (weekly) Digests.
---
Like what you're reading? Support the ministry of UM News! Your support ensures the latest denominational news, dynamic stories and informative articles will continue to connect our global community. Make a tax-deductible donation at ResourceUMC.org/GiveUMCom.