When the coronavirus shut down the world, the engineers at Asbury United Methodist Church got busy.
So did a bagpiper, two pastors and a licensed counselor.
While United Methodists around the globe are working to feed the hungry, make face masks and give people attention while they are stuck inside, some are helping in ways that are more unusual.
About 16 members of Asbury United Methodist Church in Columbus, Indiana, are engineers, including the Rev. Dave Blystone, Asbury's pastor. Cummins Inc., a prominent engineering firm, is based in the city.
Asbury's engineering group, Mission Columbus, has helped with disaster relief and renovated buildings for a homeless shelter and drug treatment center.
"Some connections were made with the local hospital," Blystone said. Respirators and ventilators were needed to treat COVID-19 patients, officials at Columbus Regional Health told Mission Columbus.
"Initially, we have no idea what we're doing," Blystone said. "We've not done medical equipment before. We build ramps. We put roofs on houses. We replace water heaters. … But this is a whole different thing."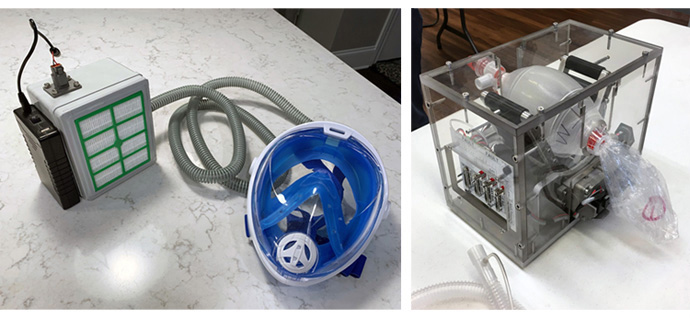 A ventilator helps a patient to breathe, breathing for them if necessary. A respirator is a portable unit that filters air.
The task is to find materials that are cheap and available and make a design that works efficiently.
"In a period of 14 days, we went from searching on the internet for existing designs for respirators and ventilators, to having a working prototype," Blystone said. "Then we had hospital people come in and they looked at it and said, 'Take the next step.'
"So we're working on all of those things and we're doing a significant design revision right now."
The goal is to make 150 ventilators and respirators at no cost to the hospital through funding from the church.
Bagpipes
Wyatt Clarke, 15, said he "goes where the sidewalk takes me" most days when he plays the bagpipes for neighbors in Marysville, Michigan.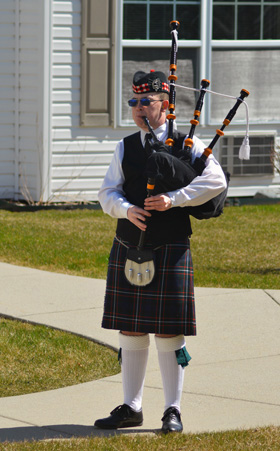 Wyatt Clarke, in full regalia, plays bagpipes around his Marysville, Michigan, neighborhood for residents either shut-in or self-isolating during the COVID-19 pandemic. Photo courtesy of Marysville United Methodist Church.
He performs in the regalia of a bagpipes player.
"When I first started, I didn't think I'd get that big of reaction," he said. "I didn't realize that people were videotaping and standing outside on their porches and listening."
Although he's only been playing bagpipes about a year, Clarke has been a talented musician for some time.
"I play tuba for school band here," he said. "I play stand-up bass, bass guitar, regular guitar, trombone, trumpet, mandolin, ukulele, tin whistle, keyboards, fox drum, cello, viola and violin.
"If you hand me something, I'll probably figure it out."
Wyatt's dad, the Rev. Curtis Clarke, pastor of Marysville United Methodist Church, gave his son the idea to entertain during the coronavirus shutdown by sending him a news article about a musician doing the same in Knoxville, Tennessee.
"Wyatt has always been a kid who from a very young age has wanted nothing more than to spread joy to people," said the Rev. Clarke. "He found a way that he can do that through the gift of music, and just absolutely ran with the ball."
Hymns
Norfolk First United Methodist Church is posting a Hymn of the Day on its Facebook page and church website. The Rev. Neil and the Rev. Bridget Gately and Linda Boullion, music director, all contribute.
The Gatelys co-pastor Norfolk First, Stanton and Winside United Methodist churches in Nebraska. They studied the latest United Methodist Hymnal in seminary when it was published in 1989.
The videos feature performances, with some adding commentary on the history of the hymns.
The Rev. Neil Gately presents a "Hymn of the Day" on First United Methodist Church of Norfolk's Facebook page. Video courtesy of First United Methodist Church of Norfolk.
"All but two have been hymns from the United Methodist Hymnal," Neil Gately said. "My music director did a song that's not in the United Methodist Hymnal and then because of the death of Bill Withers I did 'Lean on Me.'"
"Lean on Me," a hit song for Withers in the early 1970s, has garnered the biggest response. Otherwise, the familiar hymns are the most popular.
Toilet paper
Preaching about the tendency to wait for crises to pass rather than help, the Rev. Chris Jorgensen noted that some people had "toilet paper fortresses" and weren't inclined to share.
"You can't do it and still call yourself Christian," said Jorgensen, senior pastor of Hanscom Park United Methodist Church in Omaha, Nebraska, during a sermon.
Church member Jan Heikes followed up on the sermon with a call to Jorgensen.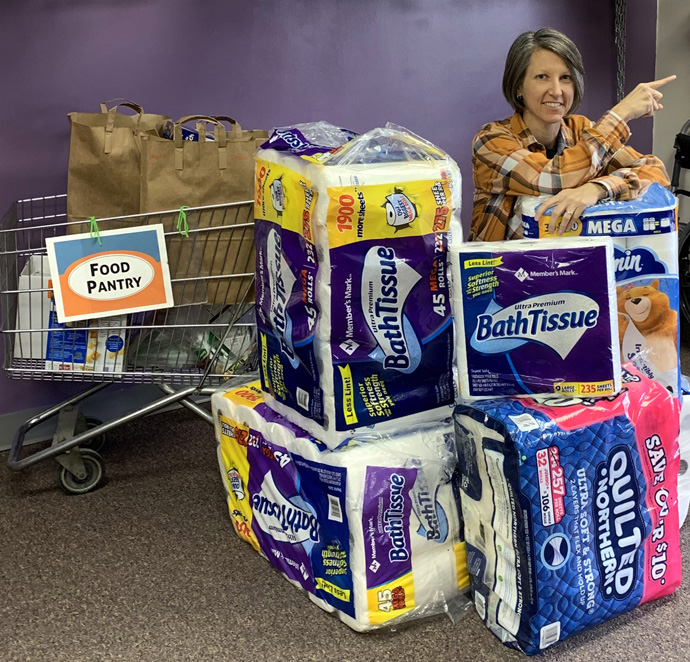 "'Well, Pastor Chris, what are we going to do with our toilet paper stash we have?" Heikes said, according to Jorgensen.
Hanscom Park does campaigns each spring and fall to stock up on supplies. So when Jorgensen preached her sermon, the church really did have a "toilet paper fortress" in stock.
The church donated 200 rolls of toilet paper to Together Omaha, a homeless service organization.
Coping skills
Take a deep breath.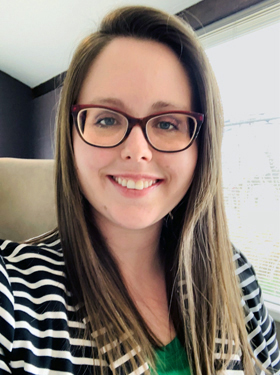 Sarah Knisely is a licensed clinical counselor and wife of the Rev. Steve Knisely, senior pastor of First United Methodist Church of East Liverpool in Ohio. Photo courtesy of Sarah Knisely.
To view her discussion on Esther from the Bible,
click here
. Scroll in 3 minutes, 45 seconds for beginning of the lesson.
Visualize a beautiful place where you'd love to be, were it not for the restrictions of COVID-19. Mix deep breathing with prayer. Exercise.
These are some of the stress-relieving activities Sarah Knisely suggests on her weekly Facebook show "Fear and Faith." Knisely is a licensed clinical counselor in East Liverpool in Ohio.
"I feel such a burden to be useful in the kingdom of God," Knisely said. "I feel like if I don't, I'm missing the opportunity of a lifetime."
Though careful not to attempt mass therapy over the internet, Knisely does offer information and Bible stories that address anxiety. During "Fear and Faith," she has reviewed the stories of Jesus at the Garden of Gethsemane, the prophet of Elijah and Jezebel and of Esther saving the Jews.
"We talk about what Jesus might have been feeling in the Garden of Gethsemane, and perhaps some of us are feeling the same way," Knisely said. "So a lot of it is me saying, 'You might identify with this.'"
Patterson is a UM News reporter in Nashville, Tennessee. Contact him at 615-742-5470 or [email protected]. To read more United Methodist news, subscribe to the free Daily or Weekly Digests.
---
Like what you're reading? Support the ministry of UM News! Your support ensures the latest denominational news, dynamic stories and informative articles will continue to connect our global community. Make a tax-deductible donation at ResourceUMC.org/GiveUMCom.