It's almost Halloween-Oct. 31-and wannabe ghosts and goblins are gearing up for a night of trick-or-treating. It's a dentist's favorite holiday.
But for Christians, Halloween can be a source of consternation. Its origin as a pagan festival and the often-heavy emphases on death, darkness, fear, the occult and witchcraft raise theological concerns for some.
The United Methodist Church does not have an official statement or position regarding Halloween. Congregations are free to make their own decisions about Halloween activities.
More and more are offering alternatives to traditional activities, choosing events that celebrate life rather than death, offer safe fun for children or make the day one to give as well as get.
Festivals, carnivals offer free fun
Some congregations that teach their members about the dangers of getting too involved in Halloween offer alternatively-themed festivals or carnivals. They encourage children to dress as famous people, biblical heroes or funny rather than scary characters.
The Port Matilda United Methodist Charge in State College, Pa., joins other churches in the community to sponsor "Light the Night" events as an alternative to traditional trick-or-treating.
"Everything we do is free, and there's no limit" on the food served at the church's party, the Rev. Lysa Gibbs said. "If someone wants to come up and ask for five hot dogs, why not?"
Children receive treat bags with candy, gift certificates, pencils and other donated goodies.
Costumed cars abound
One of the most popular alternatives is trunk-or-treat, a safe alternative to traditional door-to-door trick-or-treating. Church members reserve designated spots in the church parking lot or another location, decorate their vehicles and give candy to children-costumed or not. Some add delicious food, apple cider, games and costume parades, live music and puppet shows and other fun to the candy collecting.
Camp Ground United Methodist Church, Bonnieville, Ky., starts its community-oriented evening with trunk-or-treat and then moves indoors. "We have prizes for best costumes, best pumpkin dessert and best decorated or carved pumpkin," said the Rev. Sharon Goldsmith. "It is a great time for all."
"Boo-burgers" and "Halloweiners" are the fare at Union United Methodist Church, Irmo, S.C. The costume competition is stiff with prizes for funniest, best use of recycled materials and best overall. Awards also go to the best-decorated cars.
Outward focus teaches lessons
But it's not just about getting, some children are discovering. A 'reverse trick-or-treat,' where church members go to homes in the neighborhood and pass out candy and treats, as well as an invitation to worship, is a good way to connect with families in the community.nsfield, Texas.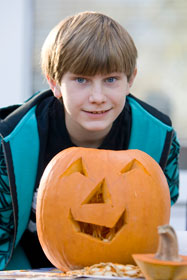 The SonShine Kids-kindergartners and first-graders from First United Methodist Church, Franklin, Tenn.-and their parents will spread "Sonshine" and have Halloween fun with the residents at a nearby assisted-living home. Costumed children will provide a "spooktacular" parade, create autumn crafts and enjoy treats.
On Halloween night, the Rev. Devin Tharp has his own version of reverse trick-or-treating. He hands out fair-trade chocolate for a cause. The candy is made without child labor and produced by farmers who make fair wages.
Tharp wants to teach children that much of the chocolate they eat comes from African nations, like Côte d'Ivoire, where children work in cocoa fields and farmers earn little for their crops.
The director of youth and family ministry at Evangelical United Methodist Church, Racine, Wis., distributes fliers along with the candy. "Promoting fair-trade chocolate," he said, "is a very easy way for us to get involved and to fight that injustice."
Kindergartners through fifth-graders at University United Methodist Church, East Lansing, Mich., have been collecting for UNICEF throughout October. On Sunday after worship, they will wear their "friendly, not scary" Halloween costumes for a "Trick or Treasure" party and continue collecting for UNICEF.
"There are kids around the world who . . . don't even have healthy water, and they can't go to school, and they don't have supplies," said Andrew Benton. Three years ago, his confirmation class participated in "Trick-or-Treat for UNICEF" through Central United Methodist Church, Fayetteville, Ark.
Enriching life
A haunted house at Cass Community United Methodist Church, Detroit, is much more than a scary place to visit on Halloween. Proceeds help support the congregation's ministry with the homeless.
"On any given night," the Rev. Faith Fowler said, "we have 100 homeless women and children who count on us to provide for their basic needs. We do three meals a day, seven days a week, 20,000 meals a week."
For many United Methodists, October-and Halloween-wouldn't be complete without a pumpkin patch.
At Wesley Memorial United Methodist Church, Wilmington, N.C., pumpkin-sale proceeds benefit mission trips, an autumn youth conference, bicycles for children at the Methodist Home and sponsorships for AIDS orphans in Africa. Sold on consignment, the pumpkins come from the Navajo Indian Reservation in Farmington, N.M.
"It's a good fundraiser for the youth while also letting us interact with the community, and it's kind of got that old-fashioned feel to it," said Sarah Riegel, 14.
*Dunlap-Berg is internal content editor for United Methodist Communications.
News media contact: Barbara Dunlap-Berg, Nashville, Tenn., (615) 742-5489 or [email protected].
Editor's Note: First published Oct. 29, 2010.
Resources
---
Like what you're reading? Support the ministry of UM News! Your support ensures the latest denominational news, dynamic stories and informative articles will continue to connect our global community. Make a tax-deductible donation at ResourceUMC.org/GiveUMCom.