On weekday mornings, hundreds of boys and girls -- neatly dressed in "Methodist-yellow" uniforms -- run and play on the Freres School campus.
The smallest, still in life's daredevil stage, delight in leaps from the top of concrete steps to the dirt courtyard, bouncing back up the steps to do it over again.
Teenagers, older and more sophisticated, stroll around the campus in tight groups or stand in clusters, talking and laughing.
Except for some roped-off stairwells, everything seems normal at the school.
But on Jan. 12, 2010, those stairwells nearly crumbled when an earthquake devastated Haiti, leveling most of Port-au-Prince and killing 300,000. The campus was quickly filled with shell-shocked survivors who were seeking any fragment of refuge they could find.
What had been a place for play and laughter became a place for clinging to life and hope. Families slept on thin blankets or sheets on the ground. Blue tents covered the basketball court.
In those first, frightening days after the earthquake, members of Eglise Methodiste d' Freres came to offer hope and, as darkness fell, to lead the newly homeless in the singing of hymns. A year later, happy children sing their school anthem before classes begin.
And, almost every day since the earthquake, United Methodists arrive in the country to prop up the spiritually wounded and help the Methodist Church of Haiti comfort thousands still grieving over loss of families, friends, homes and hope.
Volunteering love
United Methodist Volunteers in Mission, offering aid in Haiti for 30 years, has a larger focus and task.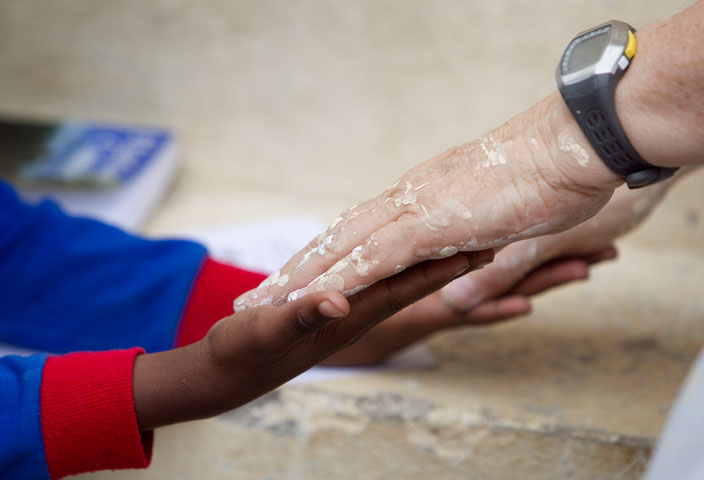 The rebuild is not just about the physical structures, but also about emotional support.
For example, one New Jersey volunteer team that was in Haiti the week of Nov. 6 painted the home of "Sister Paulette" Holly. The 82-year-old Methodist deaconess had been living outside in a tent since the earthquake. It was time for her to go home.
Kathy Ahmad, United Methodist Volunteers in Mission coordinator for the Greater New Jersey Annual (regional) Conference, also spent time coloring with some of the children.
"We have to remember it's about more than the work, it's about relationships," she said, gazing at her small friends in the yard of the orphanage, operated by the Eglise Methodiste de Haiti.
More than 80 UMVIM teams traveled to Haiti from April to October last year. Nearly 180 are scheduled to go this year. Already, 20 teams have committed to 2012.
Each team raises $3,500 in project funds, matched dollar-for-dollar through a grant from the United Methodist Committee for Relief.
It's part of an ongoing pattern of providing aid and comfort in this human emergency. United Methodists have contributed more than $40 million for earthquake relief in Haiti.
UMCOR re-established its office in this land, and embarked on a three-year, $10.4 million earthquake relief and recovery program.
A successful six-month pilot UMVIM project led to the approval of a three-year, $3 million grant to continue to place volunteer teams at selected work projects. Nearly 70 percent of the grant will support the hiring of Haitian workers for the projects.
Witnesses to tragedy and hope
The denomination is hardly new to Haiti. Helping the people as well as the Methodist Church of Haiti have been longtime commitments, with dozens of teams dispatched each year.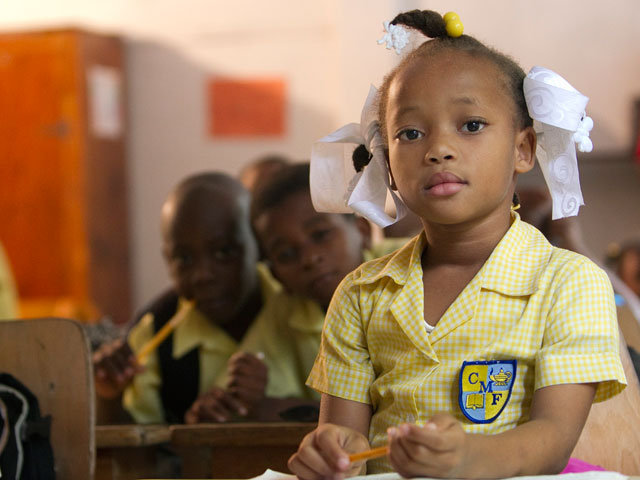 For many teams, the routine mission work took on urgency at 4:53 p.m. Jan. 12, when the 7.0 magnitude quake the strongest to hit Haiti in two centuries struck, its epicenter 10 miles west of Port-au-Prince and its 2 million inhabitants.
Pam Carter was with other volunteers at the Methodist Guest House, part of the Freres complex, helping to map out a future mission trip when the disaster hit. She was able to send word to her husband, the Rev. Kenneth Carter Jr., back at Providence United Methodist Church in Charlotte, N.C.: "We are OK, the building held up, thanks for your prayers."
A medical mission team from the Dakotas Annual Conference was unharmed on LaGonave, an island off Port-au-Prince. In Jeremie, on the northwest coast, members of a Detroit Conference team wondered if they would make their scheduled flight home four days later.
The waiting was the hardest part for Haitians in the United States, where word of the fates of relatives and friends and their homeland in general was eagerly sought.
In Boynton Beach, Fla., the Rev. Charline Pierre, pastor of St. John's Haitian United Methodist Church, learned her sister and extended family in Haiti were safe. But others waited in agony.
"Some have received news that their families are fine," she said at the time. "Others have received news of entire families trapped and killed under the rubble. It is a very difficult time for us."
More than 400 people filled the sanctuary of Trinity United Methodist Church in Hackettstown, N.J., the night after the earthquake, offering prayer for all those affected. They rejoiced that members of their mission team in Haiti were safe, but grieved and prayed for those who did not survive.
Included in the earthquake's death toll were two executives from the United Methodist Board of Global Ministries the Rev. Sam Dixon, who led the United Methodist Committee on Relief, and the Rev. Clinton Rabb, head of Mission Volunteers.
Along with the Rev. James Gulley, UMCOR consultant, the men had arrived in the Hotel Montana lobby for a dinner meeting with Rick Santos, Sarla Chand and Ann Varghese of IMA World Health minutes before the hotel collapsed.
The group was trapped for 55 hours before French rescuers found them. Dixon and Rabb died from their injuries.
Another casualty was Jean Arnwine, part of a volunteer team from Highland Park United Methodist Church in Dallas. She was working in Petit Goave. Injured when a village clinic building collapsed, she died in Guadeloupe from medical complications.
The Rev. Raphael Dessieu, former president of the Methodist Church of Haiti was alive, but homeless. "My family and I are alive, sleeping in the street, as home and items are all gone. It is not safe, so please pray," he wrote to a pastor in the Florida Conference.
Hope for future of Haiti
Those first desperate days and hours are long past, the questions of who lived and who died answered, but the nightmarish memories and the devastation are constant reminders.
A year later, much work remains, but the spirit of the Haitians is stronger than ever.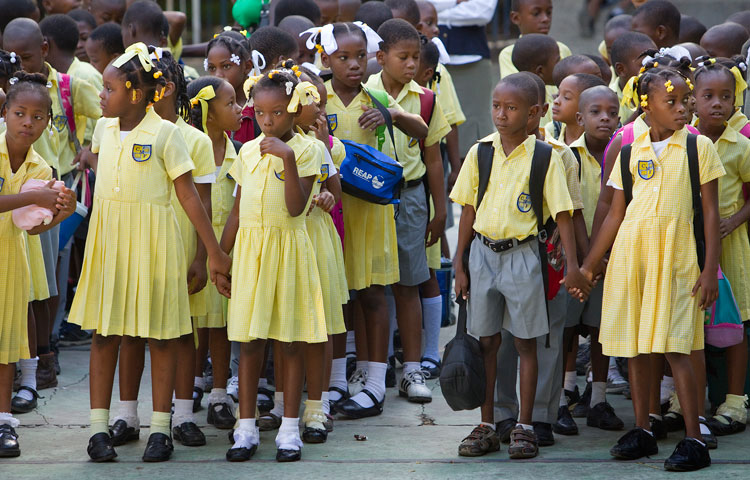 Before leaving Sister Holly's house, the New Jersey team threw a party for the children next door in the orphanage. Naturally, they thought of ice cream and cake, but Molly O'Brien, 23, the youngest member of the UMVIM team, suggested asking the children what treat they would like.
Mission coordinator Ahmad said the message was clear: "They said chicken. I gave the headmaster the money and he cooked a beautiful chicken-and-rice dish. Each child was given a plate heaped up almost to the sky and went back for seconds."
Bellies filled with chicken and rice, the children then enjoyed the cake and ice cream and sang, in appreciation, for their guests.
And those songs, that spirit among the orphans, proved again O'Brien's feeling that an overpowering faith guides the people of Haiti.
"What always surprises me is you describe how little they have but at the same time they have the strongest faith in God.
"That is never a struggle for them, which I always find remarkable. I always try to describe the conditions but at the same time, their faith is so strong. That's something you don't always find in the States."
Ahmad puts it simply: "It was the hope that made me feel good."
*Gilbert is a multimedia reporter for the young adult content team. Bloom is a UMNS reporter based in New York.
News media contact: Kathy L. Gilbert, Nashville, Tenn., (615) 742-5470 or [email protected].
Related Video
Earthquake survivor focuses on Haiti recovery
Destruction in Haiti: Now and then (New York Times)
Related Articles
Quake survivor focuses on Haiti recovery
A Year later, Haiti struggles back
UNICEF: Year after quake, thousands of Haitian children still suffering
Resources
Earthquake in Haiti: The Church Responds
---
Like what you're reading? Support the ministry of UM News! Your support ensures the latest denominational news, dynamic stories and informative articles will continue to connect our global community. Make a tax-deductible donation at ResourceUMC.org/GiveUMCom.