After the January 2010 earthquake in Haiti, United Methodists across the connection responded with money and volunteers. In late February this year, a team from United Methodist Communications went to Haiti to look at ways in which life has improved. This is part of a series about what that team found.
On Dec. 28, 2012, Élise Sandra Lauture woke up with a bad bellyache. She went to the hospital, got some medication, went home and felt better.
On Jan. 9, 2013, Rubens Élise Lauture was born at home with the help of a midwife. The healthy baby boy was delivered with no complications.
No one is more delighted about that than Yolande Gabriel, program director for the maternal health program started by Haitian Artisans for Peace International. The nonprofit organization receives funding from the United Methodist Committee on Relief and United Methodist Women.
HAPI, as the program is called, was founded by a Haitian pastor, Paul Prevost, and Valerie Mossman-Celestin, a United Methodist deaconess from Grand Rapids, Mich. Several local artisans, mainly women, create and sell textiles, pottery and clothing.
The maternal health program is in its infancy. It started in August 2012 with 12 women who were in their first trimester of pregnancy. Families in the program also received Sawyer Point One filters to provide their households with potable water.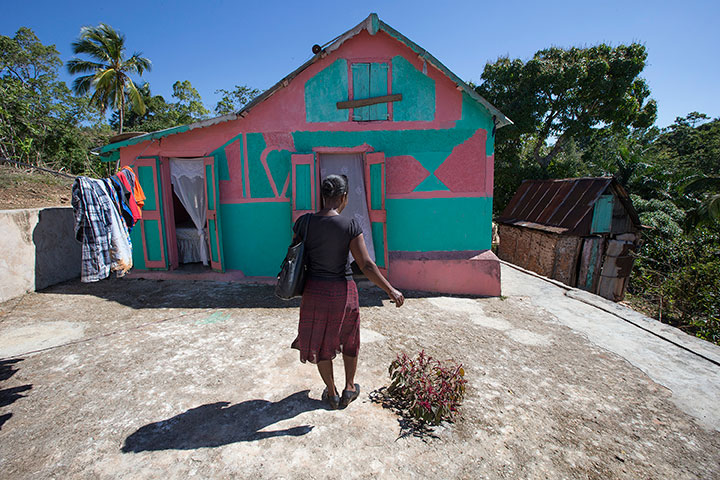 The filter uses medical technology developed from kidney dialysis, Mossman-Celestin said.
Walking up the rocky, mountainous trails, Gabriel pays home visits to two mothers who have recently given birth and one young mom-to-be.
At the first house, she takes Rubens in her arms. Her face lights up as she coos to the baby with proud mother and older brother, N. Sandro, looking on.
Gabriel will monitor the mothers and newborns every eight days to make sure both are healthy and doing well.
At the next home, Maydala Ladouceur has her daughter dressed in pink. As-sthalia Antonie was born Dec. 15, 2012, in an area hospital. Gabriel takes her turn admiring and holding the little girl and chatting with the new mom.
At the last stop, Dieula Alrich is waiting on the arrival of her first child. She greets Gabriel with affection and says she is very happy to be in the program. She says it makes her less nervous about giving birth.
The women will continue to meet weekly and share their experiences with each other.
Haiti: Healing, rebuilding
"My first piece of advice is 'Take care of baby,'" Gabriel said with a smile.
Working in the marketplace
Eddy Joassaint walks purposefully through the packed strip of land serving as a market. Every so often, he dips off to the side parting the way through livestock and merchants to greet one of his clients. He explains that at this small market people can buy anything from beans to soap, from live goats and chickens to freshly butchered meat.
Joassaint is the director of the HAPIKredit program, which lends small business owners funds to expand or open a business. Most of the clients are women who sell beans, rice, grain and fresh produce to their neighbors in Mizak.
"This is not a charity; it is a business," he said. "We explain that to the community. We give first priority to women."
Therese Paul, 48, qualified for a $75 loan to sell yams, which she purchases from the larger market in Jacmel or grows in her home garden. The best time of the year for selling yams is December through March, Paul said. During those months she travels into Jacmel, the closest large city, on Tuesdays and Fridays. On Wednesdays and Saturdays, she sells at the local market close to her home.
It is an hour ride to Jacmel or a five-hour walk, she said.
She has been able to pay off the loan and start repairs to her house. Her husband, Victor Joassaint, 62, is a construction worker. They have five children ranging in age from 14 to 26.
"Year after year, people plant gardens," Eddy Joassaint said. "They have about a 50 percent success rate depending on the rains. Having micro-credit is really helpful and they can renew their contracts for more money."
Sylviane Jean Baptist, 42, is one of the first HAPIKredit clients, Joassaint said. "She has one of the bigger businesses."
Mizak is a mountainous rural section of La Vallee in southeast Haiti. The population in this region is 35,000 and most people earn less than $1 US per day. Sixty-three percent of the population is younger than 18. There are no long-term jobs, and most households do not have reliable electricity, plumbing or water filtration.
Sustainable community
"We continue to be intentional on the inclusion of women, whatever the activity, but we have grown into an empowerment model of community development guided by the principles of Shalom that include asset-based community development, economic growth/job creation, and health," Mossman-Celestin said.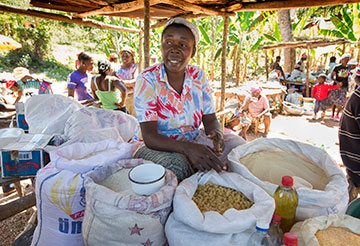 Delegates to the 2012 United Methodist General Conference turned out to be good clients for the co-op. Artisans worked long hours making 2,000 messenger bags out of used coffee bean sacks. Teams of artisans cut the burlap sacks apart and turned them into messenger bags using old-fashioned treadle sewing machines. The Advance logo was hand sewn into the bags.
Mossman-Celestin said HAPI is working on five key ways to create a sustainable community including food security, job creation, higher education, healthy births and technology. HAPI works with partners such as the National School of Musac and the Methodist Church of Haiti.
UMCOR has funded the building of the 7,000-square-foot Merlet Center, which will be used by the artisans and community. Plans for the building also include a computer center.
'HAPI is a light that shines for me'
At 34, a Haitian woman reflects on how the HAPI program has helped her to learn skills and earn money that makes life for her family much better. Read Commentary
*Gilbert is a multimedia reporter for the young adult content team at United Methodist Communications, Nashville, Tenn.
News media contact: Kathy L. Gilbert, Nashville, Tenn., (615) 742-5470 or [email protected].
---
Like what you're reading? Support the ministry of UM News! Your support ensures the latest denominational news, dynamic stories and informative articles will continue to connect our global community. Make a tax-deductible donation at ResourceUMC.org/GiveUMCom.