After the January 2010 earthquake in Haiti, United Methodists across the connection responded with money and volunteers. In late February this year, a team from United Methodist Communications went to Haiti to look at ways in which life has improved. This is part of a series about what that team found.
Poverty has layers.
In the poorest country in the Western Hemisphere, in the poorest section of the capital city of Port-au-Prince, Haiti, is a shantytown called Cité Soleil.
Pigs here live in paradise; people live in misery. At the bottom layer of all the waste and mire are the children.
Seung Don Kim is a beacon of hope for these children. A Korean United Methodist layman, he takes their small hands in his as he walks beside them without fear or hesitation.
On a sweltering winter day in February, Kim strolls through the muddy paths between shacks, giving and receiving greetings. "Kim! Kim!" children chant. He collects more and more children as he walks along. One child is playing with a discarded condom as if it is a balloon. A small boy in a tattered red T-shirt runs up, grabs Kim's hand and holds tight for a tour through this depressing shantytown.
Kim has been working in Haiti since 2002 but officially became a missionary of the Korean United Methodist Church of South Florida in Fort Lauderdale after the earthquake three years ago. His wife and two children live in Fort Lauderdale while he lives in Haiti full time.
Haiti: Healing, rebuilding
The Rev. David Chan Jang, pastor of Kim's South Florida church, said other Korean United Methodist congregations in the United States also fund Kim's ministry and send mission teams.
Ironically, on the day of the Haitian earthquake, Jan. 12, 2010, Kim started construction on his dream, Love and Hope mission center. Three years later, nearing completion, the clean concrete building rises out of the stench and squalor of Cité Soleil.
Kim is not a pastor. He opens the sanctuary in the mission to more than 100 pastors who live in the slum. There are two services every Sunday, one from 7 a.m. to 9 a.m. and a second, which attracts more young people, from 9 a.m. to 11 a.m. Kim said 450 churches and 300 pastors serve 300,000 residents in this shantytown.
Ninety percent of the pastors have no formal education, Kim said, which is one of the reasons he is including a seminary in his building plans.
Smiling, he explained, "One day they are sitting at church, and the next month they are pastors."
Already, 450 primary and secondary students attend school here. Still in the works are a high school, university, seminary and dormitories. From the roof of the three-story complex, Kim points to a busy highway below. "Even Haitians are afraid to pass through here," he said.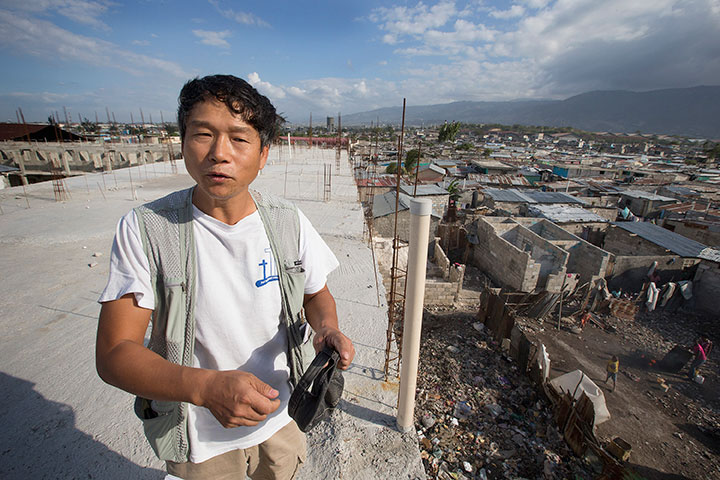 Happy in Jesus Christ
Cit Soleil is a dangerous place mostly ruled by "gangsters," Kim said. In clearing the property for the mission center, Kim said he found three or four bodies.
"No one imagined a church on top of that," he said. "I have had guns pulled on me. I am still here, happy in Jesus Christ."
He recalled a recent day when 40 people died, shot by gangsters. "Even yesterday, many died from gangs."
Kim supports seven orphanages and plans to increase that to as many as 15. He said he believes one reason for so many orphans is that marriage is not valued.
"Young people, 19, 22, 26, already have kids without a wife," he said. He has started seminars on marriage and is sponsoring weddings in the church building.
"I show them how God loves family."
Help comes and goes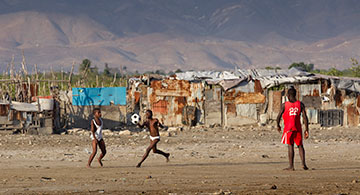 Kim has seen other faith groups and non-governmental organizations (NGOs) pass through this area. More than 50 Korean missionaries work in Haiti. "They don't want to come here," he admits. "It is too dangerous."
Some structures stay and offer help to the community, such as a clinic built by the Roman Catholic Church and a church/school built by a Presbyterian church.
Other structures are pure folly. Kim pointed out a concrete toilet built by an NGO. "It cost $5,000, and it lasted one week," he said. "Useless." People just squat on the ground and add their waste to the rest of the landscape.
With the help of the local pastors in the area, Kim believes, life could be better for the inhabitants.
"I want to do something with the pastors. We have hands; we have tools; we have to show Jesus Christ to the people," he said.
Last month, Kim helped residents build a concrete bridge over one of the polluted canals that run through the area. "Before, it was a narrow wooden bridge, and many people fell into the canal."
Cit Soleil borders canals and sits near the international airport. Slimy gray water is littered with garbage, which surrounds the foundation of all Cit Soleil homes.
There is no relief from the heat or the smell.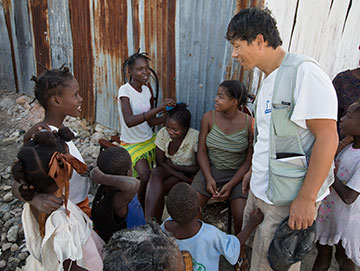 In the late afternoon sun, children gather to play on the shore.
In the style of a pied piper, Kim attracts a group of boys who gather in a tight ring around him. He coaxes them into songs in Haitian Creole, rubs their heads and hugs them close. To try to imitate a sports jersey, one child wears an orange T-shirt with a small handmade No. 1 printed in blue ink on the back. In the distance, underwear-clad children play with a shiny soccer ball, fishers look over their catch and pigs wallow like hippos in the shallow water.
But there is a tranquil smile on Kim's face.
"My wife and I have talked about adopting three or four orphans," he said. "But that is not enough; there are 300 to 400 more."
* Gilbert is a multimedia reporter for the young adult content team at United Methodist Communications, Nashville, Tenn.
News media contact: Kathy L. Gilbert, Nashville, Tenn., (615) 742-5470 or [email protected].
---
Like what you're reading? Support the ministry of UM News! Your support ensures the latest denominational news, dynamic stories and informative articles will continue to connect our global community. Make a tax-deductible donation at ResourceUMC.org/GiveUMCom.