"No voice or message in the past half century has been more powerful and faithful in pointing clearly to Christ," said the Rev. Eddie Fox, one of many United Methodists who knew, or were touched by, evangelist Billy Graham.
"He spoke in the plain language of the common person and at the same time was at home with presidents and world leaders."
Graham died Feb. 21 at his North Carolina home, of natural causes, his family reported. He was 99.
Bishop Bruce R. Ough was among the United Methodists recalling Graham's influence, and for him it was crucial. Ough, president of the United Methodist Council of Bishops, was a 16-year-old working on his uncle's North Dakota farm when he watched "youth night" of a televised Graham revival crusade.
"I first gave my life to Christ in my uncle's living room as a result," Ough said. "I was raised in a United Methodist church, it wasn't like I wasn't part of a church, but that was the moment I was conscious of making a decision that I wanted to be an intentional disciple of Jesus Christ."
Western North Carolina Bishop Paul Leeland called Graham "an inspirational leader who transcended denominational identities in order to offer Christian values, guiding persons of influence at every level.  We will be inspired by his life and teachings for many years to come."
United Methodists worked closely with Graham in evangelism efforts.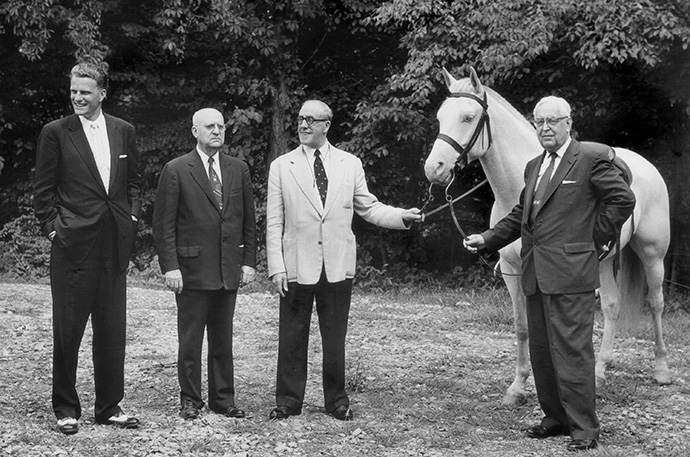 Fox, retired leader of World Evangelism for the World Methodist Council, served as a regular faculty member of the Billy Graham Schools of Evangelism for 15 years beginning in the mid-1980s. The purpose of the schools was to encourage pastors in gospel outreach.
"They were truly ecumenical, with pastors representing 70 to 80 denominations and diverse groups, including Catholics," Fox said.
When elected to head the World Methodist Council's evangelism efforts in 1989, Fox said one of the first letters he received was from Graham. "He let me know that God had chosen me for this moment and that he was praying for me. It was very encouraging."
The United Methodist Association of Evangelists, affiliated with the denomination's Board of Discipleship, gave one of its first Philip Awards to Graham in 1976. While the evangelist never addressed a United Methodist General Conference, he did speak at a few events, including at least one at Lake Junaluska Assembly, not far from his home in the Western North Carolina mountains.
Graham was a close friend of the late Harry Denman, one of Methodism's best-known lay evangelists. Denman headed the Commission on Evangelism of the newly formed Methodist Church in 1939 and traveled widely for evangelistic meetings and seminars, continuing his ministry long after his official retirement in 1965. He died in 1976.
Through the years, many United Methodist clergy across the United States served as counselors for Graham crusades held in their respective cities. Thousands of United Methodists pointed to Graham's crusades, television preaching and books as the turning point in their lives.
One was the late Rev. Joe Hale of North Carolina, former general secretary of the World Methodist Council.  Hale credited his Christian ministry to Graham whom he met as a teenager following a crusade in Little Rock, Arkansas.
"I found out what hotel he was staying in and knocked on the door of his room, interrupting his shower," Hale once recalled in an interview. "He invited me in, had prayer with me and wrote in my Bible."
Hale met Graham next when he was about 20.
"I was returning to the United States by ship after visiting my father who was working for the U.S. State Department in Thailand," he said. "Dr. Graham was on the ship. During the 10- or 12-day trip, he invited me to have dinner with him several times. We had wonderful conversations."
In later years, Hale had several other opportunities to be with Graham. He took the late British Methodist evangelism leader, the Rev. Donald English, of England, and the late Australian Methodist leader, the Rev. Alan Walker, of Australia, from Lake Junaluska, headquarters of the World Methodist Council, to visit the Grahams at their home.
Reflecting on that first meeting in Graham's Little Rock hotel room, Hale said he made a critical decision. "I had been a part of the church all my life, but in that hotel room, I personally claimed what I knew a lot about but had never taken on for myself. I made a decision seeking God's forgiveness and new life."
At that Little Rock Crusade in the 1940s, Graham preached to a racially integrated crowd. During the days of racial segregation in the South, Graham insisted that all of his crusades be open to anyone, regardless of race.
The late Bishop Leontine Kelly of Oakland, California, who headed the evangelism unit of the United Methodist Board of Discipleship before her election to the episcopacy in 1984, characterized Graham's preaching as "electric."
"His purposes were clear and his commitment to Jesus Christ was unwavering," said Kelly, who died June 28, 2012. "We will always be grateful for television, which enabled his communication of the gospel of Jesus Christ to millions."
Earlier in his ministry, not all Methodists saw Graham as open and inviting to other Christian traditions and perspectives. Some United Methodist pastors grudgingly felt they had to pass a litmus test before being approved as counselors in Graham crusades. Others felt the evangelist avoided speaking out against social injustice.
"Billy Graham grew in wisdom and generosity through the years," observed the Rev. Bruce Robbins who was staff executive of United Methodism's Commission on Christian Unity and Interreligious Concerns in New York for more than 12 years. "That generosity showed in his acceptance and reconciliation with people who, early in his career, he would not have considered."
One example cited by Robbins was an address he heard Graham give in the early 1980s after the evangelist visited Russia. "He was calling for peace and disarmament, even at that point when things were so tense between East and West. He increasingly welcomed dialogue with people on very different kinds of faith journeys and was able to affirm them. That was a real gift he offered to Christian and religious communities of the world."
Graham met with eleven U.S. presidents in the White House. At the opening of the Billy Graham Library in Charlotte, North Carolina, in 2007, three former presidents participated: Bill Clinton, George H.W. Bush and Jimmy Carter. President Barack Obama met with Billy Graham, April 25, 2010, at Graham's home in Montreat, North Carolina.
Ken Garfield, communications director for Myers Park United Methodist Church, covered Graham as a religion reporter for the Charlotte Observer and wrote the text for a book called "Billy Graham: a Life in Pictures."
Garfield's coverage coincided with Graham's latter years as an active evangelist and then the retirement era.
"His handlers and the ministry machine kind of kept you from seeing the essence of Billy, which was a sweet old man when I knew him," Garfield said. "I wrote a column once about loneliness, and he wrote me a personal letter about loneliness. I was chasing a story about his wife being sick and at the Mayo Clinic, and he left me a long phone message — so long the machine cut him off. It was just a sweet old man talking about his sick wife.
"There was a humanity about him, and that's what I choose to remember."
Graham and his wife, Ruth, who died June 14, 2007, had three daughters, two sons, 19 grandchildren and numerous great-grandchildren.
Tom McAnally retired as director of United Methodist News Service in 2001. Hodges is a United Methodist News Service writer who lives in Dallas. Contact UMNS at (615) 742-5470 or [email protected].
---
Like what you're reading? Support the ministry of UM News! Your support ensures the latest denominational news, dynamic stories and informative articles will continue to connect our global community. Make a tax-deductible donation at ResourceUMC.org/GiveUMCom.