The Rev. Benjamin David Hutchison started last week with his forced resignation from his supportive United Methodist congregation. His removal came after his district superintendent received a complaint that Hutchison was openly gay and in a relationship.
By Friday, Hutchison had married his longtime partner, Monty, at the county courthouse with nearly 30 United Methodist pastors in attendance.
Now, nine of those pastors are facing a complaint for officiating at the wedding in defiance of church law, said one pastor under complaint. Many at Cassopolis United Methodist Church, the rural Michigan congregation that Hutchison served, are mourning the loss of their pastor and pondering whether they want to remain United Methodist. Hutchison, for his part, is looking for a new job.
Hutchison is ordained in the African Methodist Episcopal Church, which has full communion with The United Methodist Church. That means he has fewer job protections than an ordained United Methodist pastor but also that the West Michigan Conference, where he served, has no authority over whether he keeps his clergy credentials.
"It's difficult because I was asked to come and help this church. I grew it. It became the love of my life," Hutchison said. "I love those people. … It's also hard to watch the congregation weep."
Hutchison said the demand for him to depart came without warning. He met with his district superintendent on July 13, who then asked about Hutchison's personal life. The pastor said he answered, "I would never deny Monty to anybody." The two legally have shared the same last name since February 2013.
Hutchison's situation falls at an intersection between two ongoing struggles for The United Methodist Church. These include the challenge of finding pastoral leadership for the roughly 60 percent of U.S. congregations in rural areas, and the denomination's longtime debate over how best to minister with gay and lesbian individuals.
The Book of Discipline, the denomination's law book, prohibits "self-avowed practicing" gay clergy from serving United Methodist churches and bans pastors from officiating at same-sex unions. Since 1972, the book has proclaimed that all people are of sacred worth but that the practice of homosexuality is "incompatible with Christian teaching."
Only General Conference, the denomination's top lawmaking body, can change the church's stance.
The Rev. Michael Tupper signed Hutchison's wedding license and is among the United Methodists now facing a complaint. A complaint against him for officiating at his daughter's same-sex wedding reached a resolution last year.
He said he appreciates the opportunity the new complaint gives him and like-minded United Methodists "to witness to our inclusive God and protest the injustice found in our Discipline. We hope this will bring more light to this dark spot in the life of our church."
Good News, an unofficial United Methodist advocacy group that seeks to uphold the church's teachings on homosexuality, said it believes the district superintendent acted appropriately. "General Conference has repeatedly affirmed our church's gracious and carefully stated teachings on these matters," the group said.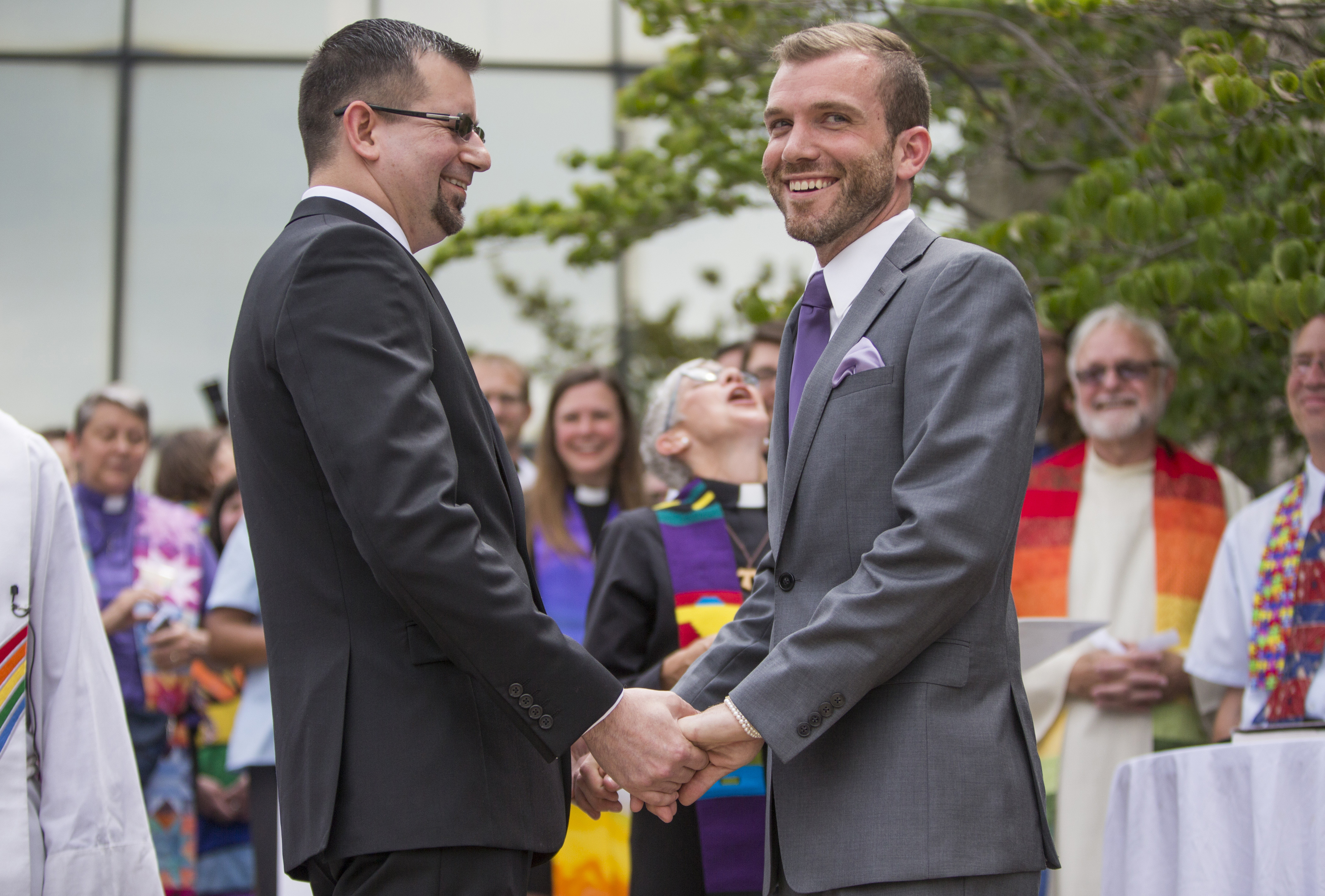 What conference leaders say
The West Michigan Conference, led by Bishop Deborah Lieder Kiesey, said in a statement that all matters pertaining to the appointment of pastors are confidential, and that the conference would offer no details of Hutchison's case. The conference statement did say it is "holding the people of Cassopolis United Methodist Church in prayer as they navigate the transition of their pastor."
After the U.S. Supreme Court overturned state bans on same-sex marriage in June, Kiesey was among the bishops who outlined how clergy might assist same-sex couples without violating church law.
"I am committed to upholding the Book of Discipline," she said in a statement, "and, although there are many ways of interpreting that Discipline, I believe these guidelines offer a way to live together in ministry with all people."
The Rev. John Boley, the Kalamazoo District superintendent who received the complaint against Hutchison, did not immediately respond to United Methodist News Service attempts to reach him.
Cassopolis members said Boley told them at a congregational meeting that the complaint against Hutchison did not originate with anyone in the congregation.
Time at Cassopolis United Methodist
Hutchison, who grew up Dutch Reformed, fell in love with the AME Church while in college. "They opened their arms wide," he said. "They always welcomed me as one of their own and never questioned that I was white."
Unlike The United Methodist Church, the AME Church does not guarantee its elders an appointment. So after seminary, Hutchison was filling pulpits for pastors on vacation when a United Methodist recommended him for an appointment in the West Michigan Conference.
The district superintendent at the time interviewed Hutchison and later appointed him to Cassopolis United Methodist Church in January 2013, when the congregation's part-time pastor had to step aside for health reasons.
Within six months of his arrival, the church had nearly quadrupled in average weekly attendance from 25 to more than 90. The congregation decided to double Hutchison's salary to full-time pay.
Liz First, lay leader and lifelong member of Cassopolis United Methodist, said the church was dying before Hutchison arrived.
But that changed as Hutchison got involved in the community including the local Habitat for Humanity board and started new ministries such as a Bible study at the local bar. Everywhere he went, First and other Cassopolis members said, Hutchison invited people to church. The church is now 177 years old.
"He made the church what I had always envisioned it to be," she said. "He brought a lot of enthusiasm, endless energy and a love to serve God and others."
Nancy Smith, the chair of the church's staff-parish relations committee, said she knew without being told that Hutchison was gay.
"Eventually everybody knew, but it wasn't really talked about," she said. "The congregation was amazingly accepting, and part of it was because they got to know and love him first."
She said most in the congregation did not know The United Methodist Church's official policy on homosexuality.
What happens now
Hutchison is trying to discern his next move. He has a Master in Social Work in addition to a Master of Divinity degree. In the near future, he said he is hoping to use that social work background, possibly in a hospital setting.
Since 2004, the AME Church has banned its clergy from officiating at same-gender unions, but Hutchison said the AME Church's Doctrine and Discipline has no explicit policy regarding gay clergy.
Smith said the congregation is still uncertain of its next step. Some in the congregation are considering whether the church should remain part of the United Methodist connection. Church law requires that the property of local churches and other United Methodist institutions are held in trust for the benefit of the entire denomination.
Good News said in a statement that the congregation should be permitted to leave the denomination with its property and assets. "We believe the exercise of the trust clause to hold congregations within the church is a poor foundation upon which to build church unity," the group said.
Matt Berryman leads Reconciling Ministries Network, an unofficial advocacy group that seeks to make the church more inclusive. He said in a statement that the group is exhausted on behalf of Hutchison, his husband, the congregation and "every United Methodist who struggles to comprehend why any church grounded in the gospel of Christ would force the resignation of such a talented, inspiring and beloved pastor."
First, the Cassopolis lay leader, said she and parishioners are working through their emotions.
"We're just trying to get through the shock and the pain and anger," First said, "and trusting in God that this all happened for a reason."
Hahn is a multimedia news reporter for United Methodist News Service. Contact her at (615) 742-5470 or [email protected].
---
Like what you're reading? Support the ministry of UM News! Your support ensures the latest denominational news, dynamic stories and informative articles will continue to connect our global community. Make a tax-deductible donation at ResourceUMC.org/GiveUMCom.