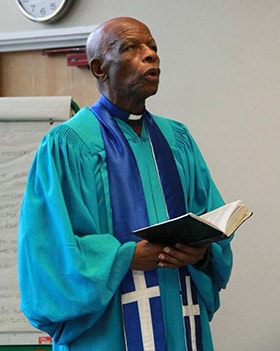 The Rev. Andrew Mhondoro, a tailor and United Methodist pastor, sewed the clergy shirts and gowns for many of Zimbabwe's United Methodist pastors. Mhondoro died Sept. 29 at age 82. Photo courtesy of The UMC UK Media & Publications.
Pastors usually abandon their original careers when they take up the call to ministry, but the Rev. Andrew Mhondoro — who died Sept. 29 at age 82 — brought his former trade with him.
"He left his small-scale tailoring business and joined the ministry in 1980," said the Rev. Elisha Kabungaidze, a peer and pastor in charge of Mount Hebron United Methodist Church in Cape Town, South Africa.
Mhondoro, Kabungaidze and others, including the late Rev. Kingston Kahlari and the late Rev. Conrad Chigumira, were evangelists in the men's organization Mubvuwi We United Methodist Church. They were called to ministry when Zimbabwe gained independence in 1980 and there was a high demand for clergy as churches were booming, said the Rev. Lloyd Nyarota, a Zimbabwean currently serving in Canada.
Mhondoro started the conference Course of Study in 1985 and was ordained six years later. He retired in 2008 and then was recalled for seven more years.
"He was a tailor and garment designer before he came to ministry, and Mhondoro became the person who would make all clergy shirts," said Nyarota.
"It was a given that if you needed clerical shirts, then Mhondoro was the person to go to," he said.
"Mhondoro was also the only person who could make clerical robes and stoles in Zimbabwe. Those are not easy to design and make, but almost every pastor during the 1980s up to around 2005 must have had a shirt, robe, stole or all three made by him," said Nyarota. "He made them so affordable and accessible."
He was generous. Mhondoro would give newly ordained pastors clerical shirts as gifts. One such beneficiary was Harare West District superintendent the Rev. Phillip Musharu, who received a shirt in 2000.
Mhondoro also used his tailoring skills to empower women in the church.
Edith Jokomo, wife of late Zimbabwe Bishop Christopher Jokomo (1992-2000), said Mhondoro contributed greatly to empowering women through tailoring workshops.
"For quite some time, he trained women who would then cascade the skills to others down to the local churches. Many women benefitted from his training, and he was a facilitator at our tailoring workshops," Jokomo said.
Mhondoro taught women to make suits for men and women and all kinds of uniforms. Some of those trained went on to earn a living from tailoring.
The Rev. David Bishau, director of the Institute of Theology and Religious Studies at Africa University, served with Mhondoro at Nyakatsapa United Methodist Church Mission in 2012.
"He was my associate but coming from retirement. I don't remember him doing anything that would remind me that I was his junior," said Bishau.
"He would gladly do any duties I assigned him. He was a humble and very supportive, mature pastor from whom I learned a lot about pastoral ministry," he said.
The Rev. Kelvin Mwandira, who worked with Mhondoro for about four years, said, "He was very evangelistic in approach and had a characteristic of smiling and laughing."
Mhondoro was an evangelist who planted churches in some of the most remote parts of the country. He was instrumental in the establishment of Nyamacheni United Methodist Church Mission, the only United Methodist institution in Zimbabwe's Midlands Province.
Collen Chiwomadzi, Zimbabwe West Conference board of communication associate chairperson and member of Bulawayo Central United Methodist Church, said Mhondoro raised the standard of choral music at his church.
"The Bulawayo Central choir improved and won many accolades in the conference and in Bulawayo region. Our choir was featured several times on ZTV (the national broadcaster)," said Chiwomadzi.
"In 1998, Mhondoro was one of the first United Methodist pastors to have a sermon recorded for broadcast on the national television station," said Chiwomadzi.
Mhondoro was interred in Rusape, a town 165 kilometers from Harare, on Oct. 3.


Chikwanah is a communicator of the Zimbabwe East Conference.
News media contact: Vicki Brown at (615) 742-5470 or [email protected]. To read more United Methodist news, subscribe to the free Daily or Weekly Digests.